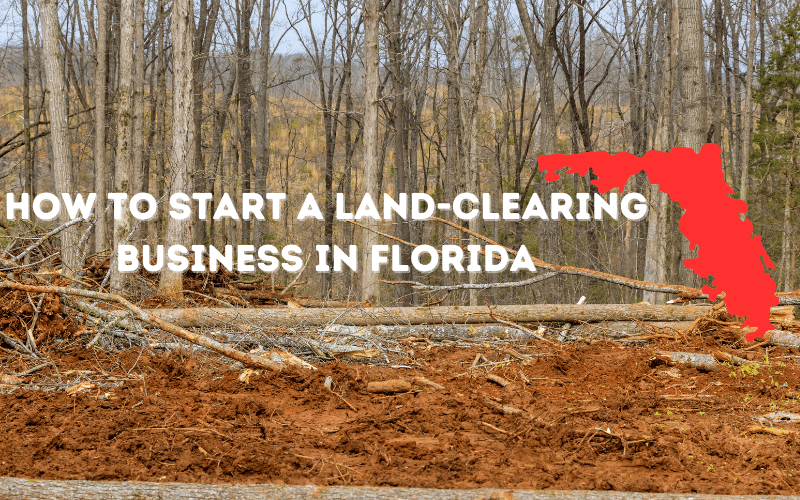 Do you dream of converting vacant lots into park-like spaces and building sites? Turning your vision into reality can be done by starting a land-clearing business in Florida.
Whether you're a novice entrepreneur or an experienced contractor, getting your business up and running is the same. Setting up a shop in Florida doesn't have to be complicated with the proper preparation.
Understanding how to get started, comply with state laws, and stand out when launching a land-clearing business in Florida is essential.
With this article, I'll share tips and tricks on how to make your dream of starting a successful land-clearing business come true. Let's get started!
How To Start A Land-Clearing Business In Florida
Starting a land-clearing business in Florida can be a lucrative, rewarding endeavor. To ensure you do it right, there are certain steps you'll need to take.
Establish a Business Plan
If you're looking to start a land-clearing business in Florida, the first step is to create a detailed business plan.
A good business plan lays out the goals of your business, who your target customers are, and how you intend to market and operate your business. It should also include a financial projection outlining start-up costs and potential sources of revenue.
When creating your land-clearing business plan, here are some things to consider:
How much money do you need to get started?
What services do you plan to offer in addition to land clearing?
What type of equipment will you need?
What are the legal requirements for operating a land-clearing business in Florida?
How will you market your services?
Who are your potential customers?
Who will be responsible for any subcontractors or employees?
A well-defined plan for success gives you peace of mind that you're taking all the necessary steps to launch your land-clearing businesses.
In doing so, you're setting yourself up for success before starting any physical work on the ground.
Research Land Clearing Regulations in Florida
If you're looking to start a land clearing business in Florida, then you'll need to make sure that you research the regulations that pertain to land clearing in the state.
This includes restrictions, permits, and other requirements for getting your business off the ground.
Federal Requirements
The federal government does have some environmental guidelines for land-clearing businesses in Florida.
These include the protection of wildlife and waterways and other regulations that may apply depending on the type of property being cleared.
State and Local Regulations
In addition to federal requirements, state and local regulations may be considered when starting a land clearing business in Florida.
This could include zoning laws or permits specific to your area. Research local zoning ordinances and permits to comply with all applicable regulations before starting your business.
Business Licensing Requirements
Once you have researched the applicable laws, you will need to determine what type of business license is needed for your land-clearing business in Florida.
This could include anything from a general contractor's license or an excavation contractor's license, depending on what services you plan to provide.
You will also need to register for an EIN number if hiring employees and any other licenses or permits required by the state or local government for your type of business.
Acquire the Necessary Equipment, Permits, and Licenses
If you're looking to start a land-clearing business in Florida, you'll need the right equipment and permits to get the job done.
According to the US Bureau of Labor Statistics, this type of work usually requires access to bulldozers and trucks that move the earth and chipping or grinding machines used for tree removal. You may also need specialized equipment like a tree spade or stump grinder.
Then there are permits—Florida law requires land-clearing companies to be correctly licensed by the Florida Department of Agriculture and Consumer Services (FDACS).
Read Also: 101 Trending Real Estate Hashtags That Get Likes (See All)
This includes general liability insurance and workers' compensation insurance with minimum coverage amounts—plus any additional insurance your business might need.
Additionally, each county in Florida can have different regulations concerning land-clearing projects.
Find your local laws before starting any job and ensure you've obtained all necessary permits for those specific regulations.
Choose the Best Locations for Land Clearing
When choosing the best locations for land clearing, it's essential to consider factors like customer availability, population density, size of potential projects, and land cost.
There are plenty of opportunities in Florida for land-clearing businesses–whether you're looking to serve small residential estates or large-scale agricultural or commercial projects.
Customer Availability
When selecting a location for your business, customer availability is critical. You'll want to canvass nearby areas and identify which ones have the most potential customers for your services.
Population Density
The population density of an area can also play a role in your decision. The more densely populated an area, the higher the number of potential customers you'll have there.
Size of Potential Projects
You should also consider the size of potential projects in each location. If you're planning on focusing on large-scale farmlands or commercial areas, make sure you'll be able to find these types of projects in any given area.
The Cost of Land
Finally, you'll need to factor in the cost of land when deciding. Finding an affordable property with room for your business operations can be tricky but can make a big difference to whether you'll succeed in your new venture.
Managing Risks Associated With Land Clearing
Having your own land-clearing business is certainly exciting, but it's important to remember that it has some associated risks.
After all, there's the potential for fires, floods, and other natural disasters when dealing with land and foliage.
That's why it's essential to be aware of the risks associated with land clearing and take steps to manage them.
Here are a few tips for managing risks on your land clearing projects:
Have the Right Insurance
Having the proper insurance for your business is essential for protecting yourself in case of an accident.
Ensure you have general liability insurance and workers' compensation insurance that covers any injuries on the job.
You should also research other types of insurance, like property and equipment coverage, that might be needed in some instances.
Comply With State Regulations
In Florida, there are regulations around the land clearing that must be adhered to, such as getting permits or following specific safety rules.
Ensure you understand all of the regulations in the state and comply with them to avoid any possible fines or penalties.
Have an Emergency Plan
Creating an emergency plan is a great way to make sure everyone is safe during your land-clearing projects.
Be sure to document procedures in case of a flood, fire, or any other emergency so everyone knows what to do if something happens on-site. It's also important to keep safety equipment nearby if something occurs.
With these tips, you can help protect yourself and your business while running successful land-clearing projects!
Finding Land Clearing Clients in Florida
Are you ready to start your land clearing business in Florida? Finding clients in the area is one critical component of getting it up and running.
Many developers, residential and commercial owners, and even government entities need this kind of work done.
Establish Ties With Local Government Agencies
If you're not already part of a network of land-clearing professionals in your area, establish ties with local government agencies.
Many cities have departments dedicated to land management or property improvement. By getting to know these people and departments, you can learn what they need and how best to provide their required services.
Check out local construction sites
Another way to find potential clients is by visiting construction sites near you. Most big projects that involve site preparation often rely on land-clearing services, so introduce yourself to the contractors and let them know what you have to offer.
Utilize Online Platforms
Finally, don't forget about utilizing online platforms such as classified listings or freelancer websites. These are some of the best ways for companies and individuals to find local expertise for their projects.
Ensure your profile is professional and up-to-date with all the necessary information about your service offerings!
Read Also: Best Roof Cleaning Services in Stuart, Florida
Conclusion
Starting a land-clearing business in Florida doesn't have to be overwhelming. It takes time, a little money, and a lot of planning.
Before you begin, make sure you have the necessary skills and resources. Once you have all this ready, you must create a plan, get the proper permits and licenses, find the right equipment, set up shop, and start advertising.
Doing your research and taking the necessary steps can make your land-clearing business successful.
Thanks to Florida's rich resources and open land, there's plenty of potential to make your business successful.
With the proper preparation, dedication, and hard work, you can start a successful land-clearing business in Florida.