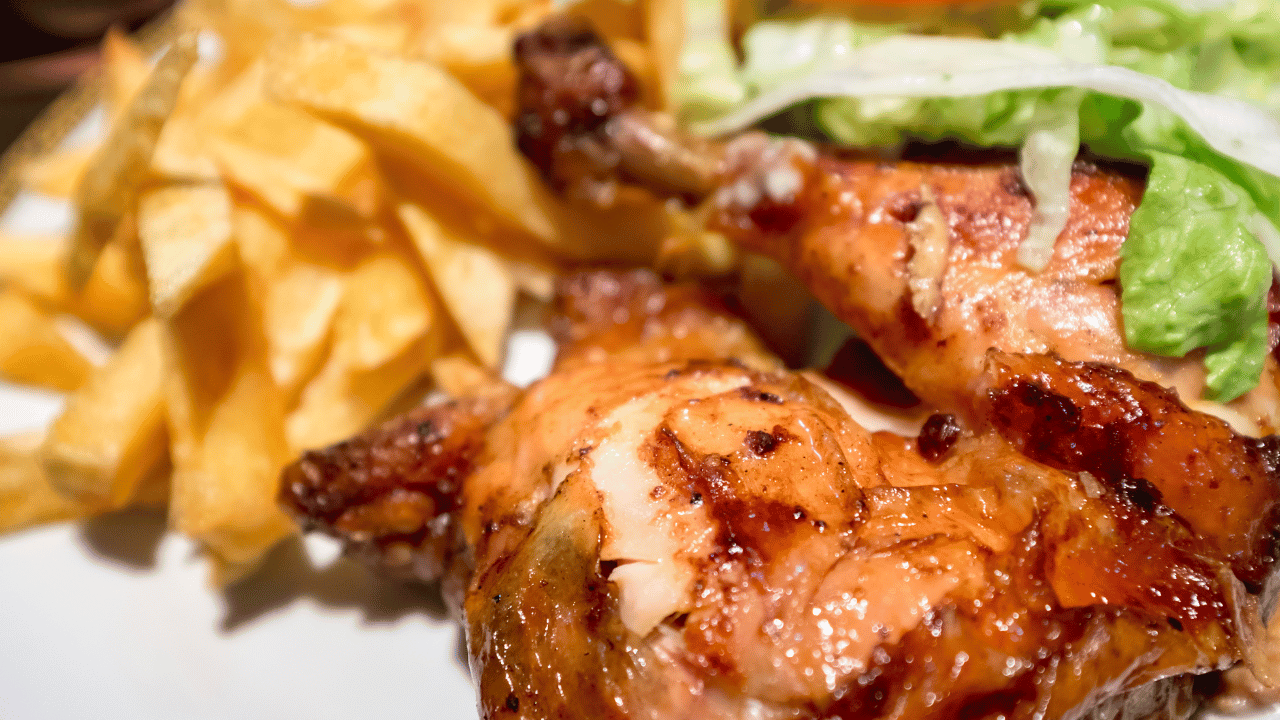 Chicken and chips is a popular fast food combination loved by many Nigerians. Starting a business selling tasty chicken and crunchy chips can be very lucrative.
Chicken and chips shops are popping up across Nigeria to meet rising demand.
Your new food venture can gain loyal local customers with proper planning and effort.
We have curated easy steps to start your successful chicken and chips takeaway business in Nigeria in 2023.
Read Also: How to Make Money on Quora: Beginner's Guide
How to Start a Chicken and Chips Business in Nigeria
Here is a detailed guide on how to start your own successful chicken and chips takeaway business in Nigeria:
1. Choose a Good Location
The most important decision is where to set up your chicken and chips shop. Choose a location with high foot traffic and visibility.
Busy areas near schools, markets, motor parks, shops, offices, or residential neighborhoods are ideal.
Scout locations near your target customers so your shop is convenient and accessible.
High foot traffic and hungry people will translate to more sales. Locate where ongoing crowds pass by daily.
Consider starting selling at a market stall or kiosk to establish your brand before expanding into a standalone shop. Look for affordable rental spaces to limit overheads.
2. Research the Local Competition
Before selecting a permanent spot, thoroughly research competing chicken and chips businesses already operating there.
Visit local competitors and evaluate their pricing, menus, service quality, opening hours, customer volume, and store presentation.
This market research will help you identify potential advantages you can provide versus existing players.
A competitive landscape analysis will also inform important decisions like your unique offerings, price points, and location differentiation.
3. Design and Set Up Your Shop
Your chicken and chips shop should have an efficient layout to operate safely, cleanly, and smoothly.
Important elements of your shop design include:
Customer Seating – Have adequate indoor and/or outdoor tables and chairs to accommodate dining customers. Consider disposable plates to minimize washing.
Cooking Stations – Designate fryer, oven and prep stations for efficient cooking flows. Ensure good ventilation.
Kitchen Storage – Install shelving to store ingredients, utensils, packaging supplies, etc. Organize to maximize space.
Service Counter – The order counter should be visible and accessible, with menu boards displayed.
Staff Area – Have a discreet back area for staff breaks, storage and washing up.
Cleaning and Waste – Ensure areas for safe trash disposal and hand/utensil washing. Source cleaning supplies.
Create a layout optimized for customer service, hygiene, and managing high volumes.
4. Obtain Necessary Licenses and Permits
To legally and safely operate, your chicken and chips business will need licenses and permits from local authorities.
Important approvals needed may include:
Business operating license
Food handler certifications
Fire department inspection
Health and safety inspection
Consult your local council early about exact requirements and fees to avoid delays in opening. Proper licensing ensures you meet regulations.
5. Source Reliable Suppliers
The ingredients for your menu, like chicken, potatoes, oil, sauces, and packaging, will need dependable suppliers.
Research and assess suppliers on criteria like:
Pricing – negotiate discounts for bulk orders
Quality – consistent, premium supplies
Reliability – timely deliveries and response
Safety – proper handling procedures
Payment terms – flexible options
Having trusted, affordable suppliers make your operations more profitable and efficient. Build relationships with backup suppliers as well to mitigate risk.
6. Create a Simple But Popular Menu
Keep your menu straightforward and focused on chicken and chips. Unique additions beyond the core offerings help attract customers.
Menu possibilities include:
Fried or grilled chicken pieces – wings, thighs, drumsticks in different sauces
Chips – thick cut, thin, crinkle, waffle or curly options
Side dishes – coleslaw, fried rice, chicken sausage
Drinks – soda, juice, bottled water
Extras – chicken tenders, gizzards, puff puff, scotch eggs
Focus on chicken cooked fresh to order. Emphasize signature sauces and rubs to stand out. Offer meal deals and family packs.
Print your menu professionally and display it prominently. Update online and social media menus, too. Refresh offerings seasonally.
7. Stock Your Kitchen and Supplies
Your chicken and chips business must be fully stocked with the right equipment, tools, and ingredients to operate efficiently.
Important kitchen and supplies to have on hand include:
Cooking equipment – deep fryers, ovens, grills, pots/pans
Utensils – knives, tongs, spatulas, ladles, chopping boards
Refrigeration – freezers, fridges for meat and sauces
Packaging – boxes, bags, napkins, cups, straws, utensils
Oils – for frying chicken and potatoes
Sauces – unique signature sauces and seasonings
Spices – pepper, salt, paprika, garlic, chili powder
Chicken – whole birds, thighs, wings, drumsticks
Potatoes – white, sweet, blends for chips
Side ingredients – cabbage, carrots, rice, eggs
Drinks – assorted sodas, water, juice
Cleaning supplies – soap, sanitizer, disinfectant, paper towels
Order inventory volumes based on predicted initial demand. Restock regularly as sales ramp up.
8. Hire Friendly and Reliable Staff
Great customer service will set your chicken and chips business apart. Hire staff that are friendly, patient, and efficient even under pressure.
Ideal roles to fill include:
Cashiers – to interface with customers for orders and payments
Cooks – to fry, grill, and prepare chicken and chips fresh
Servers – to clean tables and serve meals with a smile
Dishwashers – to washup with speed and care
Delivery drivers – optional role to deliver neighborhood orders
Train staff thoroughly on portions, cooking times, hygiene, safety, and customer service. Pay competitive wages and incentivize performance to reduce turnover.
9. Implement Safety and Cleaning Protocols
Running a professional chicken and chips business means strict standards for safety and cleanliness.
Important protocols include:
Handwashing – frequent proper handwashing and glove changing
Utensil sanitizing – consistent hot water washing of all tools
Food safety – cooking at proper temperatures, refrigeration
Cleaning schedule – daily opening and closing checklists
Trash disposal – frequent emptying in tied bags
Pest control – proactive measures to deter rats or cockroaches
Equipment inspections – verify working and calibrated fryers, ovens, etc.
No compromises can be made for hygiene and food handling safety. Customers notice clean, orderly shops.
10. Market Your Chicken and Chips Business
Promoting your new chicken and chips venture is essential to attracting initial customers. Spread the word!
Great marketing tactics include:
Store signage – invest in bright, eye-catching signboards
Flyers – distribute promotional flyers by hand and in shops, bus stops, noticeboards
Free samples – provide free tasters to pedestrians and market crowds
Local sponsorships – sponsor community events or football teams
Loyalty program – punch cards for free meals after purchases
Grand opening event – create buzz with giveaways and vouchers
Online presence –register with food ordering and delivery platforms
Social media – share enticing food photos on Instagram and Facebook
11. Provide Fast But Quality Service
Customers choose chicken and chips for fast, convenient meals. You must balance speed with ensuring high quality, freshness, and safety.
Tips for great service include:
Prepare chicken and chips in small batches to fill orders fast.
Monitor orders and anticipate demand during rushes
Ensure friendly customer interactions at the counter
Check orders for accuracy – customers notice wrong sides or missing items
Have orders ready for pickup shortly after placing
Keep tables and shop tidy while serving promptly
Offer takeaway for those not staying to dine-in
Delivering piping hot, delicious chicken and chips consistently will earn you regulars.
Read Also: 20 Best & Profitable Automation Business Ideas
12. Price Your Menu Right
Most chicken and chips customers seek good value for money. Price your menu competitively, but don't compromise on portion sizes.
Consider pricing factors like:
Ingredient costs – balance affordable menu prices with profit
Local buyer incomes – price according to what the population can afford
Competitor pricing – undercut or match prices for perceived value
Specials/combo pricing – incentivize larger group orders
Markups on extras – nicely profit from add-ons like drinks and sides
Seasonal adjustments – consider higher pricing during peak festive demand
Refine your pricing to appeal widely and maximize profitability. Avoid the temptation to overcharge!
13. Manage Inventory and Cash Flow Closely
Carefully tracking and managing inventory and cash flow is crucial for success. Stay on top of accounting.
Maintain sufficient stock of ingredients and packaging without overbuying.
Track costs of food items and ingredients used daily.
Monitor sales data and profit margins weekly.
Handle payments to staff and suppliers on time.
Deposit cash and card payments safely each day.
Watch for potential waste, theft, or accounting issues.
Managing revenue, inventory, and disbursements closely will help your chicken and chips shop thrive over the long run.
14. Expand Your Business Carefully
Once your first chicken and chips shop runs profitably, there are opportunities to expand into additional locations.
Smart expansion considerations:
Scout potential new locations methodically
Open a second shop close to test expansion
Maintain quality control with added locations
Hire competent managers to oversee each new shop
Adapt menus, prices, and marketing by location
Source ingredients at higher volumes for cost savings
Perfect operations before attempting large expansion
Controlled, strategic growth will profitably build your chicken and chips brand over time.
15. Adapt to Evolving Food Trends
To sustain success in the food business, stay aware of emerging trends and adapt accordingly.
Ways to evolve with changing tastes:
Note generational preferences like increased vegetarian demand
Incorporate modern spins on classic dishes when possible
Cater for specialized diets like gluten-free, low-carb, vegan
Experiment with fusion flavors influenced by global cuisines
Pay attention to presentation – make dishes photo-worthy
Focus on nutrition along with taste
Giving customers novel tastes and healthier options can refresh interest in your business.
Conclusion
Starting a profitable chicken and chips takeaway shop in Nigeria requires attention to crucial factors like location, quality, and service.
Conduct thorough research and planning of your menu, shop layout, supplies, and processes.
Invest in excellent ingredients, talented staff, and rigorous hygiene practices.
Promote your shop energetically, provide swift service with a smile, and satisfy customers with delicious food. Manage inventory and cash flow diligently.
Your chicken and chips venture can gain a following and regular clientele with hard work and sound business fundamentals.
Expand slowly at the right time to build your local reputation in Nigeria's fast food scene.