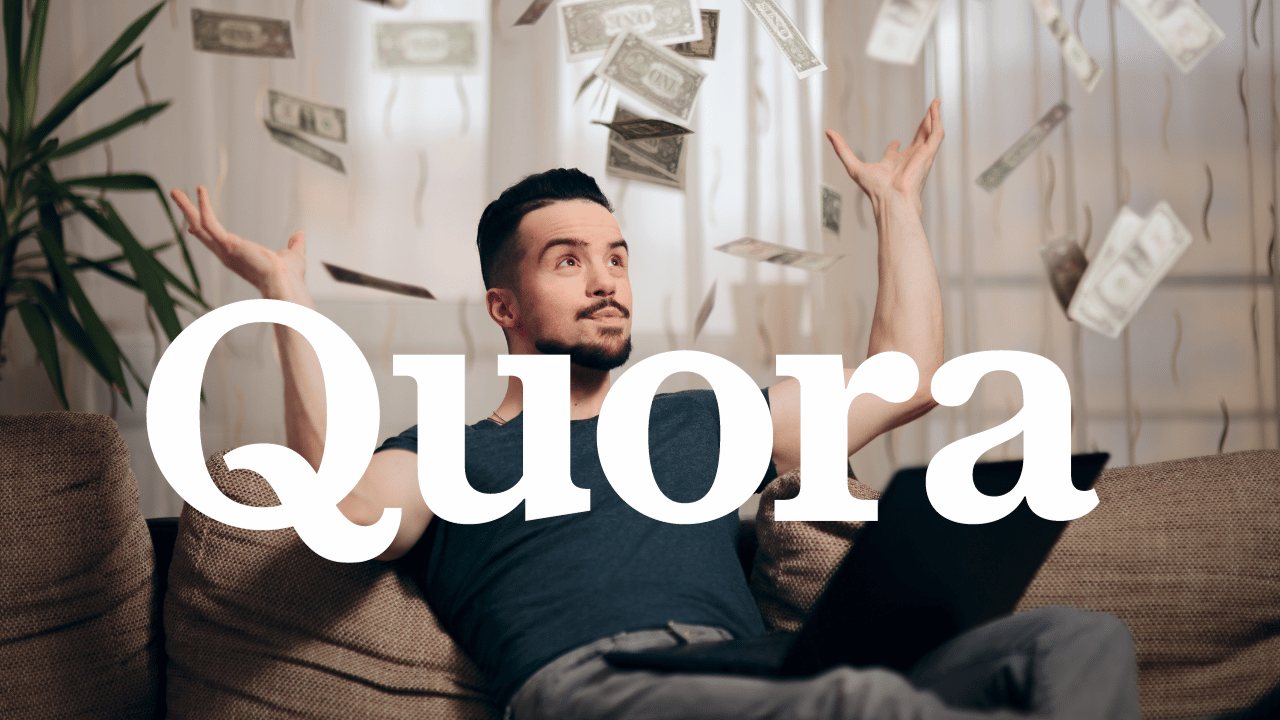 Quora is one of the largest online question-and-answer platforms. The site has over 300 million monthly visitors seeking advice and information.
But did you know Quora also offers ways for users to earn money?
If you spend time on Quora reading or answering questions, you may be wondering:
How does Quora make money?
As a user, can I make money on Quora?
What are the different Quora money-making programs?
In this beginner's guide, we'll cover all how you can start earning cash on Quora in 2023.
Read Also: 20 Best & Profitable Automation Business Ideas
How Does Quora Make Money?
First, let's look at how Quora monetizes its platform. This will help you understand how regular users can also profit.
Quora primarily makes money through:
1. Advertising Revenue
Display ads – Banner ads targeted to keywords
Video ads – Promoted videos play before relevant Q&A videos
Audience ads – Target users based on their interests
2. Quora Partner Program
Allows expert users to run ads alongside their content and earn money
3. Quora Insights
Paid dashboard providing analytics to brands who advertise on Quora
4. Quora Business Profiles
Paid verified profiles that promote companies as experts in their field
Now that you know how Quora generates revenue, let's explore how regular users can profit, too.
Quora offers several programs that allow users to earn cash.
How Can Users Make Money on Quora?
Quora users have a few options for earning:
1. Quora Partner Program
The Quora Partner Program allows expert writers to earn a portion of ad revenue from their content
You can start earning if you regularly provide valuable answers in your niche.
Here is how the program works:
First, apply to become a Quora Partner. You must be an experienced, high-quality writer.
If accepted, you can enable ads on your content. Choose the ads you want to associate.
Quora displays these ads next to your content. When visitors click or view them, you earn money.
You keep 25% of the revenue these ads generate. Quora takes the remaining 75%.
Earnings are added to your Quora balance weekly and can be cashed out via PayPal.
This program is ideal for subject matter experts who create content in popular categories like technology, business, and health.
With quality answers, you can start monetizing your expertise.
2. Quora Spaces
Quora Spaces allows users to get paid for curating spaces on niche topics. You can earn revenue from the space as a space creator or moderator.
Here is how it works:
Apply to create a new Quora Space in an area you hold expertise in.
Build out your space by adding questions, descriptions, rules, and moderators if approved.
As a Space creator, you can display ads and offer premium content to generate income. This provides payouts for you and your moderators.
Set your own pricing and membership tiers. Quora takes a percentage of revenue.
As your space grows in popularity, your earnings increase.
Top-performing spaces can bring in significant income. But you need an engaged audience and high-quality content.
3. Quora Revenue Share
With Quora's revenue-sharing program, you can earn money from questions that receive many views.
Here's how it works:
Ask interesting, thought-provoking questions that go viral within the Quora community.
If your question gets more than 1 million views, it becomes eligible for revenue sharing.
Quora will display ads next to these trending questions. You get a cut when the ads earn revenue.
Your payout depends on the number of views. More viral questions result in higher earnings.
While getting millions of views takes work, the revenue share program provides a nice little bonus. A few viral questions can become a source of passive income.
Read Also: 10 Best Accounting Software for Wholesale Businesses and Distributors
4. Quora Writer Partnership Program
Quora also pays select writers to create content through their Writer Partnership Program. Here's how to participate:
Apply to become a Quora Writer. You must have a history of high-performing content.
If accepted, you're assigned paid writing projects related to your niche Quora the provides topics.
Create written pieces, list articles, and Q&A-style content. Lengths range from 300-5000+ words.
Earnings start at around $50 per piece for new Writers and up to $500+ for experienced contributors.
Gets paid via PayPal shortly after articles are published.
This program provides great pay for prolific writers able to produce helpful, engaging content quickly.
It does require creating on Quora's schedule about their chosen topics.
5. Promoting Affiliate Links
While not an official Quora monetization method, you can earn affiliate commissions by promoting relevant products:
Add text links to helpful products on Amazon or other affiliate programs when sharing advice.
You earn a sales commission if readers click and purchase items using your link.
Only recommend products organically – don't spam links just for profit.
Affiliate earnings won't make you rich, but they provide some reward for taking the time to share useful recommendations.
Now that you know how to make money on Quora, let's cover tips for success.
How to Increase Your Quora Earning Potential
To maximize your money-making opportunities on Quora:
Build your reputation. Focus first on providing helpful information to build trust and gain an engaged following.
Apply for Partners once eligible. You need an established history of quality content first.
Leverage your expertise. Create content and engage deeply in categories where you have authority.
Promote your Quora content. Share your questions and answers on social media to increase visibility and traffic.
Stay active. Check in daily to answer new questions, interact with followers, and monitor your metrics.
Go above and beyond. Provide well-researched, complete responses, not just quick comments.
Follow program rules. Only use organic monetization methods, not manipulative tactics.
You can unlock Quora's money-making potential in time with persistence and consistency.
Let's look at what you can expect to earn as a beginner.
What Can You Earn on Quora?
For new users, earnings will start small:
Quora Partners: Most beginners make less than $100 per month initially. Top contributors can exceed $1,000.
Quora Spaces: New spaces likely only earn ~$25 monthly. But popular hubs can generate $500+.
Revenue Sharing: A viral question might earn $20-$50. But consistently contributing hot questions pays off.
Freelance Writing: Expect around $50 per article when starting out, potentially reaching $500+ long-term.
Affiliate Links: Anywhere from a few cents to a few dollars per purchase, depending on the product.
While profits likely won't be huge immediately, they can grow. Some top Quora creators now make a full-time living through the platform.
Putting in the time to create high-value content and build a loyal following pays dividends. Patience and persistence are key.
Can You Really Earn Money on Quora?
Yes, Quora does offer legitimate ways to earn extra income. But some caveats:
It takes time. Don't expect big payouts instantly. Focus on value first.
It requires effort. You must consistently create high-quality, helpful Q&A to see results.
You won't get rich. Most users only earn side cash, not huge profits. Manage expectations.
Approach Quora as an opportunity to get rewarded for sharing your knowledge, not a get-rich-quick scheme. The more value you provide, the more your earnings will grow.
Read Also: 20 Best & Profitable Boring Business Ideas
Conclusion
We hope this beginner's guide provided a helpful overview of how to make money on Quora.
The key takeaways:
Quora offers several programs for users to earn from content, spaces, and traffic.
Focus first on building expertise and helping others. Money second.
Be patient. It takes time to build a following and unlock income streams.
Keep providing enormous value, and your persistence will pay off.
Sign up for a Quora account to start connecting with your niche community. The more you engage, the sooner you'll become eligible for money-making opportunities.
With dedication and consistency, Quora's platforms can become a source of supplemental income from something you enjoy – sharing knowledge.
So what are you waiting for? It's time to start earning!