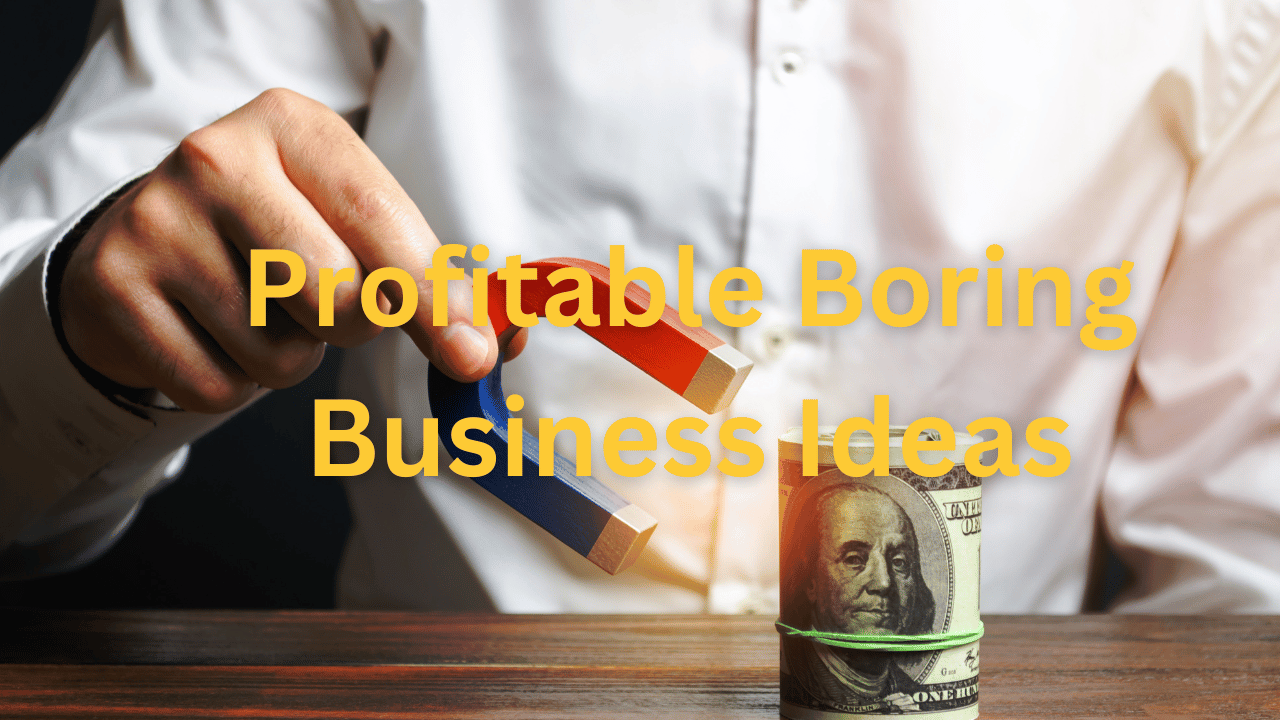 Let's face it – not every business needs to be some cutting-edge, highly disruptive startup.
Sometimes, the best business ideas are the most boring and straightforward ones that provide useful products or services without a lot of flash.
Just because a business is boring doesn't mean it can't be profitable. Those "boring" businesses are often essential and stick around year after year, providing steady incomes for their owners.
This article will examine 20 boring yet profitable business ideas you can start in 2023 without a huge amount of risk or upfront capital.
These solid, proven businesses may not be glamorous or exciting but can generate real income if executed well.
20 Best & Profitable Boring Business Ideas [2023]
Here are the twenty best and most profitable business ideas that seem boring:
1. Residential and Commercial Cleaning
Cleaning businesses are ubiquitous because there's always demand for their services.
People and companies pay good money to have their homes, apartments, offices, stores, and other spaces cleaned regularly.
With low startup costs, a cleaning service can easily get off the ground and be operated part-time before transitioning to full-time.
Most clients prefer regular scheduled service (weekly, bi-weekly, monthly), which provides reliable recurring revenue.
Provide quality work and good customer service; your reputation will spread through word-of-mouth referrals.
2. Lawn Care and Landscaping
Keeping lawns neatly trimmed and landscaping maintained is another never-ending task that many homeowners and businesses are happy to hand off to professionals.
The start-up costs for basic lawn mowing and landscaping equipment are reasonable, and you can start as a solo operator before expanding your workforce.
Specialize in lawn care or offer full landscaping services like planting flowers and trees, installing lighting, building gazebos and water features, and more.
Build a reputation for quality work at fair prices, and the jobs will continue flowing in.
3. Bookkeeping and Accounting
From invoicing to payroll, taxes, and more, bookkeeping and accounting are crucial tasks that companies, big and small, pay to have handled accurately and efficiently.
Though some bookkeeping experience and accounting qualifications are required, you don't need a huge upfront investment.
Build a client base among small businesses in your area to earn steady, recurring income.
Most clients are happy to have these financial tasks removed from their to-do lists and handled by capable professionals.
4. Home Inspection
When buying a new house, having a professional home inspection first is extremely wise.
Home inspectors carefully examine the property and systems and provide a detailed report on their condition – giving valuable peace of mind to buyers or highlighting issues that may need to be addressed.
Becoming a certified home inspector requires training and licensing but can be a steady business in most real estate markets. Home inspections are usually paid for directly by the buyer.
Doing a thorough job and providing detailed, useful reports will lead to great references and repeat business.
5. Notary Public Services
From real estate transactions to affidavits and loans, certified notaries public verify identities and witness signatures on important documents.
Most US states require training, background checks, and licensing to become a notary. You can operate locally or offer mobile notary services across your region.
Banks, law firms, government offices, and other businesses often retain and schedule notaries.
Individuals also frequently need notary services for real estate deals, wills, and other important paperwork. Reliable notaries earn well per signature and appointment.
6. Resume Writing
Another boring yet profitable business idea is writing resumes. Few people enjoy writing and updating their resumes – that's why professional resume writing services thrive.
Strong writing skills and a good knowledge of what makes an effective, compelling resume are crucial to launching this business. Stay up-to-date on the latest resume best practices and trends.
Your main services will involve crafting new client resumes from scratch, optimizing and improving existing resumes, and adapting resumes for specific jobs and industries.
A related revenue stream can be assisting clients with LinkedIn profiles and cover letters.
Build a reputation for well-written resumes that help clients get noticed and land interviews.
7. Freight Brokerage
The enormous trucking and freight industry relies on brokers coordinating loads between shippers and carriers.
Licensed freight brokers find carriers with available capacity to haul loads listed by shippers and take a percentage of the load revenue for this service.
While freight brokers don't own trucks or employ drivers, they require extensive logistics expertise, strong networks, licensing, and reliable software to efficiently source available loads and trucks.
For those with the right skills and business savvy, freight brokerages can grow into profitable logistics companies.
8. Junk Removal and Hauling
Cleaning out cluttered basements, garages, attics, and entire estates is a job many homeowners want nothing to do with.
That's where you and your junk hauling or removal service come in. Customers pay you to safely clear out the unwanted items and junk accumulated over the years.
All you need to get started is an appropriately sized truck, tools, safety equipment, and reusable bins.
Market your services aggressively – if you remove junk efficiently and professionally, growth can be rapid as many leads come from referrals.
Expand into recycling items and scrap collection to increase revenues.
9. Commercial Janitorial Services
One of the least glamorous yet steady businesses provides janitorial services to commercial clients like office buildings, schools, gyms, arenas, medical facilities, shopping malls, and other establishments.
Develop a roster of reliable, bonded cleaners and market your services aggressively to property managers and building owners.
Lock up contracts for daily, nightly, and weekly cleaning duties like sweeping, mopping, vacuuming, sanitizing, window washing, and trash disposal.
It's mundane work, but buildings always need cleaning, and it's recession-proof.
10. Security Systems Installation
With crime and home invasions a concern for many homeowners and businesses, demand for security systems is substantial.
Skilled technicians can start thriving installation and maintenance businesses with moderate startup costs.
Concentrate on professionally installing systems like burglar alarms, surveillance cameras, access control, fire alarms, and home automation.
Build ongoing revenue through maintenance contracts, monitoring fees, and upgrades.
Your reputation for prompt, knowledgeable service will have customers referring you to friends and contacts.
11. Flooring Installation
Installing tile, hardwood, laminate, vinyl, and other flooring is labor-intensive but builds a stable income.
Gain expertise in working with different flooring materials – customers will hire pros they trust to complete the job correctly.
You'll need tools like saws, lasers, kneepads, and specialty blades to handle customer jobs efficiently.
Build awareness through ads, showroom samples, and contacts with interior designers and realtors.
Focus on quality workmanship and business practices to keep the referrals coming.
Read Also: Licenses and Permits You May Need to Open a Laundromat
12. Auto Repair Shop
Always in demand and usually busy, auto repair shops and mechanics provide essential fixing and maintenance services.
With space for lifts and tools, certified mechanics can build trusted shops that fix common issues like transmissions, brakes, electrical items, leaks, tune-ups, etc.
Building loyal customers starts with accurately diagnosing problems, charging fair rates, being transparent about costs, and delivering promised services on schedule.
Good mechanics who run solid operations build their customer base and earn high referrals.
13. Locksmith Service
The need for locksmith services never goes away – people always need new house keys cut, locks changed and repaired, safes opened, cars unlocked, etc.
Trained locksmiths can start mobile operations or storefront shops to address customers' lock and key needs.
Like mechanics, locksmiths build business through great service and fair pricing.
Be responsive and offer 24/7 emergency services to impress customers and get word-of-mouth referrals.
Upsell services like access control systems and home safes to increase revenues.
14. Carpet and Upholstery Cleaning
Specializing in deep carpet and upholstery cleaning can build steady income due to constant demand.
Homes and offices need carpets regularly cleaned, while restaurants, hotels, theaters, cars, and boats require upholstery cleaning.
You'll need truck-mounted extraction equipment for larger jobs and portable machines for home carpet cleaning.
Build a customer base by marketing directly to property managers, interior decorators, and homeowners.
Provide stain protection treatments and removal for additional revenue.
15. Pressure Washing
Power washing and pressure washing home exteriors, sidewalks, decks, driveways, equipment, storefronts, etc., can be a surprisingly lucrative and steady business.
Startup costs are reasonable – pressure washers, hoses, and transportation take care of the basics, though bigger jobs may eventually require hiring employees.
Market aggressively to residential and commercial customers – almost every building and exterior gets dirty over time and benefits from pressure washing.
Provide quality cleaning and care, ensure customer satisfaction, and watch your reputation grow.
16. Private Investigation
TV makes private investigation seem over-the-top, but most real PI work is more mundane – performing background checks, checking for unpaid taxes or debts, asset searches, worker's compensation claims, infidelity cases, etc.
Most states require professional licensure. Build your agency through online ads and contacts with law firms and attorneys.
A reputation for integrity, quality research skills, and discretion will attract steady clients and assignments.
Handle diverse cases like divorce proceedings, insurance fraud, due diligence, finding long-lost relatives, etc.
17. Tax Preparation
Come tax season, individuals and businesses look for professionals to save time, maximize returns, and ensure compliance.
With training and certification like an enrolled agent credential, you can launch a seasonal or year-round tax preparation business focused on individual returns or services for small businesses, depending on your specialty.
Build capabilities for accounting, bookkeeping, payroll, and other common small business needs to expand your offerings.
Handle ongoing tax planning and preparation, not just tax season crunch time.
18. Furniture Assembly and Repair
Putting together furniture ordered online has become a growing chore that many customers happily outsource.
Likewise, furniture repair and refinishing are specialized skills. Launching a furniture assembly and repair service can build a steady income without major startup costs – just tools, transportation, and expertise.
Market yourself directly to consumers, furniture stores, and retailers to build your reputation and grow via word-of-mouth referrals. Offer pickup and delivery for larger items.
19. Craft Beverages
Local breweries, distilleries, cider makers, and kombucha brewers have become thriving businesses by tapping the growing demand for uniquely crafted alcoholic and non-alcoholic fermented beverages.
Launching requires product research and testing, licenses, funding, and facilities, but small batches can be brewed on a garage scale at first.
Build a local customer base through tastings, tours, and taps in bars and restaurants. Focus on quality ingredients and mastering your craft to stand out in a growing field. Expand distribution as demand grows.
20. Gift Basket Service
Combining creativity with great products is the key to building a thriving gift basket business.
Offer pre-made baskets by theme and occasion, or create customized baskets to order.
Focus on presentations tailored to customers – spa baskets, fruit baskets, chocolate towers, baby gifts, corporate gifts, and much more.
Build relationships with local producers and food makers to source signature items.
Promote through local gift shops, online platforms, and digital ads. Provide excellent service and build a reputation as the go-to basket company for any occasion.
Read Also: 10 Best Accounting Software for Carpet Cleaning Companies
Conclusion
The most profitable business ideas don't have to be the most exciting or innovative; they can also be boring.
Traditional services like cleaning, repairs, hauling, building, and day-to-day tasks will always be in demand.
Find an essential yet boring niche, execute it at a high standard, market yourself effectively, and provide consistently great service to build a stable, rewarding business.
Do thorough research and planning, manage costs carefully, satisfy customers, and don't get bored of the grind.
Mastering the unglamorous fundamentals and building a solid reputation is the key to success – even in boring businesses.
With realistic expectations, savvy branding, quality operations, and some passion, you can build the kind of steady, profitable enterprise that endures – in any industry.