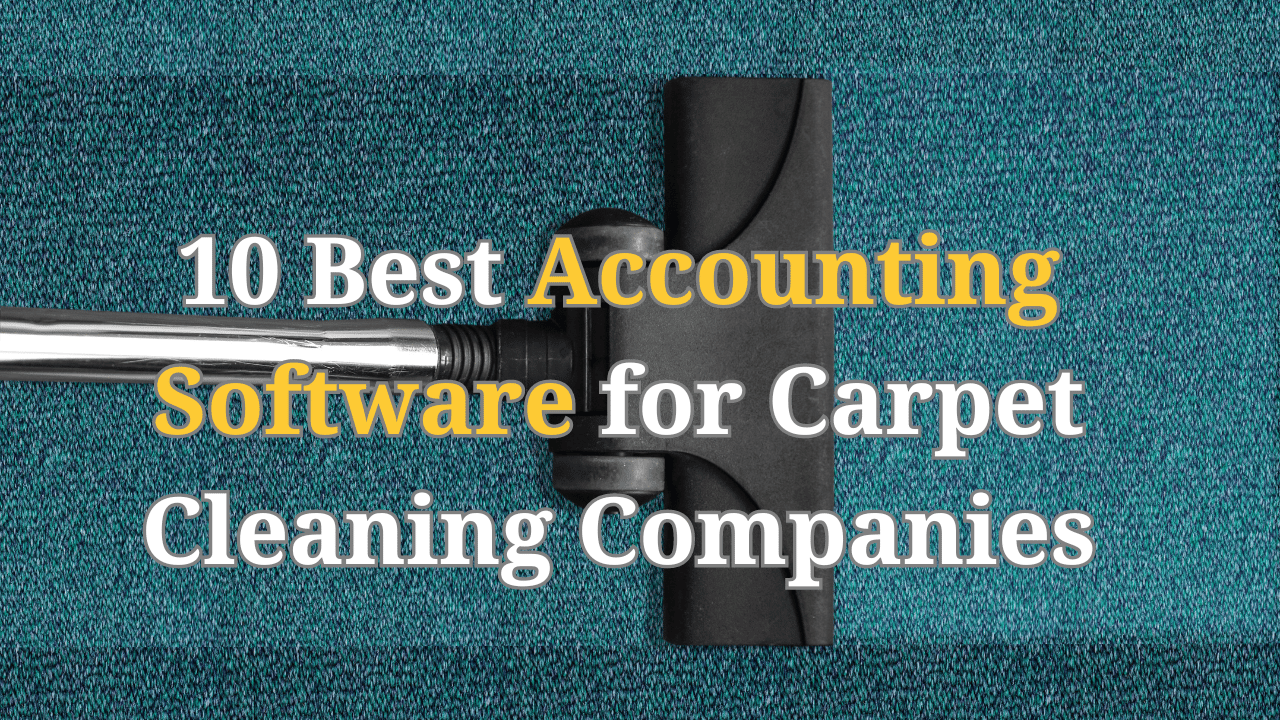 Running the finances for a carpet cleaning business presents some unique challenges.
You must track recurring clients, invoice per project, manage inventory and employees across different worksites, balance accounts, and optimize cash flow.
The right accounting software tailored to carpet cleaners makes handling these financial tasks much easier.
This article reviews the top 10 accounting software picks for carpet cleaning companies based on features, ease of use, and affordability.
Read Also: 10 Best Accounting Software for Electricians and Electrical Contractors
10 Best Accounting Software for Carpet Cleaning Companies
The following are the best accounting software for carpet cleaning companies:
1. ServiceM8
ServiceM8 is purpose-built cloud accounting software designed specifically for field service companies like carpet cleaners.
Key features include:
Scheduling and dispatching cleaners to jobs
Customer database to track history
Job costing and customizable invoicing
Inventory management for chemicals, materials
QuickBooks integration
Mobile access and offline mode
Everything ties together into an end-to-end solution for carpet cleaners to run their entire business efficiently.
Customer-focused capabilities and field service functionality make ServiceM8 a top choice.
2. Jobber
Jobber offers another field service-specific accounting platform with great options for carpet cleaners.
Capabilities include:
Scheduling cleaners and bookings
Estimates and recurring invoices
Job costing and time tracking
Inventory control for supplies
Custom reporting and analytics
Integrations with POS systems
Mobile apps for techs and customers
The software is designed to handle all the core financial needs of cleaning crews on the go. White-label portals keep your brand front and center.
3. Housecall Pro
Housecall Pro is popular accounting software for carpet cleaning businesses. Benefits include:
Scheduling cleaners and appointments
Estimates, invoicing and payments
Response tracking and customer feedback
Job cost reports and analysis
Inventory management
Marketing tools like postcards
Integrations with QuickBooks, Xero
Housecall Pro excels at streamlining office operations around cleaning schedules and crews. The marketing features also help attract new leads.
4. QuickBooks
The well-known QuickBooks small business accounting platform offers versions tailored for field service companies.
It provides:
Estimates and customized invoicing
Recurring billing and subscriptions
Inventory and supplier tracking
Job costing and labor tracking
Mileage tracking for vehicle costs
Standard accounting and reporting
Add-on apps from the QuickBooks App Store
QuickBooks is relied on by thousands of cleaning businesses for core financials. The ecosystem offers solid foundational accounting tools.
5. Xero
Xero is another leading small business accounting solution used widely by service companies like carpet cleaners.
Benefits include:
Contacts database to track customers
Estimates and invoice generation
Bank reconciliation and reporting
Inventory management
Bill pay and expense tracking
100+ app integrations
Access from any device
Xero excels at daily accounting essentials while connecting data flows across the operations. An affordable pricing structure appeals to many.
6. Zevo
Zevo provides full-spectrum accounting software designed for field service companies of any size.
Features include:
Scheduling and dispatch optimization
Estimates, invoicing, payments
Customer database with history
Inventory control and ordering
Custom reporting on finances
Marketing tools for renewals
Mobile apps for techs and staff
The comprehensive platform scales from solo cleaners up to enterprise-level national cleaning services.
7. WorkWave PestPac
Though focused on pest control operators, WorkWave PestPac has crossover appeal for carpet cleaning accounting needs.
It delivers:
Route building and optimization
Estimates, billing, and invoicing
Customer database and history
Inventory control and usage reports
QuickBooks integration
Marketing tools for renewals
Mobile access for field staff
WorkWave PestPac streamlines back-office workflows while handling routing and inventory challenges. The recurring revenue features help maximize retention.
8. Service Fusion
Service Fusion specializes in accounting solutions for mobile field service companies across industries. Capabilities relevant to carpet cleaners include:
Scheduling cleaners and visits
Estimating and invoicing
Processing payments via any method
Tracking inventory and assets
Managing recurring customers
Reporting on revenue, costs, labor
Connecting field staff on mobile
ServiceFusion covers the end-to-end accounting needs for cleaning businesses in a streamlined platform. It can readily scale for growth.
9. Service Titan
ServiceTitan offers heavy-duty accounting software for large field service contractors and home service businesses. Benefits for carpet cleaners include:
Scheduling for cleaners across regions
Estimates, complex invoicing, and billing
Customer database with history
Inventory tracking and ordering
Job cost analysis
Custom reports and analytics
Connected apps and integrations
Service Titan suits enterprises managing huge volumes of cleaners, invoices, and customers. It brings field service workflows into a centralized hub.
10. ZipBooks
ZipBooks provides an affordable, easy-to-use accounting solution for smaller carpet cleaning businesses. Features include:
Contact database for customers
Estimating and invoicing
Recurring billing capabilities
Expense tracking
Inventory management
Mileage tracking for vehicle costs
Integrations with Gmail, Google Maps, MailChimp
ZipBooks simplifies accounting basics for owner-operator-style carpet cleaning companies. The price tag appeals to new startups also.
Read Also: 10+ Best Accounting Software for Plumbers and Plumbing Businesses
Key Accounting Capabilities for Carpet Cleaners
To manage finances smoothly, carpet cleaning companies should look for an accounting software with
key capabilities like:
Scheduling cleaners and visits
Job costing from estimates to final invoices
Inventory management for chemicals, materials, equipment
Tracking recurring customers
Processing payments from customers
Connecting field crews on mobile
Reporting on revenue, job profitability, taxes, etc.
Choosing software with features purpose-built for cleaning service companies enhances accounting efficiency and provides crucial operational insights.
Final Tips on Choosing Accounting Software for Carpet Cleaning Companies
To get the best out of your accounting software as a cleaning business you will need to;
Evaluate support options – live phone, chat, email, tutorials
Seek platforms that integrate or sync well with apps you already use
Understand onboarding and training resources available
Consider scalability if aiming to grow substantially
Compare pricing models – one-time, monthly, based on volume
Try free trials to experience the platform firsthand
Conclusion
Finding the right accounting software tailored to carpet cleaners sets your business up for long-term success.
The key is matching capabilities with your current needs and future goals.
With smoothly handled administrative basics, you can focus on delighting customers and growing your company.