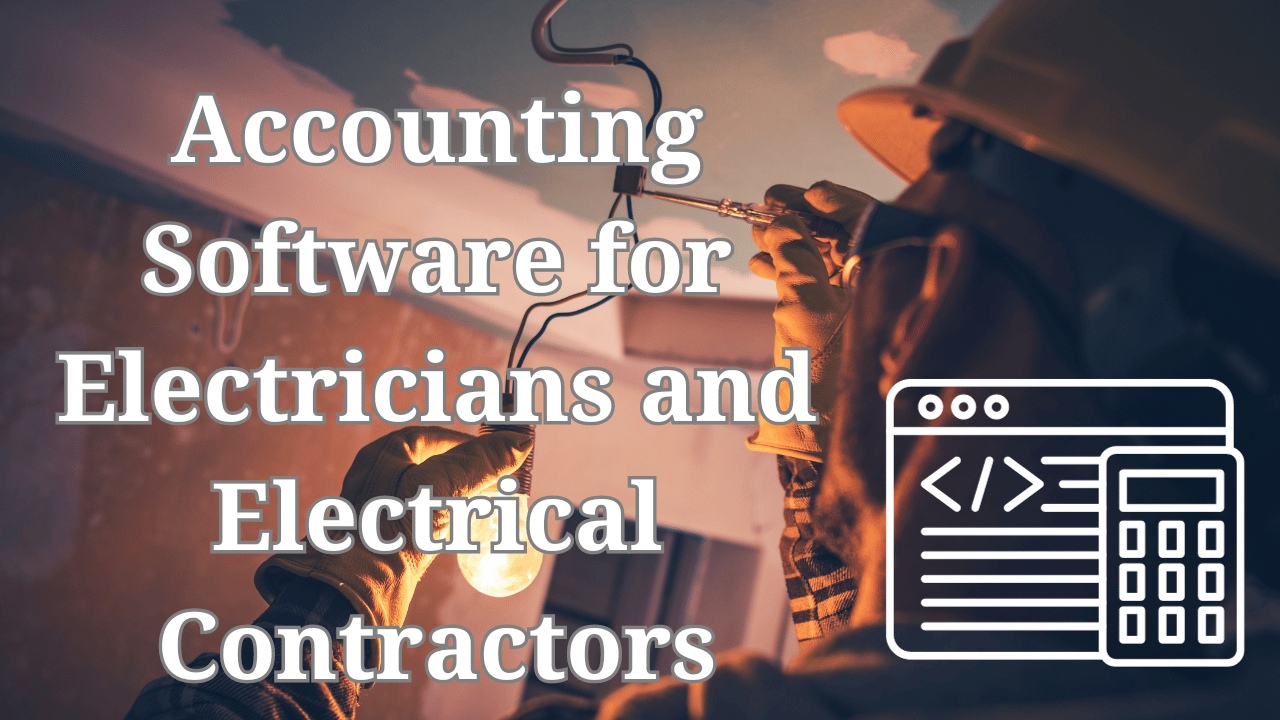 For electricians or Electrical contractors, keeping track of your finances is crucial for running a successful business.
The right accounting software can make managing your books much easier, saving you time and headaches.
This article lists the 10 best accounting software options for electricians and contractors like yourself.
10 Best Accounting Software for Electricians and Electrical Contractors
Here are the ten best accounting software for electricians and electrical contractors:
1. QuickBooks Online
QuickBooks Online takes our top spot for electricians and contractors.
The contractor-specific tools in QuickBooks Online let you track job costs and profitability.
Subscription plans start at just $25/month. The user-friendly interface makes QuickBooks Online a great choice for those without accounting experience.
2. Xero
Xero is another excellent cloud-based choice for electrical contractors and electricians.
You can reconcile bank transactions automatically, send invoices, accept online payments, and track income and expenses with just a few clicks.
Xero connects with other business apps to further streamline operations. One standout feature is project management integrations that allow you to associate invoices and expenses with specific jobs.
Xero starts at $30/month for their Early plan. For advanced needs, they offer an extensive ecosystem of hundreds of add-ons. 
Read Also: 7+ Best Accounting Software for Dance Studios and Dance Schools
3. Zoho Books
Zoho Books offers affordable yet powerful accounting software starting at just $9/month.
Though geared toward small businesses, Zoho Books offers advanced features like inventory management, time tracking, multicurrency support, and more.
You can send professional-looking invoices, accept recurring payments, track billable hours and expenses, and generate insightful reports.
The custom fields also allow you to tailor Zoho to your electrical business needs. Implementation requires no accounting know-how, although Zoho does integrate with Zoho Inventory,
Zoho CRM and other apps for advanced needs. Zoho Books works well for sole proprietors and small teams. It's an affordable but highly capable accounting platform.
4. FreshBooks
FreshBooks lives up to its "accounting software that just works" slogan for electrical contractors.
It provides a streamlined solution for tracking time, managing expenses, invoicing customers, and generating financial reports.
Its simple, intuitive interface lets you bill clients, accept credit cards, track payments received, and automate reminders with just a few clicks.
At $15/month for their Plus plan, it's very affordable, although advanced plans with additional users run up to $50/month.
Being cloud-based, you can access FreshBooks from any device, and it integrates with many electrical business apps.
While functionality is limited compared to Zoho or QuickBooks, for many contractors, the ease of use of FreshBooks outweighs the need for advanced accounting tools.
5. Sage 50cloud Accounting
Sage 50cloud gives you robust desktop accounting power preferred by many accountants.
Though desktop-based, it does connect to the cloud for mobile access, automated backups, and collaboration.
Sage 50cloud helps you manage AP, AR, reporting, invoicing, billing, fixed assets, job costing, inventory, etc.
Contractors will appreciate features like estimating, work orders, and accounts payable.
Support for up to 40 users makes Sage 50cloud scalable for larger electrical contractor businesses.
At roughly $25-$70/month, Sage 50cloud costs a premium but delivers comprehensive accounting tools.
But for advanced needs, Sage 50cloud is a top choice.
6. AccountEdge Pro
AccountEdge Pro provides a complete accounting solution for contractors and project-based businesses.
It offers tools for estimates and proposals, job costing, project tracking, scheduling, invoicing, and managing AP/AR.
Real-time financial dashboards help you identify issues and opportunities.
AccountEdge Pro syncs between desktop and mobile for on-the-go access. Integrations with apps like PayPal, Bill.com, and Gusto streamline operations further.
At $399/year for the starter version, AccountEdge Pro is affordable compared to Sage 50cloud or QuickBooks Desktop.
Support for contractors and ease of use make AccountEdge Pro a great choice for many electrical businesses.
7. QuickBooks Desktop
While QuickBooks Online works great for many electrical contractors, some still prefer Intuit's original QuickBooks Desktop.
It's a one-time purchase starting at $299.99 rather than a monthly subscription.
QuickBooks Desktop offers some additional tools over the online version, like inventory management, job costing, payroll, and the ability to manage multiple companies.
However, you don't get the cloud-based version's continuous feature updates and mobility.
QuickBooks Desktop integrates with many apps benefiting contractors.
QuickBooks Desktop warrants consideration for those wanting robust accounting software that runs locally on your computer.
8. ZipBooks
ZipBooks provides free cloud-based accounting software for service businesses like contractors.
ZipBooks' unlimited invoicing, expense tracking, time tracking, and reporting features suffice for basic accounting needs.
Connecting business bank accounts to automate entry and reconciliation is very handy.
However, the free version is quite capable for many sole proprietor electricians and small contracting teams.
Give ZipBooks a look if you want to get started with accounting at zero cost.
9. OneUp
Designed just for skilled trade service businesses, OneUp is worth looking at.
They optimize QuickBooks Online and integrate it with other tools you need to run your electrical contracting business.
Project management, inventory, e-signing, and more.
Starting at $99/month, their Contractor plan provides seamless QuickBooks integration and several integrated tools that most contractors find essential.
OneUp guides you through account setup, citing, and optimizing QBO for your needs.
The unified platform can save you thousands compared to buying standalone tools.
OneUp solves key pain points for contractors within a single system.
10. Wave
Wave provides free accounting software ideal for solopreneurs and very small businesses.
For basic invoicing, payments, expense tracking, and reporting, Wave has you covered.
It supports automated bank data imports, payroll, billing, accounting dashboards, and more.
Being 100% free, Wave is great if you just need simple DIY accounting software and don't require the advanced tools offered in paid options.
The lack of comprehensive project costing/job tracking and inventory management limits its usefulness for scaled electrical contractors.
But Wave remains a viable free option for entry-level accounting needs.
Read Also: 10+ Top Accounting Software for Distribution Companies and Wholesale Businesses
Conclusion
Many solid accounting software options exist for electrical contractors and electricians at different price points.
It pays to assess your business's specific needs and priorities before choosing.
However, with cloud-based systems like QuickBooks Online and Xero making accounting easy and affordable, there's no reason not to graduate from spreadsheets. 
With the right accounting platform helping optimize your financial workflows, you can focus on your electrical work and scaling your contracting business.