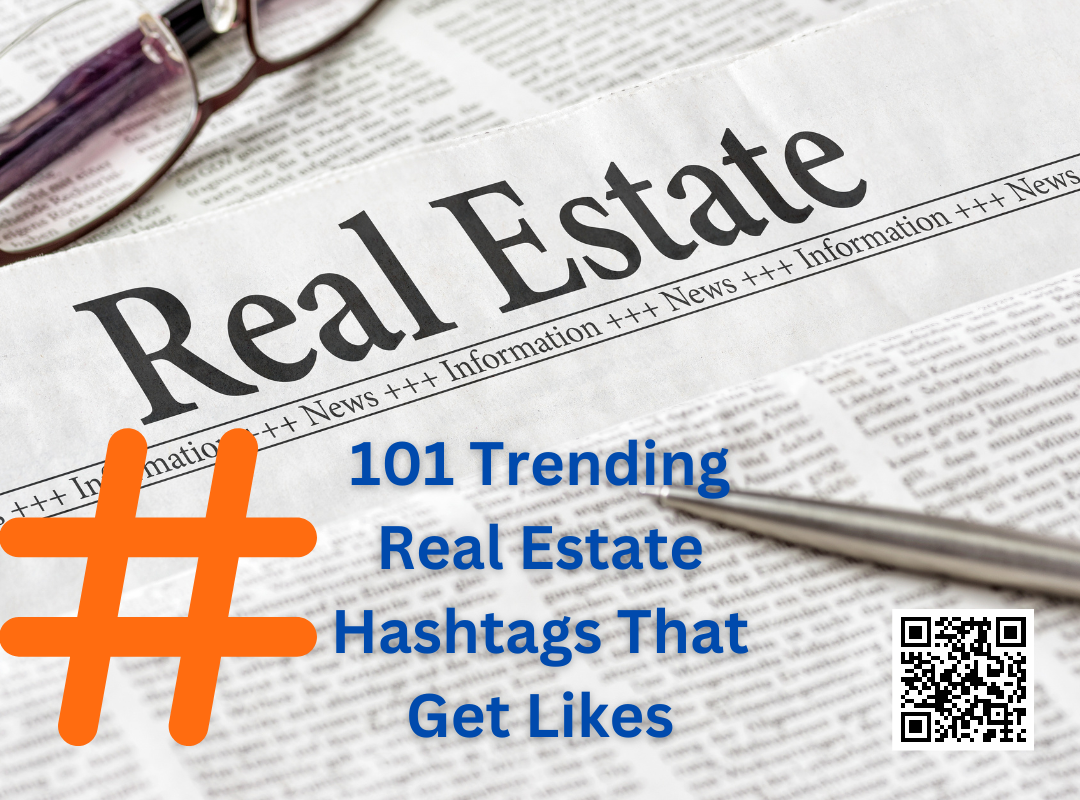 In the ever-evolving world of social media, real estate professionals and enthusiasts alike need to stay up-to-date with the latest trends to remain competitive.
One essential element of a successful social media strategy is the effective use of hashtags.
Hashtags boost your visibility and connect you with potential clients and fellow industry professionals.
In this article, we will list the 101 trending real estate hashtags that get likes and leads to the most exposure for your properties in the market.
101 Trending Real Estate Hashtags That Get Likes In 2023
Here are 101 trending real estate hashtags that will help you get more likes, engagement, and visibility in 2023:
General Real Estate Hashtags
1. #RealEstate
2. #Realtor
3. #Property
4. #HomeSweetHome
5. #DreamHome
6. #HomeForSale
7. #NewHome
8. #ForSale
9. #HomeBuyer
10. #HomeOwner
11. #HouseHunting
12. #RealEstateInvesting
13. #RealEstateLife
14. #RealEstateAgent
15. #RealEstateInvestor
16. #RealEstateTips
17. #RealEstateMarketing
18. #RealEstateTrends2023
19. #HomeInspection
20. #JustListed
21. #JustSold
22. #OpenHouse
Luxury Real Estate Hashtags
23. #LuxuryRealEstate
24. #LuxuryHomes
25. #LuxuryProperty
26. #LuxuryLiving
27. #LuxuryEstates
28. #LuxuryLifestyle
29. #Mansion
30. #MillionDollarListing
31. #HighEndRealEstate
32. #LuxuryRealtor
33. #LuxuryListing
Home Design and Decor Hashtags
34. #HomeDesign
35. #InteriorDesign
36. #ModernHome
37. #Architecture
38. #HomeDecor
39. #HomeStaging
40. #KitchenDesign
41. #BathroomDesign
42. #OutdoorLiving
43. #SustainableLiving
44. #EcoFriendlyHome
45. #SmartHome
Local Real Estate Hashtags
*Be sure to replace [YourCity] with your target city or area.*
46. #[YourCity]RealEstate
47. #[YourCity]Homes
48. #[YourCity]Realtor
49. #[YourCity]Property
50. #RealEstateIn[YourCity]
51. #HomesIn[YourCity]
Real Estate Tips and Advice Hashtags
52. #RealEstateAdvice
53. #HomeBuyingTips
54. #HomeSellingTips
55. #MortgageTips
56. #InvestmentTips
57. #RealEstateGoals
58. #FirstTimeHomeBuyer
59. #FinanceTips
60. #RealEstateEducation
Real Estate Networking Hashtags
61. #RealEstateNetwork
62. #RealEstateCommunity
63. #RealEstateConnections
64. #RealEstateCollaboration
65. #RealtorLife
66. #RealtorLifestyle
67. #RealtorTips
68. #RealEstateConference
69. #RealEstateMeetup
Real Estate Market Hashtags
70. #RealEstateMarket
71. #PropertyMarket
72. #HousingMarket
73. #MarketTrends
74. #MarketUpdate
75. #RealEstateStats
Real Estate Tech Hashtags
76. #PropTech
77. #RealEstateTech
78. #RealEstateSoftware
79. #RealEstateApps
80. #VirtualTours
81. #3DRendering
82. #DronesInRealEstate
Real Estate Humor Hashtags
83. #RealEstateMemes
84. #RealtorHumor
85. #HouseHuntingHumor
86. #RealEstateJokes
Real Estate Hashtags for Instagram
87. #InstaRealEstate
88. #RealEstatePhotography
89. #RealEstateGram
90. #HomeInspo
91. #RealtorsofInstagram
92. #RealEstateInfluencer
Real Estate Hashtags for Twitter
93. #RealEstateTwitter
94. #RealEstateNews
95. #REChat
96. #RealEstateDiscussion
97. #RealEstateBlog
Real Estate Hashtags for LinkedIn
98. #RealEstateLinkedIn
99. #RealEstateLeaders
100. #RealEstateProfessional
101. #RealEstateIndustry
How can I find out which hashtags are trending?
1. Use a hashtag tracking tool like Hashtagify, RiteTag, or Keywee
These tools analyze recent social media posts to show which hashtags are trending.
They can filter by platform (Instagram, Twitter, etc.) and category (real estate, travel, etc.) so you can find hashtags relevant to your needs.
2. Check recent posts on Instagram and Twitter
Browse some recent posts on social media platforms like Instagram and Twitter to see which hashtags are frequently used.
The hashtags used in most recent posts are typically trending. Make a list of the popular hashtags you come across.
3. See what influencers are using
Follow influencers, leaders, and successful brands in your industry. See which hashtags they are currently using and engaging with. Their hashtags are likely trending, at least within your niche.
4. Search on social platforms
Search on platforms like Instagram and Twitter for broad terms related to your industry or topic.
For example, search for "real estate" or "property." The hashtags that surface in the top posts in the results are currently popular and trending. 
5. Check trending lists published online
Some sites like SproutSocial, Tailwind, and Influencer Marketing Hub publish lists of currently trending hashtags on social media.
They track the hashtags gaining the most momentum and update their lists regularly. These can be great resources for finding trending hashtags.
6. Engage with trending hashtags to boost your visibility
Once you find trending hashtags in your industry or topic, engage with them by liking and commenting on posts using those hashtags.
You can also incorporate trending hashtags into your own social media posts. This helps increase your visibility and puts you in front of new potential followers and customers.
How to Use These Hashtags Effectively
Here are the ways to effectively use real estate hashtags to get the desired results.
Choose a mix of popular and niche hashtags
Include a few highly popular hashtags like #realestate or #homesforsale and some niche hashtags targeted to your specific city, neighborhood, or property type.
This helps you reach both a broad general audience as well as people closely aligned with your content.
Don't overtag
Don't include more than 3 to 5 hashtags per post. Using too many hashtags can seem spammy and disingenuous. Focus on quality over quantity.
Place hashtags strategically
Include your hashtags at the end of your post caption or first comment. This keeps your hashtags from distracting from the main post content and image.
Change up your hashtags
Don't use the same hashtags on every post. Switch up your hashtags to reach new audiences and keep people engaged. Some rotation is good, but don't change all your hashtags at once.
Piggyback on trending hashtags
Check various hashtag directories and social media platforms to see which related hashtags are currently trending.
Incorporate 1 or 2 trending hashtags into your posts to increase visibility. But only use a trending hashtag if it's relevant to your content.
Track your results
Use a tool like Keywee or RiteTag to see which hashtags get the most likes and engagement on your posts.
Focus your efforts on the most effective hashtags to maximize your results. Stay on top of which hashtags are currently resonating most with your target audience.
Engage with others using your hashtags
Don't just add hashtags to your posts, and move on. Take time to like and comment on other posts using those same hashtags.
This raises your visibility and connects you with other users, which can lead to new followers, shares, and even customers.
Consider launching a branded hashtag campaign
To increase brand awareness and social engagement, consider creating and promoting your custom-branded hashtag.
This allows your followers and customers to actively engage with and share about your brand. But make sure the hashtag resonates with your target audience before heavily promoting it.
Conclusion
While using popular hashtags is crucial, tailoring your content to your target audience and their interests is equally important.
Using location-specific and niche hashtags along with popular ones can help improve engagement. Keep your hashtags trending and updated for the best results.