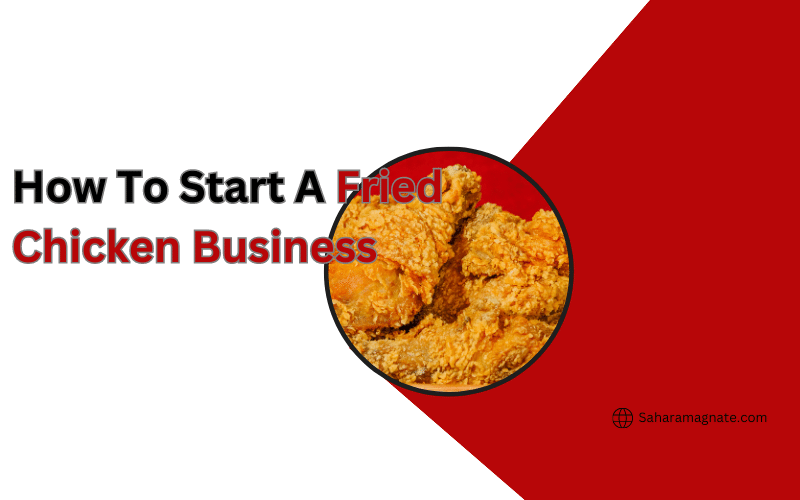 Fried chicken is one of the world's favorite meals, and it's no surprise why. It's a delicious, affordable dish that everyone can enjoy.
And starting a fried chicken business could be a great way to capitalize on its popularity. But how do you get started? What should you consider when setting up your business?
This article will cover everything you need to know about starting a successful fried chicken shop in 2023 and beyond.
Read Also: How To Start A Drone Spraying Business
Also, what to consider before setting up a shop, the equipment and ingredients you'll need, regulations and marketing tips, plus key insights from an experienced entrepreneur.
Whether you're just starting or looking for ways to expand your existing business, this guide will help you get your chicken frying.
How To Start A Fried Chicken Business
Starting a fried chicken business is a great way to make delicious food and turn a profit in the process. It's an exciting challenge that requires several essential steps to get you up and running.
Step 1: Assess the Local Market: What Is the Demand?
Before you jump in and start a fried chicken business, it's vital to assess the local market to see if there is a viable demand for your product.
The best way to do this is to look at the current trends in fried chicken businesses and the competition in your area.
To start, research current fried chicken businesses and get an idea of these establishments' size, prices, and customer base.
This will give you an idea of what kind of market exists in your area. Next, take a closer look at your potential customers.
Are there any nearby schools or businesses that might create a demand for your product? How many companies are already offering fried chicken nearby?
These questions help you determine if there is enough demand in the market for you to open a successful fried chicken shop.
By taking the time to assess your local market, you'll be more confident that starting a fried chicken business is the right decision for you and will give you better insight into how to make it successful.
Step 2: Develop a Comprehensive Business Plan
Before you get into the nitty-gritty of starting a fried chicken business, you need to create a comprehensive business plan.
Think of it as the roadmap to get you on the right path. Your business plan should include the following:
Product Offering
Consider what type of fried chicken you'll be serving and any additional products (such as sides and desserts) you may offer. Having an in-depth understanding of your product offering is essential for success.
Profit & Loss Statement
This document shows how much money your business brings in and how much it spends. It includes income from sales, rent, utilities, payroll, and other necessary costs for running your business. The goal is to ensure your business makes more money than it spends!
Marketing Strategy
A detailed marketing strategy will help you reach potential customers and drive sales. This will include the following;
Deciding on marketing channels (social media, email marketing, etc.),
Budgeting for promotions and advertising,
Setting up customer relationship management systems,
Optimizing search engine rankings and more.
You'll also want to create a logo and brand identity that conveys your message clearly and appeals to customers.
It's essential to take the time now to think through all these details to have a comprehensive foundation for your fried chicken business when it opens its doors!
Step 3: Understand the Regulations, Licenses, and Insurance Requirements
If you're planning to open a fried chicken business, it's essential to understand all the regulations and licenses required. Don't forget about insurance, too—it's essential for any business.
Research local regulations & licensing
To successfully open a fried chicken shop, you must research local regulations and licensing requirements in your area.
You may need a permit or license depending on what type of food you plan to serve, how many people you plan to seat in your shop, etc.
Insurance is an integral part of any business, especially regarding food services. You'll need liability insurance, such as general liability and malpractice/professional insurance, as well as employee-related insurance, such as workers' compensation and disability insurance.
Be sure to get the right type of insurance for your type of restaurant, and make sure the policy fits within your budget.
Check with local health inspectors for additional requirements that may apply — they may vary from state to state or city to city!
Researching regulations and acquiring the necessary licenses and insurance can be time-consuming, but it's necessary for maintaining your fried chicken shop in good standing with authorities.
Ensure you understand all these requirements before opening your restaurant—it could save you time, money, hassles, and headaches in the long run!
Read Also: How To Start A Pallet Flipping Business 
Step 4: Find the Right Location for Your Shop
Finding the right location is crucial to starting a fried chicken business. After all, it will be where customers come to enjoy your tasty fried chicken meals.
Accessible, Visible Location
When selecting a location for your fried chicken shop, ensure it's accessible and visible to your target customer base.
It's crucial that the location is accessible for customers to get to and is visible from prominent streets and highways in the area. That way, people will be more likely to find your shop without much hassle.
Look At Other Factors
Also, consider other factors when selecting a location for your business. For example, see how much foot traffic there is in the area and how close it is to areas your target market frequents.
Also, check out how much rent or mortgage costs would be in the area and if any tax incentives are available.
When choosing a location for your fried chicken shop, consider all of these factors to find an optimal nearby spot that suits your needs. That way, you'll have a great place to serve delicious dishes for hungry customers.
Step 5: Source Quality Ingredients for Your Fried Chicken Recipes
So you're ready to take on the fried chicken world, but how do you ensure your fried chicken recipes are up to scratch?
An essential ingredient to quality is natural good-quality ingredients. This means buying fresh chicken and never compromising on the quality of what you put in your recipes. You want to opt for organic, free-range, or even pasture-raised chickens that are high in flavor so your customers keep returning for more.
Aside from the main ingredient—chicken—you'll also need flavorings. This includes everything from spices, herbs, and seasonings to marinades and oils.
Try different combinations of flavors to find out which ones work best for your fried chicken recipes. Stick with a simple combination of flavors if you're starting.
One way to give your fried chicken dishes more flavor is with a dry or wet rub, a mixture of spices used as a marinade on the chicken before frying it.
Dry rubs tend to contain only spices, while wet rubs usually have liquids like oil and vinegar as part of the mix.
Your type will depend on how much time you have to prepare your dish and how bold a flavor you want it to have.
It's also worth considering pre-mixed spice blends instead of making all the individual ingredients yourself—it saves time and effort. It gives you plenty of options when experimenting with flavor combinations!
With some practice and creativity, sourcing quality ingredients can help make your fried chicken business stand out in 2023.
Step 6: Set Up Your Kitchen and Create an Environment That Promotes Sanitation and Food Safety
A fried chicken business is only complete with a well-stocked kitchen. It's essential to create an environment that prioritizes food safety and sanitation. To do this, you'll need to invest in equipment and materials that meet industry standards for safety and sanitation.
Here are a few things you'll want to include in your kitchen setup:
Commercial fryer
A commercial-grade fryer will make sure your chicken is fried to perfection every time, without the risk of over or undercooking it.
This is also important for food safety, as a fryer helps maintain consistent temperatures and prevents potential bacteria from growing on the chicken.
Refrigeration unit
Having adequate refrigeration is essential for preserving all the ingredients that go into making delicious fried chicken.
Having separate compartments with different temperatures will help ensure food quality and safety standards are always maintained.
Storage containers
You'll need plenty of storage containers to organize all the ingredients and condiments you'll be using, so make sure you have enough containers of various sizes to store everything properly.
By investing in the right equipment and materials, you can set up an efficient kitchen focusing on food safety and sanitation—all while serving some delicious fried chicken!
Conclusion
Starting a fried chicken business in 2023 is no easy feat, but with the proper preparation, marketing strategy, and customer service, you can be well on your way to success.
The keys are to have a strong concept that resonates with your local market, research your competition, keep track of your expenses and profits, and find a reliable and high-quality supplier.
You should also consider investing in digital marketing, such as social media and email marketing, to spread the word about your business.
By taking the time and effort to do your due diligence and having a unique approach to your fried chicken business, you can ensure that your shop will stand out from the competition.
With hard work and dedication, 2023 could be the year your fried chicken shop dreams become a reality.