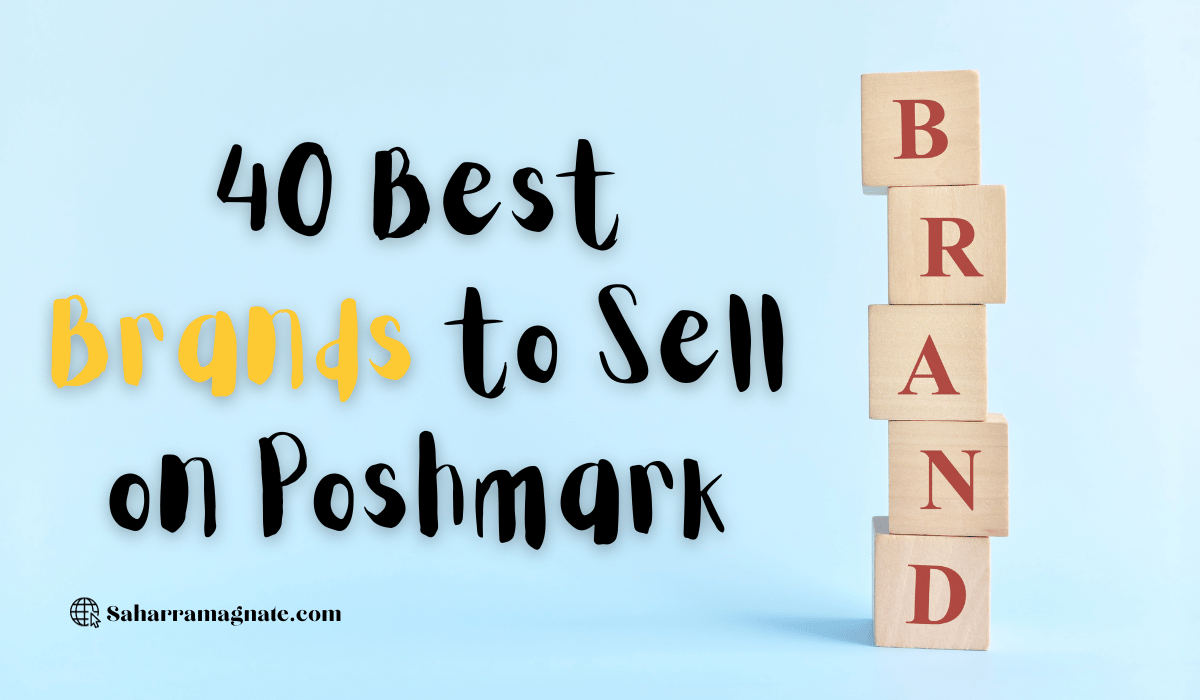 Have you ever asked what are the best brands and items to sell on Poshmark to maximize your profits?
Selling on Poshmark can be a great way to earn extra money in your spare time.
With over 80 million users, Poshmark is one of the most popular platforms for buying and selling new and used clothing, shoes, accessories, and more.
Read Also: 80 Unique, Creative & Funny Dog Breeding Business Slogans
Here are 40 of the top brands and products to focus on in 2023!
Women's Clothing Brands to Sell on Poshmark
Women's clothing does well in Poshmark's stores, here are the best brands to stock:
1. Lululemon
Lululemon is hands down one of the most in-demand and profitable brands to sell on Poshmark.
Their yoga pants, leggings, sports bras, tanks, and athletic wear are extremely popular among the Poshmark community.
Most Lululemon items sell very quickly at high prices, especially if they are new with tags or in excellent used condition.
Focus on listing recent and trendy Lululemon styles, as well as classic staples like black leggings, which buyers love to stock up on.
Make sure to note details like fabric, fit, and size so buyers can find exactly what they want.
2. Free People
Boho chic apparel and accessories by Free People are a consistent hit on Poshmark.
Cute and flowy dresses, tops, sweaters, rompers, skirts, and more sell very well.
Make sure to photograph details like embroidery, crochet trim, and strappy backs.
For the most profit focus on the Free People branded items rather than the "Intimately Free People" lingerie line.
3. Anthropologie
Anthropologie is a top brand for beautiful, feminine, and whimsical clothing and accessories.
Maxi dresses, blouses, sweaters, skirts, and pants in Anthropologie's signature prints and patterns are highly coveted.
Make sure to note details like fabric content, as this brand uses a lot of natural fibers like linen, cotton, and silk that buyers look for.
4. J. Crew
Preppy staples by J. Crew like button-ups, sweaters, pencil skirts and tees remain trendy decades after this brand's heyday.
List a wide variety of J.Crew styles and sizes, since this brand has broad appeal.
Make note of sought-after collaborations like J.Crew x Liberty London.
5. Madewell
Madewell offers classic closet staples like jeans, tees, button-ups and more.
Their jeans are particularly in demand, especially their curvy and high-waisted styles which sell out quickly in stores.
List other Madewell bottoms like shorts, skirts, and pants which have the brand's signature laidback vibe.
Women's Shoe Brands to Sell on Poshmark
The following are the best shoe brands to guarantee sales at Poshmark:
6. Tory Burch
Iconic Tory Burch flats with the signature medallion logo are a top seller. Heels, sandals, sneakers, and boots also do well.
Make sure to clean the soles and toes so the shoes photograph like new. Mention any scuffs or wear to manage buyer expectations.
7. Cole Haan
Cole Haan oxfords, pumps, wedges, and other shoes appeal to the working professional.
Stick to listings in classic colors that can be worn in a business casual office setting for the widest appeal.
8. Steve Madden
Trendy Steve Madden sandals and heels in fun colors and textures are hot on Poshmark.
Newer styles tend to sell better than older ones. Make sure to mention details like heel height and materials.
9. Tieks
Buttery soft Tieks ballet flats have a cult following, even at their $175+ price point.
All Tieks go quickly on Poshmark but black is the most in-demand color. Be sure to note the size and pattern name.
10. Rothys
Sustainable footwear brand Rothy's flats and loafers sell extremely well due to their comfort and washable knit construction.
List a variety of colors and mention if they've been washed to help buyers gauge wear and sizing.
Women's Handbag & Accessory Brands
11. Kate Spade
Pretty and feminine Kate Spade purses, wallets, and accessories have consistent appeal. Focus on classic styles in neutral colors like black, beige, or pink.
Make sure to stuff bags before photographing to show their shape and condition.
12. Coach
List vintage and newer Coach bags and small accessories like wristlets and keychains.
Vintage Coach with the "C" print tends to sell well due to nostalgia. Condition is important so be honest about any stains, scratches, or other flaws.
13. Michael Kors
Monogrammed MK bags and leather goods attract a lot of buyer interest, especially in timeless silhouettes like the satchel.
Note any wear to the mono print or hardware to set expectations.
14. Louis Vuitton
If you have the real thing, authentic vintage Louis Vuitton handbags can command huge profits on Poshmark.
Make sure to thoroughly authenticate before listing to avoid legal issues.
15. Longchamp
Inexpensive and lightweight Longchamp nylon totes are perfect for travel and everyday use.
The Le Pliage tote and its many variations are always strong sellers.
16. Fossil
Fossil watches and jewelry listings do particularly well in new or like-new condition.
List women's and men's watches with classic leather and stainless bands to appeal to the widest range of buyers.
17. Kendra Scott
On-trend Kendra Scott jewelry, like long statement necklaces and chunky rings attract a lot of buyer engagement.
Photographing jewelry on a model or form helps showcase the pieces. Stick to styles from the last 2-3 years for the best resale value.
18. Lilly Pulitzer
Vibrant Lilly Pulitzer scarves, jewelry, phone cases, and other accessories let buyers add a pop of preppy print.
Listings with the iconic Lilly flowers, medallions, and tropical motifs perform best.
19. Vera Bradley
Vera Bradley's quilted cotton handbags, backpacks, and accessories are nice lightweight options for spring and summer.
Patterns like paisley and floral prints are the most sought-after.
20. Daniel Wellington
Simple and affordable Daniel Wellington watches with interchangeable NATO watch straps are popular fashionable accessories to list.
Both women's and men's styles do well.
Read Also: Best Accounting Software: 10 Reasons You Should Go For QuickBooks
Men's Apparel & Shoe Brands to Sell on Poshmark
Stock the following men's apparel brands for fast sales:
21. Vineyard Vines
Bold polos, button-downs, t-shirts, shorts, and hats bearing the happy pink whale logo sell quickly.
Size up Vineyard Vines listings for spring and summer when demand peaks.
22. Southern Tide
Similar to Vineyard Vines, Southern Tide polos, button-downs and t-shirts in bright preppy prints do well year-round.
Flag the Southern Tide Skipjack logo in photos to attract fans of the brand.
23. Patagonia
Outdoor and adventure lovers snap up Patagonia shorts, fleeces, puffer jackets, and more. Stick to listing bestselling neutrals and colors like navy, gray, and olive green.
24. The North Face
Hardcore North Face fans collect multiple versions of popular styles like the Denali fleece and Nuptse puffer.
List jackets, vests, backpacks and more in black, gray or navy to appeal to the widest range of buyers.
25. Lululemon
Just like the women's, Lululemon men's athletic wear always attracts interest from buyers stocking their workout wardrobes.
ABC pants, metal vent tech shirts, shorts and hoodies sell quickly if priced right.
26. Brooks Brothers
Timeless business professional staples by Brooks Brothers like oxfords, pants, blazers and ties have wide appeal.
Mark pieces as EUC or NWOT to command the highest prices.
27. Bonobos
Elevated basics like pants, button-downs, polos, shorts, and swim trunks from this menswear e-tailer brand sell quickly.
Make sure to note details like fit, inseam length, and fabric.
28. Allen Edmonds
Men's leather dress shoes and oxfords by Allen Edmonds maintain their value and appeal, so only list gently used pairs in excellent condition.
Shine and clean soles to make the quality evident in photos.
29. Sperry
From boat shoes to duck boots, Sperry is a go-to menswear brand for timeless casual styles.
Photographing pairs side by side highlights condition and helps sellers price competitively.
30. Adidas
Trendy Adidas sneakers like Stan Smiths, Superstars, and UltraBoosts attract lots of buyer searches.
Highlight any collabs like Adidas Yeezy to maximize profits. Stick to listing men's sizes 10 and up which sell best.
Kids Clothing & Accessories
For kids the following brands are the best to guarantee sales:
31. Janie and Jack
Couture-level dresses, suits, tops, and accessories from this upscale kids' brand earn high sale prices in excellent used condition.
Focus your Janie and Jack listings on formalwear, party dresses, and sets to get the most profit.
32. Hanna Andersson
Buttery soft Hanna Andersson kid's pajamas are coveted for their quality and adorable prints.
Unisex styles in larger toddler and child sizes sell the best. Make sure to mention fabric content.
33. Crewcuts
Trendy spring styles of Crewcuts kid's clothing and accessories move quickly on Poshmark.
List sweaters, dresses, swimsuits and more in classic gingham and stripe prints.
34. Boden
Whimsical and colorful Boden kid's clothes attract a lot of buyer interest.
Focus on listing party and play dresses as well as boys dress shirts and pants which parents snap up for special occasions.
35. OshKosh B'gosh
Classic overalls, tees, sweaters and jeans from OshKosh appeal to vintage lovers and parents seeking timeless basics. Make sure to provide measurements since sizing varies.
36. Mini Boden
The pint-sized Mini Boden line of kids clothes features the same fanciful prints and patterns as adult Boden.
List party dresses, swimsuits and light sweaters for maximum profit potential.
37. Matilda Jane
Bright colors and eye catching prints make Matilda Jane dresses and rompers stand out.
Take close up shots of any embellished details like ruffles, buttons or bows.
38. Carter's
Comfy cotton basics by Carter's like bodysuits, pajamas and tees are parent favorites.
Stick to solid go-with-anything colors like white, gray and pastels when sourcing to list.
39. Cat & Jack
Budget-friendly kids clothing and accessories from this Target brand sell great in bundles and lots.
Make listings with a theme like summer dresses, swim trunks, or graphic tees to appeal to buyers shopping for multiples.
40. Native Shoes
Durable, cushioned Native Shoes for kids and babies are expensive new so they earn high resale prices, sometimes even used.
Make sure to clean the soles and laces before photographing.
Tips for Maximizing Profits
When listing any of these top Poshmark brands, focus on pieces that are:
Recently purchased, either new with tags or worn once or twice in excellent condition. Shoppers pay a premium for items they don't have to launder.
In classic styles and neutrals like black, gray, navy and khaki that will appeal to the widest range of buyers. Trendy limited-edition collaborations also do well.
In the most in-demand sizes. For women's apparel, this tends to be XS-M. Men's clothing sells best in M-L.
Free of flaws like pilling, stains, tears or holes. Disclose any damage but heavily damaged pieces are hard to sell.
Ideal for the current season. List warmer layers and accessories in the fall and winter. Lightweight apparel does best in spring and summer.
Poshmark buyers love getting a deal, so you don't have to price items sky-high. But do aim for competitive pricing based on similar sold listings.
Offering a bundle discount of 5-10% off two or more items also motivates buyers.
Conclusion
With this guide of the top brands and products to sell, you can source great Poshmark finds at thrift and consignment stores.
Then, list them using tips that maximize visibility and sales. Selling popular brands that shoppers love helps streamline the reselling process so you can turn unwanted items into cash quickly and easily.