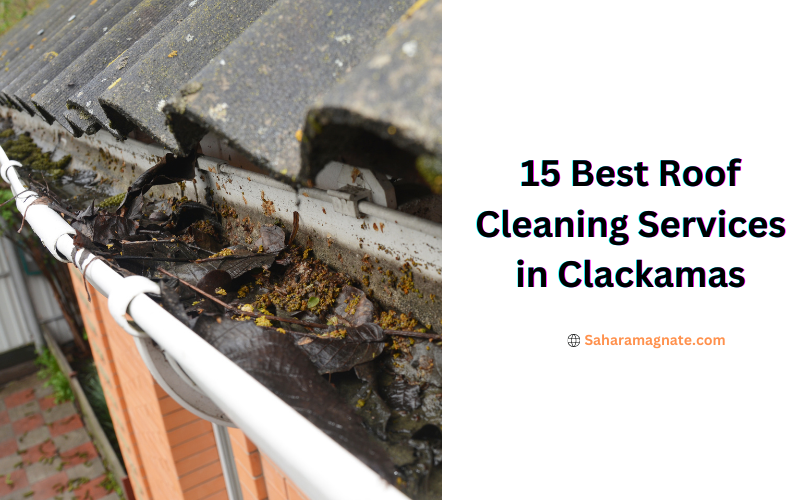 If you live in Clackamas, Oregon, the one thing you're probably used to is rain. And while the rain is excellent for keeping your lawn lush and green, it can wreak havoc on your roof. 
Roofs need periodic maintenance and cleaning to prevent damage, deterioration, and leakage. That's why you might search for a reliable roof-cleaning service.
A professional roof cleaning service will remove dirt, debris, and stains and help prevent damage.
They use specialized equipment and solutions to safely and effectively remove any build-up without damaging roof tiles or shingles.
This helps protect your roof from further weathering or damage while restoring its natural beauty.
This article will list the 15 best roof cleaning services in Clackamas. We'll also give helpful tips to help you choose the cleaning right service.
So let's get started!
15 Best Roof Cleaning Services in Clackamas
Here are the best cleaning companies in Clackamas that offer excellent customer and quality services;
Moss City Roof Care
Phone: +19714203509
Time to Shine Window Cleaning
15217 SE Louise Ln, Clackamas, OR 97015, United States
Phone:+15039222776
JNR Roof Cleaning Portland
Phone:+15034329093
Envision Property Maintenance LLC
3901 SE Naef Rd, Portland, OR 97267, United States
Phone: +15033197902
Oregon Roof Cleaning
Phone:+15032938111
USA Gutter Window & Roof Cleaning
Phone: +15039951947
All Exterior Services
Phone: +15038694383
Moss Busters
10367 SE Helena St, Portland, OR 97222, United States
Phone: +15033516300
Crux Roof & Gutter Cleaning
3536 SE Sellwood St, Milwaukie, OR 97222, United States
Phone: +19716109649
Brock's Exterior Services
Phone: +13608438414
4 Seasons Softwash & Pressure Wash LLC
8305 SE Monterey Ave Ste 217, Happy Valley, OR 97086, United States
Phone: +15037847916
Wilderland Roof & Window Cleaning
4120 SE International Way Suite A109, Milwaukie, OR 97222, United States
Phone: +15037658708
Action Northwest
Phone: +15034073346
Expert Property Maintenance
Phone: +19714092790
Crystal Clear Window Cleaning and Gutter Services Inc.
Phone: +15034817621
Different Types of Professional Roof Cleaners
Are you curious as to what types of roof cleaners there are? Well, you're in luck! A few different types of roof cleaners provide professional cleaning services in Clackamas.
Soft-Washing
Soft-washing is a technique that uses biodegradable chemicals instead of high-pressure water to clean surfaces. This method ensures the surface is thoroughly cleaned with minimal damage caused by high-pressure water.
Pressure Washing
Pressure washing is an effective method for removing dirt and grime from hard surfaces. This method is beneficial for removing stubborn stains from roof surfaces.
It uses a pressurized water stream to quickly and easily remove dirt, grime, and other debris from residential and commercial roofs without damaging the surface.
Hand Scrubbing
Hand scrubbing is an old-fashioned technique for cleaning roofs. It involves manually scrubbing the entire roof surface with special brushes and cleaners explicitly designed for this purpose.
Although it may take longer than pressure washing or soft washing, it still gets the job done.
No matter which method you choose, Clackamas' best roof cleaning service will ensure your roof looks brand new again in no time!
Reasons to Hire a Professional Roof Cleaner
When it comes to keeping your roof looking great and lasting longer, you can't go wrong when you hire the best roof cleaning service in Clackamas.
Professional cleaners have the expertise, experience, and knowledge to clean roofs in a way that won't damage them. Here are some of the reasons why hiring a professional is recommended:
Time & Energy
Cleaning your roof can take a lot of time and energy. With a professional team on the job, you can rest assured that your roof will be cleaned in no time.
Professional cleaners have specialized tools and equipment to ensure the job is done correctly, effectively, and safely.
Expertise & Know-How
Professional cleaners have years of experience when it comes to cleaning roofs and knows all the proper techniques to get it done with maximum efficiency.
They're also familiar with different types of roofs and how to clean each one without damaging them.
Saves Money in the Long Run
Cleaning your roof alone or hiring an inexperienced team can cost you more money due to potential damages caused by incorrect cleaning methods.
Professional cleaners will do the job right so your roof will last longer without any damages or extra costs.
When you hire a professional roof cleaner in Clackamas, you'll enjoy all these benefits plus peace of mind knowing that your roof is in good hands!
Best Practices for Hiring a Roof Cleaning Service in Clackamas
When looking for a roof cleaning service in Clackamas, you want the best. After all, you need someone to do the job correctly and safely.
Here are some tips for how to find the perfect one for your home:
Checking Credentials
You want a professional roof cleaning service with experience and credentials. Ask if they have certifications or any awards they've received. This will give you an idea of their reputation and expertise in the field.
A reliable company should also be willing to provide references of past clients you can contact for review.
Research the Company
Doing your own research on possible cleaning services is vital. Before deciding, look into the company's history, read customer reviews, and understand its practices and policies.
Find out if they use safe methods, like eco-friendly solutions, high-quality tools, and materials, or specialized technicians who know how to handle specific materials such as asphalt shingles or metal roofs.
Ask Questions
Don't be afraid to ask questions about the process and what to expect during service. You should feel comfortable with the answers provided by roof cleaning services to be confident that work will be done according to your standards and expectations.
Ensure that any questions are answered in detail before hiring them for future projects.
Tips for Maintaining a Clean Roof
Are you looking for the best roof cleaning service in Clackamas? If so, keep these tips in mind to help maintain a clean roof:
Clean your gutters regularly – Cleaning your gutters helps prevent debris from accumulating and causing clogs. This can prevent excess water from building up and damaging your roof.
Trim branches – Keeping trees trimmed back from your roof allows for plenty of air circulation, which helps reduce the amount of moss and algae that can accumulate on your roof over time.
Invest in moss control – Moss thrives in damp conditions, so it will help keep it at bay and protect your roof.
Clear debris – Clear any debris (leaves, twigs, etc.) away from your roof to avoid any potential damage or clogs that could result over time.
Inspect regularly – Regular inspections of your roof will help you spot any potential problems before they become serious or costly!
By following these tips, you can be sure you're getting the best possible service from a professional roof cleaning service in Clackamas.
Conclusion
The best roof cleaning services in Clackamas can make a world of difference to your home.
Not only can a professional cleaning make your house look better, but it can also help protect it from damage caused by natural elements.
Do your research for a quality roof cleaning service to get the best results. With some patience and digging, you'll be sure to find a cleaning service that fits your needs and budget.