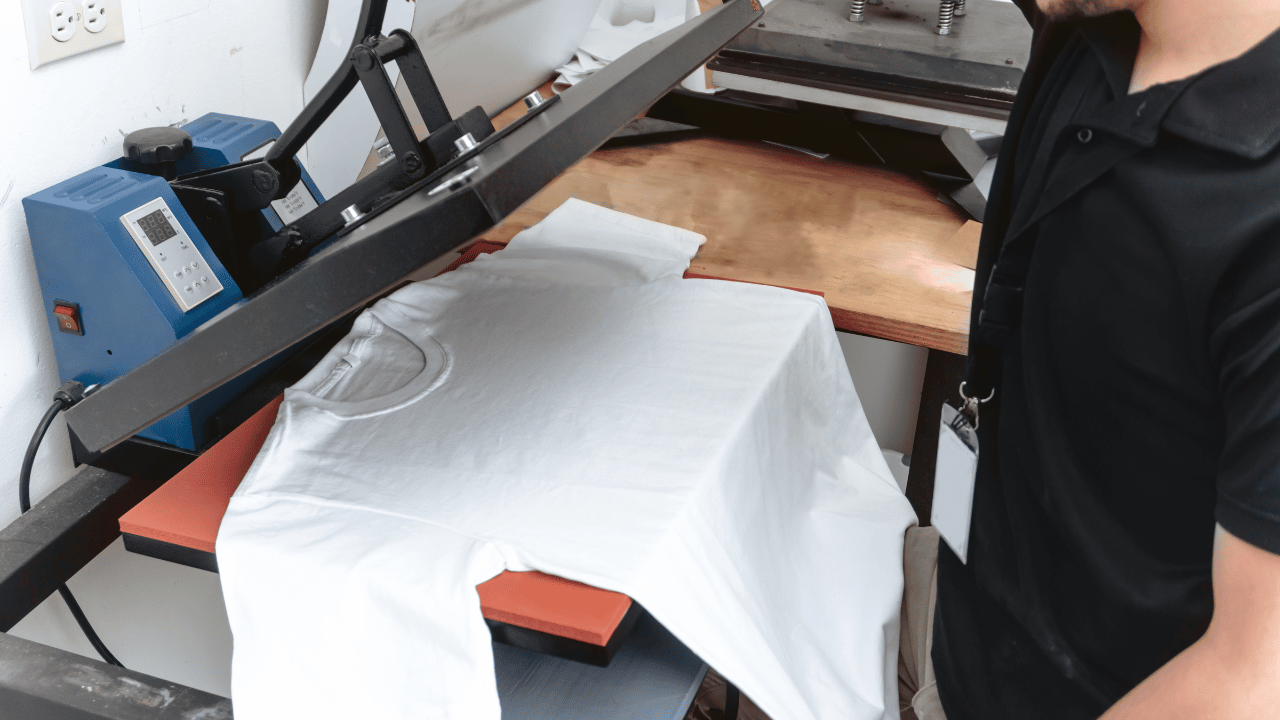 Sublimation printing allows you to customize and personalize fabric items like apparel, mugs, accessories, and more.
It offers an affordable, scalable business model perfect for crafty entrepreneurs.
If you're creative and love designing, a sublimation business could be a perfect work-from-home venture. The startup costs are relatively low, while the profit potential is high.
Keep reading for 20 of the most promising and profitable sublimation business ideas for 2023.
Read Also: How to Start a Dryer Vent Cleaning Business [Full Guide]
Best & Profitable Sublimation Business Ideas
Here are the 20 most promising and profitable sublimation business ideas to consider for 2023:
1. Custom Sublimation Apparel
One of the most popular products for sublimation printing is t-shirts. Offering custom sublimated apparel allows you to cater to individual, team, school, corporate, and event printing needs.
You can print simple designs with names/monograms or complex full-color graphics on shirts, sweatshirts, caps, tote bags, jerseys, and more to create unique personalized items.
2. Phone Cases
Phone cases represent large sublimation printing opportunities as people love showing off trendy designs and custom images.
Create cases for all major phone models featuring personalized photos, art, inspirational quotes, monograms, etc.
Make each case unique to the recipient and occasions like birthdays, holidays, anniversaries, graduations, etc.
Cases are affordable impulse purchases that drive repeat orders.
Read Also: How to Start a Profitable Sex Toys Business
3. Custom Socks
Printing custom graphic socks via sublimation allows endless creativity.
Socks make great personalized gifts, souvenirs, event favors, bridesmaids' gifts, corporate swag, and more.
Offer a sock template customers can customize with text, designs, faces, landmarks, funny phrases – anything they can imagine!
4. Sports Apparel and Team Uniforms
Sublimated sports jerseys, workout gear, and team uniforms are popular with schools, leagues, gyms, and clubs.
Provide a full-service design and printing solution for creating custom kits and spirit wear.
This allows each organization to stand out with their unique branding, mascots, numbers, slogans, and designs on quality performance apparel.
5. Mousepads and Desk Mats
Mousepads sell well for personal use, tradeshows, conferences, and corporate promotions.
Sublimation printing allows the creation of customized designs that are meaningful to the recipient.
Larger desk mat sizes are also popular for protecting workspaces while allowing users to showcase their unique style.
6. Mugs and Drinkware
Photo mugs, colorful patterned mugs, and funny-saying mugs are hot sellers for the sublimation business.
Personalize drinkware for home, office, birthdays, holidays, etc.
You can print custom designs on mugs, shot glasses, pint glasses, stemless wine glasses, tumblers, thermoses, and other drink containers.
7. Coasters and Placemats
Make mealtimes more fun with custom sublimated coasters and placemats.
Print guests' faces, monograms, photos, or dynamic full-color artwork that suits their tastes.
These are inexpensive and easy customization options for home kitchens, restaurants, catering, weddings, parties, and more.
8. Ornaments
Photo printing round ball ornaments and other holiday shapes allows your customers to create an ultra-personal decor.
Print ornaments showcasing family, pet, and baby photos that become treasured heirlooms.
Offer personalized designs for any occasion – not just Christmas. Birthdays, weddings, graduations, etc., present great ornament opportunities.
9. Yoga Mats
Custom-printed yoga mats are fantastic sublimation business ideas for yogis who want to express their unique personal style in class.
Provide beautiful high-resolution designs that inspire and energize.
Partner with local yoga studios for retail space. Offer instructor discounts to upsell students on custom mats.
Read Also: List of Licenses and Permits You May Need to Open an Italian Ice Cart
10. Beach Towels
During summer months, sublimated beach towels see high demand for vacation trips, pools, lakes, and bathing.
Allow customers to create designs showcasing favorite beaches, drink recipes, monograms, photos, etc.
These make great personalized gifts or souvenirs from family vacations. Provide a full customization experience customers will love.
11. Can Coolers
Printed can coolers are useful advertising tools at parties, events, weddings, trade shows, etc. Make them even more powerful with custom sublimated graphics.
Clients can promote their brand, event, product, services, contact info, social media, and more in a fun, functional way guests will use.
12. Happy Hour Napkins
Cocktail napkins present inexpensive, profitable business ideas for cute sublimation printing.
Create sets customized for dinner parties, happy hours, weddings, birthdays, bachelorette parties, corporate events, recipes, logos, and occasion themes.
Provide coordinating cups, swizzles, and coasters for themed collections.
13. Pet Apparel and Bandanas
Pet parents love spoiling furry companions with stylish clothes and accessories.
Offer sublimated pet tees, hoodies, bandanas, leashes, collars, harnesses, tags, and more featuring colorful designs and custom names.
These make great holiday gifts, adoption gifts, birthday surprises, or just because. Partner with pet businesses to retail customized collections.
14. Luggage Tags
Help travelers identify their bags with sturdy, unique, sublimated luggage tags. Print designs featuring photos from past trips, bucket list destinations, or customizable maps.
Also offers matching passport holders, luggage straps, travel pillowcases, and packing cubes for full travel ensembles.
15. Cutting Boards
Custom wood-cutting boards make heartfelt housewarming or wedding gifts. Sublimate the couple's name, date, custom art, or printed text like "Mr. & Mrs." or "Eat, Drink, Be Married."
Use quality hardwoods like maple or walnut. Offer different shapes, handles, and wood stains. Create heirlooms they'll cherish.
16. Puzzles
Photo puzzles let families reprint favorite snapshots, portraits, or landscapes as custom jigsaw puzzles.
Choose sturdy puzzle materials and quality printing for stunning longevity.
Other fun themes include favorite vacation sites, pets, homes, cars, book covers, album art, brands, and more. Provide various piece counts based on difficulty.
17. Aprons
Sublimated aprons create terrific personalized gifts for cooking enthusiasts.
Print custom graphics, monograms, funny food phrases, recipe choices, grilling motifs, or kitchen tools.
Offer adjustable straps and sizes for men, women, and kids. Consider bundles with oven mitts, towels, and trivets.
18. Phone Wallets
Phone wallets conveniently keep cards, cash, and devices in a stylish, customized package.
You can create beautiful designs or display family photos and monograms with sublimation printing.
Partner with local businesses to offer branded employee phone wallets as sought-after swag.
19. Wall Art and Décor
Turn cherished photos, quotes, logos, designs, maps, and album covers into dazzling wall art, murals, mirrors, clocks, and displays through sublimation.
Create stunning interior accents that become meaningful focal points. Offer mounting, matting, framing, boxing, and installation services for turnkey art gifting.
20. Scrapbooks and Photo Albums
Print fully customized scrapbooks and photo albums using sublimation technology.
Compile photos, typography, and illustrations into one-of-a-kind memory books for weddings, new babies, special events, vacations, and more.
Provide archival bookbinding for heirloom quality and longevity. Add options like blank journaling spots.
Read Also: 20 Top Richest Forex Traders in the World
Conclusion
The possibilities with sublimation printing are endless. Focus on your artistic strengths and interests to choose the products you're most passionate about creating.
With minimal startup costs, you can begin printing from home and sell online or at local fairs and markets.
As you gain experience and build an audience, consider opening a small retail studio for more brand visibility.
Let your creativity shine through unique personalized print projects that make meaningful gifts and keepsakes.
Sublimation provides a rewarding way to turn your artistic passion into profit.