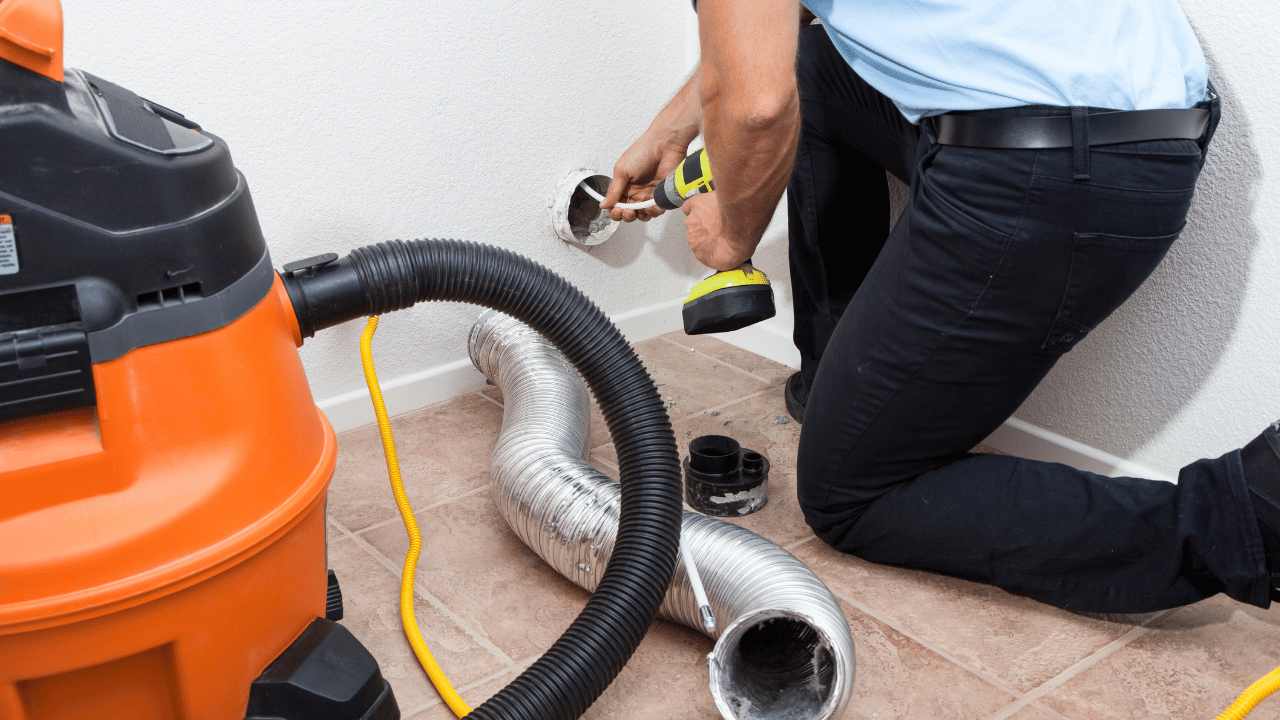 Operating a dryer vent cleaning service can be an extremely lucrative and flexible small business.
With low startup costs and high demand for vent cleaning, it offers major money-making potential.
In this comprehensive guide, you'll learn everything required to launch a profitable dryer vent cleaning business from the ground up.
Let's dig into all the details for starting this simple yet profitable home service business!
Read Also: 20 Top Richest Forex Traders in the World
Dryer Vent Cleaning Business Overview
Dryer vents fill with lint over time, that can spark fires and lead to other hazards if not cleaned. Homeowners often neglect this maintenance.
Offering professional dryer vent cleaning services helps homeowners ensure their systems are safe and operating efficiently.
As an appliance wellness service, demand remains high year-round. With minimal tools required, almost anyone can start a dryer vent cleaning business from home.
You set your schedule and services offered. After gaining some experience, costs are low and profits healthy.
Let's review the steps to start your dryer vent cleaning business.
How to Start a Dryer Vent Cleaning Business
Starting a simple dryer vent cleaning business takes determination more than anything.
Here are the key startup steps:
1. Do Some Market Research
First, investigate existing vent cleaning companies in your area to gauge competition and pricing.
Look for untapped neighborhoods or customer groups you could serve. Talk to homeowners about their needs. Assess if there's room in your market for another provider.
2. Choose a Business Name and structure
Come up with a name that identifies your vent cleaning service. A sole proprietorship is the easiest way to structure most home service businesses when starting.
3. Register Your Business
Register your official business name, obtain an EIN from the IRS, and complete any local business licensing requirements.
4. Acquire Vent Cleaning Equipment & Supplies
Purchase a vacuum system, brushes, lights, and a camera. Stock up on cleaning solutions, lint bags, gloves, and other supplies.
5. Create A Business Website
Set up a professional website with your services, contact info, service area, and online booking. This is vital for search visibility and credibility.
6. Set Your Service Rates
Research competitors' rates in your city along with hourly service costs. Price competitively but profitably based on your business expenses and goals.
7. Print Marketing Materials
Design eye-catching flyers, door hangers, business cards, vehicle magnets, and any other promotional materials to spread the word about your new vent cleaning service in your area.
8. Develop a Marketing Plan
Determine the most effective strategies to get the word out about your business.
Directory ads, direct mailers, partnerships with realtors, and social media – leverage multiple channels.
With the core business setup complete, let's look at the equipment and other startup costs involved.
Dryer Vent Cleaning Equipment, Licensing & Costs
The great thing about starting a vent cleaning business is that very little specialty equipment is required to keep startup costs low.
Read Also: 20 Earners on OnlyFans: Highest Paid
Equipment
Expect to spend around $300-500 on basic equipment:
Industrial vacuum – A powerful model designed to suck out lint for duct cleaning.
Rotating vent brush – Attaches to vacuum to dislodge lint in vents.
Flashlight – Let you see down vents.
Mirror – To view vents in cramped areas
Vent cleaning rods – Flexible poles to snake through vents.
Vent inspection camera – Allows homeowners to see inside their ducts. Optional but recommended.
Truck or van – Transport gear and access homes.
Licensing Requirements
No special licensing or training is mandatory. However, customers will feel more confident hiring cleaners with certifications.
Consider getting:
HVAC certification
Dryer vent technician certification
Chimney Safety Institute of America (CSIA) certification
Costs
Total costs to start generally range from:
Start-Up Costs: $2,500 – $5,000 for equipment, professional services, marketing materials, insurance, etc.
Ongoing Expenses: $1,000+ monthly for van payments, materials, advertising, insurance, self-employment taxes, etc.
With such an affordable startup, vent cleaning is highly appealing. Let's look at how to deliver services professionally.
How to Provide Dryer Vent Cleaning Services
To perform high-quality vent cleaning services for customers, follow these steps:
1. Inspection
Do an external inspection of all vents and ducts first. Look for lint buildup, blockages, leaks, corrosion, or other issues.
2. Preparation
Protect floors and furnishings from dust. Gain access to duct openings.
3. Vacuuming
Insert rotating brush attachment into vent ducts. Vacuum in and out to remove lint in ducts.
4. Rod Snaking
Use vent cleaning rods to push through any heavily clogged areas the vacuum can't tackle.
5. Finish External Cleaning
Wipe down the external vent, ducts, and surrounding areas to remove all lint residue.
6. Install Vent Screens
Install mesh screens over vents to help catch lint between professional cleanings.
7. Describe Issues Noted
Explain any concerning vent damage or safety issues found to the homeowner. Recommend repairs as needed.
8. Discuss Prevention
Share tips to prevent future lint buildup – regularly cleaning lint filters, buying condenser vent brushes, and hiring annual cleanings. Recommend ideal cleaning frequency.
9. Payment
Accept payment from the satisfied customer! Leave a business card reminding them to call again next year.
With a standardized process, you can complete cleanings efficiently while providing homeowners peace of mind.
Marketing a Dryer Vent Cleaning Business
The right marketing approach is crucial for getting the word out about your new vent cleaning company.
Use these proven tactics:
1. Direct Mail
Send postcards and flyers to neighborhoods you want to service advertising your business. Include discounted first-time cleaning offers.
2. Website Marketing
Create a user-friendly website and write blog posts with helpful information about dryer vent cleaning to attract searchers.
3. Social Media
Leverage Facebook and Instagram to post before and after cleaning photos, helpful tips, and promotions. Engage consistently.
4. Online Directories
Register your business on search directories like Google My Business, Yelp, and Manta for local visibility.
5. Real Estate Partnerships
Contact realtors to recommend your services to clients. Offer realtors a referral bonus. New homeowners are great prospects.
6. Retargeting Ads
Use pixels to track website visitors and serve ads across platforms to remind them about your business.
7. Vehicle Marketing
Wrap work vehicles with eye-catching branded graphics. Hand out flyers to homeowners as you drive through target neighborhoods.
With continuous and diverse marketing, you can build a solid customer base and referral pipeline. Deliver incredible service, and word will spread.
Long-Term Tips for Vent Cleaning Business Success
Consistency, quality, and smart strategy separate successful dryer vent cleaning companies from short-lived ones.
Keep these tips in mind:
Stick to the neighborhoods and service offerings you do best. Expand gradually.
Hire and train staff meticulously as you grow to maintain top-notch service.
Always go above and beyond for customers – don't cut corners.
Keep marketing consistently in multiple ways, not just sporadically.
Leverage customer reviews and testimonials in your marketing – they build trust.
Develop strong referral partnerships with contractors, real estate agents, and related businesses.
Stay educated on the latest industry best practices and equipment. Invest wisely.
Set profit goals and track detailed financial records to maximize growth. Pivot as needed.
Maintain an organized calendar and route schedule to work efficiently.
Offer maintenance agreements for periodic repeat cleanings at discounted rates.
You can build a lucrative dryer vent cleaning business with determination, care, and smart decisions.
Bring your best to each client, and your company will thrive!
Conclusion
This guide provided you with a comprehensive overview of how to start a profitable dryer vent cleaning business.
The key takeaways:
Low startup costs make duct cleaning accessible for small business
Following key steps like choosing a name, getting certified, buying equipment, and marketing methodically is important
Delivering professional, effective cleaning services takes some practice – but builds your reputation
Consistent marketing and providing 5-star customer experiences are crucial
With some hustle and know-how, you can be well on your way to owning a thriving duct-cleaning company.
Feel confident taking the leap knowing the blueprint for vent cleaning success!