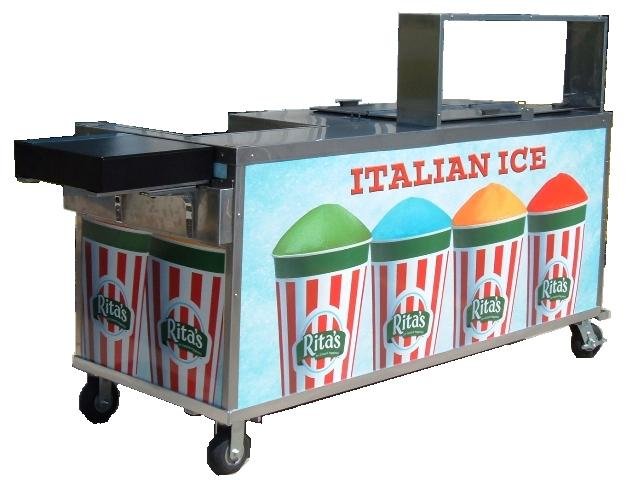 When summer rolls around, nothing quenches thirst better than a cool cup of Italian ice.
For many, the cooling treat brings back fond memories of childhood summer days.
Starting an Italian ice cart could be perfect if you dream of getting in on the refreshing frozen business.
However, before wheeling your Italian ice cart out to the hottest spots in town, it's important to understand the various licenses and permits required in your area.
If you don't know where to start, keep reading as we highlight the important licenses and permits you need to open an Italian Ice cart. 
Read Also: How to Start a Dryer Vent Cleaning Business
Licenses and Permits You Need to Open an Italian Ice Cart
One of the top priorities when launching a mobile food business is ensuring you have the proper licenses and permits from your local health department.
While requirements can vary some based on your location, typically, you will need to obtain both a food service license and a commissary kitchen permit.
The following are the essential licenses and permits you need to open an Italian ice cart:
1. Food Service License
A food service license grants formal approval to sell food products to customers. The application process often involves inspecting your proposed mobile unit set up and menu items to verify that all potentially hazardous foods are stored, displayed, and prepared safely.
Expect to provide details on equipment, handwashing facilities, cleaning procedures, and planned commissary use. Most licenses are valid for one year and require an annual renewal.
2. Commissary Kitchen Permit
A commissary kitchen permit allows you to use an approved base of operations for storage, preparation, and cleaning.
All mobile food units must have access to a permitted commissary to fill water tanks, store dry goods, restock perishable ingredients, and complete equipment and unit cleaning.
Your chosen commissary must also be inspected and permitted by the health department. Your Italian ice cart business cannot legally operate without a permitted kitchen.
3. Vending Licenses and Business Permits
You may need additional permissions and food safety licenses to vend your products in certain areas.
Some common licenses and permits mobile food operators should investigate include the following:
I. Business License
Most cities require all businesses, including mobile food operations, to obtain a basic business license. This approval grants legitimacy to operate commercially within city limits.
II. Vending Cart License
A vending cart license will likely be needed if selling from a push cart vs. a motorized vehicle. These specify rules for approved cart design, dimensions, and signage.
III. Vendor Permit
Hotspots like public parks, beaches, fairs, and downtown districts often require a special vendor permit on top of basic licenses. Securing permitted times and zones is key for high-traffic sales.
IV. Peddler's License
For vending on sidewalks, at events outside city jurisdiction, or selling door-to-door, a peddler's license from your state's agriculture or commerce department may be necessary.
Research all potential licenses needed based on your specific mobile unit setup and proposed sales locations.
Plan and apply early, as permit processing can sometimes take weeks. With the proper paperwork, you'll be lawfully prepared to start scooping up customers.
Equipment Necessities for Italian Ice Cart Success
While licenses are a legal necessity, the right equipment is equally crucial for producing and serving quality frozen treats.
A few essential items to include are:
1. Freezer/Cooler
Your mobile cart will require a refrigeration unit to keep pre-made Italian ice frozen solid during vending hours.
Consider options like chest freezers, upright freezers, or portable freezer/cooler combo units powered by gas, electric, or solar, depending on your needs.
Mixing/Hanging Equipment
Cart-friendly options include countertop stand mixers, handheld electric beaters, or hanging milkshake mixers for mixing flavor syrups into snow or making fruit ice.
Don't forget utensils like spoons, paddles, and spatulas.
Serving Containers
Scoop ice into cups, waffle cones, bowls, or tumblers – whatever container type your customers prefer. Look for BPA-free, spill-proof, and easy-to-stack options. Don't forget the lids!
Mobile Cart
While a simple push cart does the job, a larger wheeled cart with a built-in freezer, counters, and overhead canopy allows for more inventory and a polished look.
Go for a durable, weatherproof, and theft-deterrent design.
Signage
Clearly label your business name, ice types, pricing, and logos/graphics with signs that mount on the cart, plus portable clipping boards, chalkboards or sandwich signs for sidewalk use.
Planning The Perfect Italian Ice Flavors
With the right equipment, the real fun begins – dreaming up mouthwatering Italian ice flavor combinations.
Whether inspired by classics or putting a creative twist on favorites, starting with 5 to 10 flavors is a solid starting lineup.
Here are a few crowd-pleasing ideas to consider:
Lemon: The quintessential flavor – sour and refreshing. Add fresh lemon twist garnish.
Watermelon: Bright pink syrup captures the essence of summer in a cup. Real seeds add texture.
Mango: Sweet tropical twist on the citrus theme. Blend in chunks for a fruitier pop.
Black Cherry: Deeply flavorful yet non-artificial tasting cherry syrup is a top seller.
Piña Colada: Blend pineapple and coconut for a tiki-inspired mix sans rum!
Root Beer Float: A fun spin combing creamy vanilla with bubbly brown root beer syrup.
Cookies and Cream: White chocolate or Oreo syrup swirled with mini chocolate chips.
Cotton Candy: Achieve airy pink and blue tones through incremental flavoring rather than artificial dyes.
Rainbow Sherbet: Layer orange, lemon and lime flavors for a retro blast from the past.
With practice, you'll perfect your signature recipes to dazzle the tastebuds. Sample boldly and creatively to start crowd favorites and conversation starters.
Read Also: InCorp: InCorp Registered Agent Services Review
Business Operations and Money Matters
Licenses and equipment in place; the final steps are smoothing out business operations and financial planning.
Here are some tips:
Set Schedule and Pricing: Decide event/location calendar plus hours of operation daily or weekly. Test pricing to find the perfect balance of profitability and value. Consider discounts for combo cups.
Supply Purchasing: Shop wholesale for syrups, fruit, cups, lids etc. to keep costs low with bulk orders. Rotate inventory to reduce waste from expiration.
Employee Training: Consider hiring summer help to expand serving hours. Provide food safety certification and cash handling training.
Payment Processing: Accepting cards through a mobile point-of-sale lets customers conveniently purchase. Offer cash discounts too.
Advertising: Help customers find you through social media, flyers, food truck roundups, and partnering with event locations for cross promotion.
Bookkeeping: Track sales, expenses, inventory levels – crucial for scaling the business and filing taxes quarterly as an independent contractor or LLC.
Permits and Insurance: Maintain all required updates plus general liability protection for your cart, product, and employees working.
With some sweat equity and hustle, your Italian ice cart has the potential for big profits especially as the hot summer months arrive. Take your time refining recipe creations and honing your sales craft – then get ready for a sweet small business success.