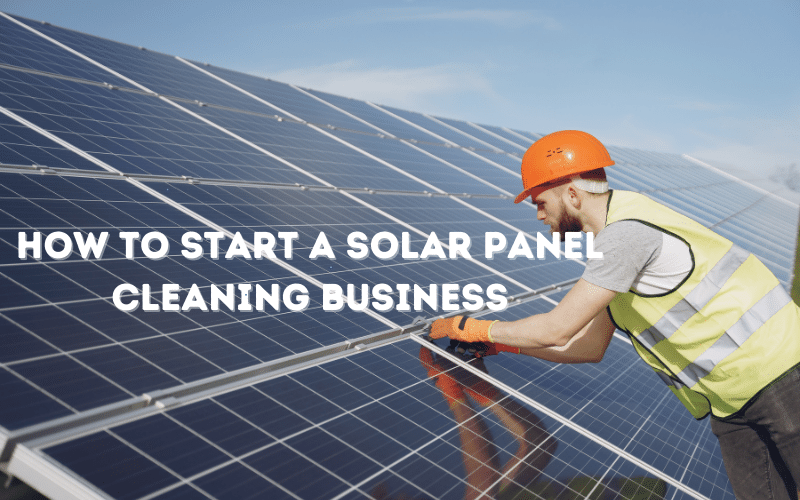 Are you looking for a new business opportunity that's both booming and rewarding? If so, look no further than the solar panel cleaning industry.
As a solar panel cleaning business owner, you can enjoy the benefits of owning your own business without all the overhead and headaches of most start-ups.
Plus, you can take advantage of the global boom in solar energy systems to create a lucrative business and make a big difference in the environment.
Solar panel cleaning is one of the essential maintenance tasks for homeowners and businesses alike, and there's no better time to jump into this emerging industry than now.
In this article, I'll show you how to start your solar panel cleaning business in 2024.
What is Solar Panel Cleaning?
If you're interested in starting a solar panel cleaning business, it helps to understand exactly what you'll be doing.
Solar panel cleaning removes dirt, dust, and other debris from photovoltaic panels, the solar-powered energy generator that sits on the rooftop of a home or commercial building.
Cleaning the solar panels is necessary to keep them running at peak efficiency. While photovoltaic cells are hard equipment, they can become clogged with dust and other particles, which causes them to produce less electricity.
Cleaning them regularly ensures that they are operating at maximum power. This increases the property value of your client's home or business and reduces their energy bills in the long run.
In addition to keeping the solar panels running at peak efficiency, you must clean them carefully to ensure their longevity and safeguard against accidental damage.
The job requires unique products and tools and carefully following safety guidelines for rooftop work.
Read Also: How to Start a Roof-Cleaning Business
Why Start a Solar Panel Cleaning Business Now?
Now is a great time to consider starting a solar panel cleaning business. As solar technology continues to become more affordable and accessible, more and more people are turning to solar power as an energy source.
This means the demand for solar panel cleaning services will continue to increase, making now the perfect time to enter the market.
Revenue Streams
There are numerous opportunities to make money as a solar panel cleaning business owner. You can offer services such as one-time cleaning jobs or set up a maintenance plan for repeat customers, including regular cleanings. 
Defining your niche plays a pivotal role in shaping your trajectory. Perhaps you envision a versatile approach catering to both sectors. Deciding whether to specialize exclusively in solar panel cleaning or diversify your services to include additional offerings like window washing and gutter cleaning is a crucial consideration. This holistic approach ensures that your business not only addresses the immediate need for solar panel maintenance but also positions itself to meet broader demands within the realm of sustainable and efficient home energy solutions. Crafting a well-defined focus will not only streamline your operations but also enhance your online visibility, attracting clients searching for comprehensive solar power solutions for their homes and businesses.
Additionally, you can offer services such as inspection of the modules and panels, wiring maintenance services, and even minor damage repairs.
Increasing Popularity
Solar energy is becoming increasingly popular, especially in areas with many sunny days throughout the year, such as California and Arizona.
Many businesses are installing solar panels on their roofs to save money on their electricity bills and reduce their carbon footprint.
This means there is an ever-growing demand for reliable companies offering routine panel-cleaning services that maximize efficiency and avert any problems caused by dirt build-up or hardware malfunctioning due to dust particles passing through filters or connectors.
Low Overhead Costs
Another great reason to start a solar panel cleaning business right now is its relatively low overhead costs compared to many other home service businesses.
You won't need a large team or lots of resources; you will need essential equipment like ladders, buckets, and brushes and basic knowledge on how best to approach each project regarding safety and quality results.
How To Start a Solar Panel Cleaning Business in 2024
Starting a solar panel cleaning business is an increasingly appealing option for entrepreneurs looking for a unique and low-cost business in 2024. 
It requires time, energy, and money to get it up and running—but the payoff can be significant.
Starting a solar panel cleaning business is relatively straightforward, but there are some basic requirements that you must meet.
Assess the Market
The first step to starting a solar panel cleaning business is to assess the market.
Identify your target customers, their needs, and whether there's enough demand for this service in your area.
Determine Your Focus
When starting a solar panel cleaning business, it's best to determine your focus. Are you going to offer residential or commercial services? Will you clean both? Do you want to be exclusive to solar panel cleaning, or will you offer other services such as window washing and gutter cleaning?
Knowing your focus and priorities from the outset will help you get on the right foot.
Invest in the Necessary Equipment
Once you've determined your focus, it's time to invest in the necessary equipment for solar panel cleaning.
You will need pressure washers or gardening hoses with spray nozzles, scrubbing tools, extension ladders or other height access equipment, protective clothing such as glasses or gloves, and additional supplies.
Make sure to research the equipment required for this type of business to get the best value for your money and spend only what you need.
Research Local Laws
Researching local laws before starting a solar panel cleaning business is essential. You'll need to ensure that what you're doing is legal in your area and see if any regulations or permits are required before opening up shop.
Additionally, getting insurance is good practice as it can protect both yourself and your customers in case something goes wrong while on the job.
How to Market Your Solar Panel Cleaning Business
Marketing your solar panel cleaning business can be a great way to stand out from the competition, get more customers and grow your business.
There are many ways to market a solar panel cleaning business, from traditional methods such as print ads and radio spots to more modern approaches like digital advertising and social media marketing.
Print Ads
Print advertising is a great way to promote your solar panel cleaning business. Try creating ads that feature images of clean solar panels, and make sure they include your contact information.
You can run these ads in local newspapers, magazines, or mailers sent directly to your targeted customer base.
Radio Spots
Radio spots are another effective way to reach potential customers in your area. You can produce an ad explaining the benefits of having your solar panels cleaned professionally and have it aired on local radio stations throughout the day or evening.
Digital Advertising
Digital advertising is one of the best ways to reach potential customers online. Platforms like Google Ads allow you to create targeted campaigns that reach people searching for solar panel cleaning services in your area.
You can also use other platforms like Facebook or Instagram Ads for targeted campaigns focusing on specific demographics or interests.
Boost your business with video intro makers, creating captivating intro videos that not only attract potential clients but also establish an informal and meaningful connection.

Social Media Marketing
Social media marketing is another excellent way to reach potential customers online. Create profiles on popular social media platforms such as Facebook, Twitter, and Instagram, post regularly about the services you offer, interact with customers and post pictures of freshly cleaned solar panels whenever possible.
You can also use tools like Hootsuite and Sprout Social to manage multiple accounts at once and quickly track responses and mentions of your brand.
Equipment Needed for Solar Panel Cleaning
Once you've decided to go into the business of solar panel cleaning, the next step is to acquire the necessary tools and equipment.
After all, what good is a business that can't get the job done? There are a few essential tools and equipment you'll need to get started:
Pressure Washer
A pressure washer is a must-have for a solar panel cleaning business. It's essential to eliminate dirt and grime accumulating on solar panels over time.
Pressure washers come in different sizes, so choose one appropriate for your needs.
Cleaning Chemicals
To clean those solar panels, you'll need more than just water. Invest in chemicals specifically designed for solar panel cleaning—these will help eliminate dirt and grime without damaging the panels or leaving streaks behind.
Extension Ladders
Extension ladders may be necessary depending on how high your clients' solar panels are mounted. These should be rated for the weight of the person using them—the last thing you want is an accident!
Squeegees & Cloths
Squeegees and microfiber cloths are essential tools when cleaning solar panels, as they allow you to wipe away debris without leaving streaks or spots on the glass surface. Make sure to buy quality equipment so it lasts longer and performs better too!
Setting Prices for Your Solar Panel Cleaning Business
You may wonder how to set prices for your solar panel cleaning business. This is a tough decision — you need to be competitive with the other prices in your area but not so low that you price yourself out of a profitable business.
Here are some tips:
Research Your Market
Research what other businesses in your area are charging for their services. This will give you a good sense of what the local market will bear and what you can charge to stay competitive and make a fair profit.
Consider Cost-Plus Pricing
Cost-plus pricing is when you determine how much it costs to run your solar panel cleaning business, add a fair profit margin, and set your price accordingly.
If you choose this route, consider all costs, including labor, materials, transportation, and overhead expenses like advertising costs.
Analyze Your Competition
Gather information about the competition in your area—the type of services they offer, their prices, and their customer base.
Then use this information to find ways to make your company stand out and establish higher-value services or pricing structures that differentiate it from competitors.
By researching pricing models and local competition, you should better know which route to take when setting prices for your solar panel cleaning business.
With the right approach, you can get the most value for your services while maintaining a healthy profit margin for years.
Conclusion
Starting a solar panel cleaning business is a great way to leverage the ever-growing demand for efficient, clean energy.
By providing the right services and cultivating a positive reputation with customers, you can create a thriving solar panel cleaning business that's both rewarding and financially sound.
Keeping up with market trends, developing partnerships, and utilizing solar-focused technology will make your business more successful.
With the help of the right software, you can track your projects and keep your clients in the loop.
In the end, launching a successful solar panel cleaning business can be lucrative. With the right vision, dedication, and customer-centric attitude, you can create a business that helps your community and fights against climate change.