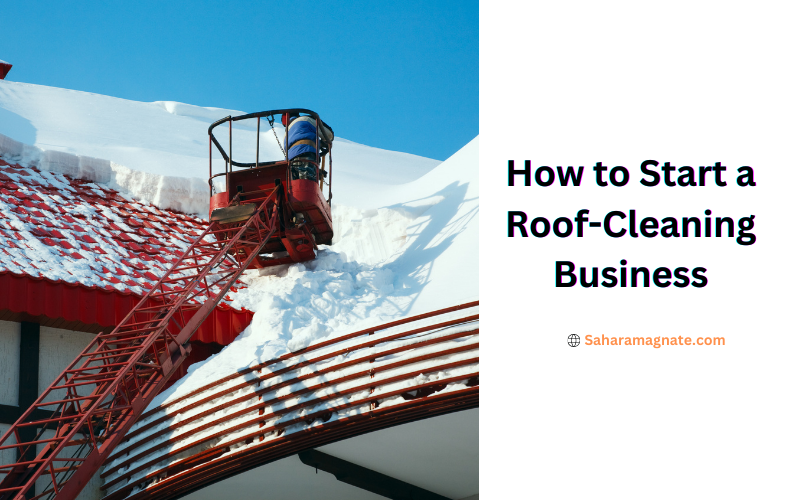 Are you thinking about starting a roof-cleaning business? You've come to the right place! This article will cover all the essential steps in launching a successful and sustainable roof-cleaning business.
We'll walk you through some basics, like developing a business plan and sourcing the right equipment.
We'll also offer you some insider tips on how to get your new business off the ground to running it.
Whether starting out on your own or with a team of workers, this article has everything you need to know about getting into the lucrative roof-cleaning industry.
So, if you're ready to learn more about how to start a roof-cleaning business in 2023, let's get started!
How to Start a Roof-Cleaning Business in 2023
With the proper research and planning, starting a roof-cleaning business in 2023 could be the perfect opportunity for budding entrepreneurs.
If you're interested in getting started, here's what you need to do:
Learn about the industry: Researching trends, the market size, and potential customers is essential to understand what it will take to succeed. Talk to existing business owners and learn more about their strategies, look at competitor websites, and read up on best practices.
Consider your resources: You will need access to equipment such as ladders, protective clothing, and funds to cover any marketing costs you incur. Get a realistic view of your budget before embarking on your journey.
Acquire the necessary skills: Roof cleaning involves a certain amount of risk that can be mitigated with knowledge and skill. Ensure you are well-versed in safety protocols and inquire about any certifications to operate within your area.
Set up systems: Creating systems that streamline scheduling, job management, and customer care will ensure that you can scale your business efficiently. From software management tools to automated marketing campaigns, decide which systems will work best for you and set them up before you launch.
What You Need to Know About Roof-Cleaning
The first step to start your roof-cleaning business is understanding the basics, such as the materials used and the methods available.
The most common materials used for roof cleaning are pressure washers, soft washes, and water-fed brush systems.
Pressure washers provide the highest power level for removing dirt, grime, and other debris from roofs.
Soft washes are a gentler method that uses biodegradable soaps to break down and remove stains without damaging the surface of your roof.
Water-fed brush systems can be used to remove tough stains from various types of roofs with water pumped through a durable brush system.
You'll also need to understand what type of protection your customer's roofs require after cleaning, such as tile sealants, protective coatings, or acrylic sealers.
These additional services will allow you to better care for your customer's roofs while also providing additional revenue streams.
Additionally, understanding local laws and regulations related to operating a business in your area is essential to ensure that you correctly adhere to all legal requirements and have proper insurance coverage for your business in case an accident or injury occurs on-site.
Licensing & Insurance for Roof Cleaners
If you're going to start a roof-cleaning business, you're going to need all the proper permits and licenses.
This can vary from state to state and even municipality to municipality, so check what's required in your area. Generally, you'll need a business license, an occupational license, or a contractor's license.
You may also need additional insurance, especially liability insurance while running your roof-cleaning business.
Not only would this cover any accidents arising from your work, but it can also provide protection against any legal claims made against you or your business for negligent acts committed while doing said work.
Besides insurance for yourself and your employees, consider property damage coverage.
Roof cleaning can sometimes cause accidental damage to properties or vehicles near it—this type of coverage would come in handy in such an occurrence.
In addition, some companies may even want you to have workers' compensation insurance if you decide to hire employees for your roof-cleaning business.
Costs of Starting a Roof-Cleaning Business
Managing your costs is one of the most important considerations to make when you want to start a roof cleaning business.
That's why you should know the different costs associated with starting a roof-cleaning business in 2023:
Supplies and Equipment
You'll need to buy all the supplies and equipment necessary for cleaning roofs, such as pressure washers, ladders, and safety gear.
If you're just starting out, you should rent or borrow these items instead of buying them outright.
Registration Costs
You must register with your local government to run a successful roof-cleaning business.
This can include registering your business name, obtaining a business license, getting the proper insurance, and filing taxes.
These costs vary from state to state, so you must check with your local regulations before taking action.
Advertising Costs
You'll need to do some advertising to get customers for your roof-cleaning business.
The cost can vary significantly depending on your advertising methods (social media, local newspapers, etc.).
It can also be helpful to create a website which will cost money in terms of hosting fees and website design costs.
By budgeting for these different costs ahead of time, you can ensure your roof-cleaning business is successful from the start!
Marketing & Advertising Your Business
When you're starting a roof-cleaning business, marketing and advertising is key.
Without proper marketing and advertising, your business will stay invisible to potential customers.
To ensure your success, here are some tips to get the word out:
Print Advertising
Print advertising is a great way to reach your target audience with a resonant message. Think about investing in print ads in local or trade publications or even direct mailers that can be customized for individual clients or neighborhoods.
You could also consider running display ads in newspapers or magazines—just make sure you design them to be eye-catching and memorable!
Social Media Marketing & Online Presence
Create social media profiles for your business and post regularly so people can learn about your services.
Engage with potential customers on platforms like Facebook, Twitter, and Instagram—answer their questions, respond to comments, and participate in conversations—to build trust with prospective clients.
Optimizing your website with SEO-friendly content will help customers find you more easily online.
Networking & Referrals
Network in your local community and look for ways to get referrals from satisfied customers.
Consider joining local chambers of commerce or other organizations that can give you access to other businesses that may be looking for the services you offer.
You can also attend trade shows and expositions to talk directly with potential clients about what makes your business unique.
By investing some effort into marketing and advertising your roof-cleaning business now, you'll set yourself up for success later on!
Where to Buy Supplies and Equipment
Once you decide to start your roof-cleaning business, you'll need to figure out where to get the necessary equipment and supplies.
Luckily, there are a few options available. You can find supplies online, at local stores, and through vendors who specialize in roofing supplies. Here's a closer look at some of these sources:
Online Retailers
You can purchase tools and cleaning products online from Amazon, Home Depot, and Lowes.
This is the most cost-effective way to buy supplies since you can shop for the best deals.
Plus, many online retailers offer free or expedited shipping for orders over a certain amount.
Local Stores
If you don't want to wait for your items to be shipped, you can also purchase supplies from local stores in your area.
This allows you to ask questions about specific products and get advice from store staff knowledgeable about roof-cleaning products.
Vendors Who Specialize in Roofing Supplies
Vendors who specialize in roofing supplies may have a wider selection of products than what's available in local stores or online retailers.
You can find more specialized tools or cleaning solutions unavailable elsewhere.
Plus, they'll likely have much more expertise in roof cleaning that could prove invaluable when getting set up with all the right gear for starting your business.
Conclusion
Those who wish to start a roof-cleaning business in 2023 can easily succeed with the proper preparation, research, and mindset.
Although, there are many elements to consider, from obtaining the necessary licenses and insurance to learning the skills needed to clean roofs and market your services effectively.
Additionally, it is crucial to consider the cost of tools and resources you may need and the potential risks of performing such a service.
Overall, starting a roof-cleaning business in 2023 may be a complex undertaking. Still, with the proper guidance, anyone passionate about the industry can launch a successful roof-cleaning business.
So why not take the plunge and launch your own roof-cleaning business today?