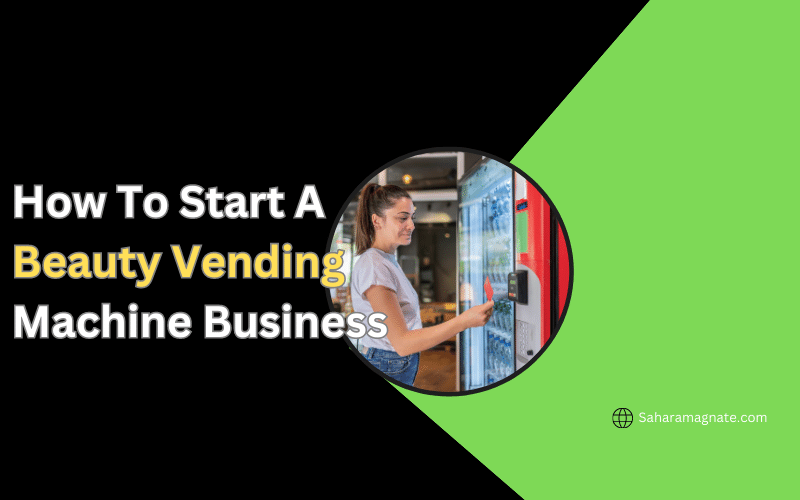 Are you looking to start your own beauty vending machine business? If so, you've come to the right place! Vending machines have become increasingly popular and are a great way to make money.
The beauty industry has been no exception, with beauty products now available in vending machines in many places.
However, starting your own beauty vending machine business takes more than finding a suitable location for the machine.
It requires a lot of strategic planning, research, and organization. Good news: we'll walk you through the basics of starting a beauty vending machine business.
We'll review what you need to know in selecting products, setting up the machine, obtaining permits and licenses, correctly pricing items, and promoting your business.
By the end of this article, you'll be ready to launch your beauty vending machine business! Let's get started!
Read Also: How To Start A Fried Chicken Business
What is a Beauty Vending Machine?
Are you curious about the beauty vending machine craze sweeping the nation? If so, let's start by breaking down exactly what a beauty vending machine is.
Beauty vending machines are automated kiosks that dispense beauty and wellness products. They can be found in malls, airports, universities, gyms, and other locations where people need quick access to products, and convenience is vital.
These machines offer cosmetics, skincare, haircare, and wellness items such as supplements and vitamins.
Plus, they offer more convenience than traditional stores—like extended hours of operation (no more waiting until the store opens) and easy payment options like credit cards or cashless systems.
Plus, many beauty vending machines have exclusive items, so you can access something you can't find anywhere else!
Advantages of Investing in a Beauty Vending Machine
So, you're wondering if investing in a beauty vending machine suits you? Well, there are certainly plenty of advantages! Beauty vending machines are a convenient and profitable way to make money.
Here are just some of the benefits they offer:
Low Operating Costs
One of the significant advantages of owning a beauty vending machine business is its low operating costs compared to other businesses.
The vending machines are relatively inexpensive, and refilling them with beauty products is also relatively low. This means you will only need little money upfront or on overhead costs.
High Margins
The beauty products sold in vending machines have very high-profit margins. This means your profits can still be significant even if you only make a few monthly sales.
Plus, since these machines don't require much human interaction or involvement, all profits will go directly into your pocket.
Low Investment Risk
Beauty vending machines also have very low investment risk compared to other businesses.
Since they require minimal capital and no special skills, they pose little financial risk and can be quickly scaled up.
Plus, you can always start small – with only one or two machines – and grow your business slowly as demand grows.
Overall, beauty vending machines offer high potential profits at low investment risk – making them an attractive choice for anyone looking to start their own business in 2023!
How To Start A Beauty Vending Machine Business
Starting a beauty vending machine business is an exciting opportunity and easier than ever. It requires minimal up-front costs and is a great way to reach customers in multiple locations.
But before you start your beauty vending machine business, you'll need to take a few key steps. 
Read Also: How To Start A Tooth Gem Business
Step 1: Find a Location
It's crucial to identify suitable locations for your vending machine.
It's no secret that location is critical When starting a beauty vending machine business. Choosing the wrong spot could mean a lot of wasted money and effort.
So how do you pick the perfect location for your vending machine?
You'll want to look for places with high traffic and many potential customers, such as shopping malls, airports, train stations, universities and colleges, beauty salons, spas, hotels, etc.
You can also lease or purchase the machines themselves; leasing may be a better option if you're starting, as purchase prices can be high.
Here are a few things to consider when locating the right spot for your beauty vending machine:
Foot traffic
This is simple: how many people are likely to pass by your vending machine? The higher the foot traffic, the greater your chance of making sales.
You want to look for high-traffic areas like shopping malls, universities, airports, or transportation hubs.
Availability of electricity
You'll need an electrical outlet to plug in your beauty vending machine. Make sure there's one nearby before signing any lease agreements!
Other businesses in the area
Look around and see the type of businesses that have opened up. Are they complementary or competing with each other?
A good mix of complementary businesses will help draw more customers in; on the other hand, going up against too much competition could hamper your sales.
Cost of rent/security deposit
Rent can be expensive depending on where you set up shop; make sure you crunch numbers carefully and find out how much you need to shell out monthly rent and security deposits. Factor this into your budget!
Local laws/regulations
Before committing to any contracts, check local laws and regulations that may affect how you run your beauty vending machine business.
The last thing you want is for Uncle Sam breathing down your neck about breaking something that's not even on the
Step 2: Decide on the Products You Want To Sell
Once you've identified the best locations for your beauty vending machine, It's time to decide what products to stock in your vending machines.
You can begin stocking it with various products that people need and are likely to purchase from a vending machine.
Since beauty products are all the rage right now, you can use this as your primary focus for product selection. Other popular products include hair care, nail care, and fragrances.
However, it doesn't hurt to diversify with snacks and beverages since many customers want convenience when purchasing.
When sourcing products, finding the right supplier is key when starting a beauty vending machine business.
Here are some tips on sourcing the right products and suppliers:
Price
The cost of the products will determine how much you can charge for them in your vending machine, so make sure you're getting a reasonable price from your supplier. It's also important to factor in shipping costs.
Quality Assurance
Before signing any agreements with a supplier, ensure they have quality assurance standards. Ask to see their certifications, so you can be sure that their products are of the highest quality.
Delivery Timeframes
You want to be prepared for supplies quickly, so make sure you enquire about delivery timeframes before signing an agreement.
A reliable supplier should be able to deliver on time and manage any potential delays or issues quickly and efficiently.
Packaging
It's vital that your suppliers provide good-quality packaging for their products—this will allow them to stay fresh and be protected during shipping.
You should also check that the packaging is attractive enough to attract customers when they come across your vending machine!
Step 3: Marketing and Promotions
Once everything is set up, you can start marketing your business and placing advertisements in local publications or online platforms.
You should also consider different tactics, such as loyalty programs or discounts, to help attract more customers.
As long as you keep up with maintenance and restock the products regularly, your business should be on its way!
Pricing Strategies for Your Beauty Vending Machine Items
To start a beauty vending machine business, you'll want to determine a pricing strategy. This is essential to determine which items to include in the machine and how much to charge.
You can maximize your profit margins by using innovative pricing strategies such as offering discounts for specific purchases or allowing customers to purchase bundles of multiple items at once.
Utilizing loyalty programs and offering coupons can also help keep customers returning and make them more likely to purchase from your machines.
You must keep inventory levels high to satisfy customer demand while avoiding out-of-stock scenarios.
For this reason, you must have an accurate tracking system that allows you to monitor inventory levels so that your machines are always stocked with the latest products.
Here are a few tips on pricing strategies that you may want to consider:
Research the Market
Dig into the beauty products sold by competitors in the area. This will give you a good idea of what customers expect regarding prices and quality.
Consider the Demographics
Consider the demographics of your target audience, as this will help you tailor your pricing strategy accordingly.
For example, if your potential customers mainly consist of young millennials, you may opt for lower-priced items to accommodate their budget.
Offer Promotions
Remember promotional offers like discounts or bundle packages with multiple items at a discounted rate.
This is a great way to boost sales and encourage customers to purchase from your beauty vending machine more often. 
Read Also: How To Start A Tumbler Business
Conclusion
In the world of beauty vending machines, the sky's the limit! Whether you're just getting started or are a seasoned business veteran, this guide has provided you with the comprehensive knowledge and resources to launch, grow, and succeed with a beauty vending machine business.
The beauty industry constantly evolves, so you must stay on top of trends to stay competitive. Do your research, be creative, and use the many resources available to help you set goals, network, and find the right products for your target audience.
With the right mindset and a solid business plan, you'll be ready to start a beauty vending machine business and make the most of the lucrative beauty industry in 2023.