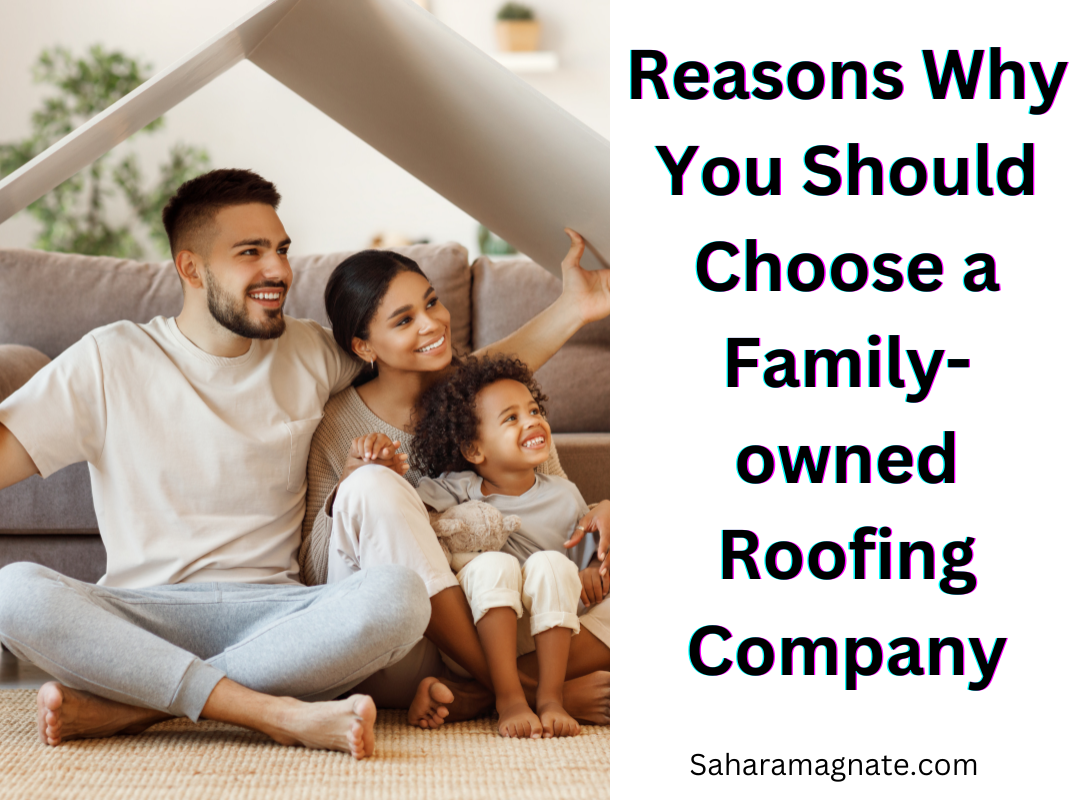 When it's time to think about roofing your home, you have a lot of choices. You could go with a big named company or a family-owned business.
Unsurprisingly, many homeowners seek a family-owned roofing company when caring for their homes.
Although plenty of big-name corporate roofers exist, a family-owned business can provide you with the best value and quality craftsmanship.
When it comes to quality workmanship, customer service, and long-term value, there's no better option than a family-owned roofing company.
This article will give ten reasons to choose a family-owned roofing company for your next project.
Top 10 Reasons Why You Should Choose a Family-owned Roofing Company
Here are the top 10 reasons why you should choose a family-owned roofing company:
Reputation:
Family-owned companies typically have longer-established reputations in their area, so they can give you honest advice and recommendations based on years of experience.
Also, since family-owned roofing companies are local businesses, they take pride in their reputation in the community and strive to provide top-quality service every time. You just don't get this commitment to quality from large corporate contractors.
Local Presence:
Family-owned businesses are more likely to care about their local community, so they'll work hard to ensure their projects benefit the area as much as possible.
This means that your local environment will not be negatively impacted by any construction or repairs being done by them.
Experience and Reliability
Unlike large corporations or franchises, family-owned businesses typically have fewer employees and work on smaller projects, meaning they often have more time to dedicate to each job.
This dedication ensures that the job is done right the first time and with the utmost care — something a big company simply can't promise.
In addition, family-owned roofers are more likely to have more years of experience than corporate competitors.
This means they can provide tips and advice on maintaining your roof over time, prolonging its lifespan, and saving you money in the long run.
Flexible Service Hours
If you have a busy schedule, you'll be glad to know that when you choose a family-owned roofing company, you can expect more flexible service hours.
These companies understand that it's not always easy for your family to drop everything and attend to a repair simultaneously—so they're willing to work with you to find a time that works best for your schedule.
Relationship:
Working with a family-owned business allows you to develop a relationship with the company, which can be beneficial if any problems arise.
Plus, you know who you are dealing with every step of the way, from the initial consultation to the after-sales service.
Also, there are more likely to create of a personal connection than a corporate one. The owner is highly invested in the success of their business, so they'll be more likely to take an interest in any additional issues that arise and provide better solutions rather than passing them off to someone else.
Cost-Effective Solutions
Family-owned roofing company provides cost-effective solutions. Since they are a locally owned business, they can access better pricing from local suppliers.
You'll get better materials for less money than if you went with a larger roofing company.
Their staff is experienced at working around tight budgets and finding creative solutions that save you even more money.
These cost efficiencies apply to materials as well as labor. Family-owned roofers have contacts in the community that can help supply whatever materials may be needed at an affordable price.
Family-owned roofers can hone their craftsmanship while relying on the same workers over several projects while keeping costs low.
You won't find this with large companies with often high overhead costs associated with maintaining a large workforce.
Business Ethics & Integrity
When you choose a family-owned roofing company, you can be sure that you'll get a team that cares about their work and lives up to their promises. The family-run businesses are built on integrity, trustworthiness, and ethical behavior, and they understand that the customer comes first.
From the small details of the job to the big picture of customer service, there's something special about working with a family-owned business.
They take pride in what they do and put quality into everything. Also, Family-owned operations tend to be built on solid values, which is why they're trusted in their communities.
This often translates into a business culture focused on delivering quality and ensuring all customers are satisfied with the job.
You'll get honest advice about products that will work for your situation and be assured about the safety standards being met throughout the process.
Personalized Customer Service
Family-owned companies tend to be smaller than corporate-owned ones. This means they can better provide personalized customer service and take pride in their work.
You'll be more than just another number – the team at the family-owned roofing company will treat you like part of their extended family.
Plus, they typically offer flexible payment options and other services designed to make the process as easy and convenient as possible.
With a family-owned roofing company, customer service is always a top priority – which is why so many people choose them over larger corporate competitors!
Understanding the Concerns of Homeowners
One key reason you should go with a family-owned roofing company is their knowledge and understanding of homeowners' concerns when completing a roofing project.
Because these companies are owned and operated by families, they understand the importance of customer service.
They also understand how stressful it can be to embark on a large project like roof replacement.
When you choose a family-owned roofing company, you can rest assured that they have the knowledge and care required to provide a successful outcome for your roof replacement project.
Reputation Within the Community
Another great reason to choose a family-owned roofing company is its reputation within the community.
These companies are part of a community and have been for generations, so they want to build and maintain relationships with the people they serve.
Family-owned roofing companies are more in tune with their customers' needs since they prioritize customer satisfaction.
They know that maintaining a good reputation within the community is essential to every business's success, and they work hard to ensure that their customers are happy with their work.
Additionally, many family-owned roofing companies have been in business for generations, so they've had plenty of time to build a strong track record of success and satisfied customers within the local area.
You can trust them to provide quality workmanship and reliable roof maintenance or repair service.
Moreover, these companies often have longstanding relationships with local suppliers, so you can be assured you'll get the best quality materials at competitive prices.
This can save you money in the long run, allowing you to get your roof done at an affordable price without compromising quality.
Conclusion
When it comes to roofing, choosing a family-owned roofing company is the way to go. After all, family-owned businesses bring with them a wealth of knowledge, expertise, and experience.
They also offer excellent customer service, top-notch materials, and competitive prices. You can rest assured that they will take the utmost care of your roof, ensuring it looks terrific and lasts for years.
In short, you can't go wrong with a family-owned roofing business if you are in the market for a roofing contractor.
Their quality work and attention to detail will ensure you get the roof of your dreams for a price you can afford.
After providing you with the top 10 reasons why you should choose a family-owned roofing company, we hope you won't hesitate to contact one today to get started on your roofing project.