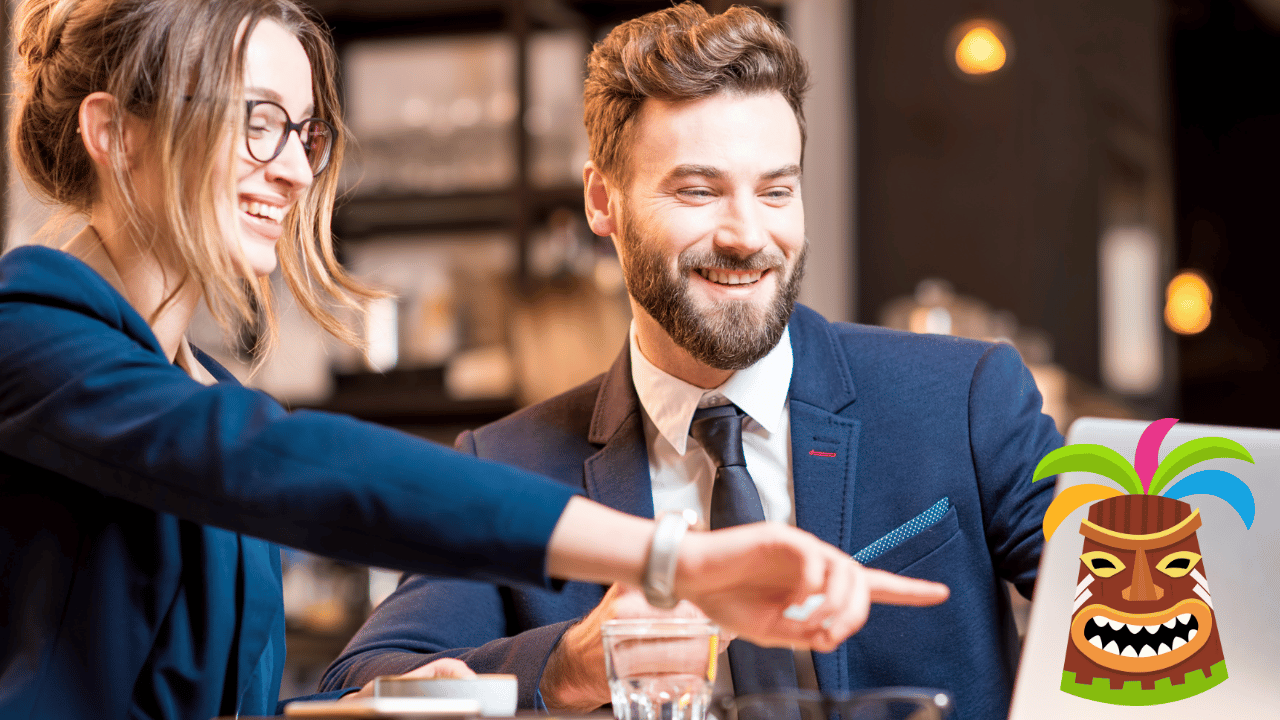 Starting a business in Hawaii? Choosing the perfect Hawaiian name can help your company stand out and connect with local customers.
To inspire you, we've compiled this big list of 80 unique, creative, and catchy Hawaiian business name ideas to consider for your company.
We also include useful tips for choosing the perfect name for your business. 
Read Also: List of the Best Clothing Manufacturers & Suppliers in NYC
Hawaiian Culture-Inspired Business Names Ideas
Draw from Hawaiian history and culture with names like:
Aloha Apparel Co.
Maile Lei Shop
Koa Woodworks
Hula Dance Academy
Ono Grinds Café
Tiki Hut Supply Co.
Lava Excursions
Hawaiian Luau Catering
Maui Wowi Smoothies
Iolani Treasures Jewelry
Hawaiian Language Business Names Ideas
Incorporate Hawaiian words like:
Keiki Kids Learning Center
'Ono Food Truck
Aina Farms
Hanohano Formalwear
Mahalo Media
Kai Ocean Adventures
Halia Salon & Spa
Maika'i Marketing Agency
Mele Music Studio
Lokahi Boat Tours
Hawaiian Location Business Names Ideas
Feature specific Hawaiian islands or towns:
Oahu Surf Co.
Big Island Coffee Co.
Lanikai Beach Rentals
Molokai Tours
Kauai Botanicals
Maui Wave Riders
Haleiwa Surf Shop
Honolulu Party Rentals
Waikiki Catering Services
Kona Grill
Hawaiian Flora & Fauna Business Names Ideas
Use native wildlife and plants like:
Hibiscus Flowers
Orchid Gift Baskets
Sea Turtle Rescue
Nautilus Shell Jewelry
Koa Woodworking
Lava Limousine Services
Aloha Orchards Farm
Iwi Bone Carvings Gallery
Palani Ranch
Honu Ukuleles
Descriptive Hawaiian Business Names Ideas
Evocative descriptive names:
Island Style Clothing Co.
Paradise Paddle Boarding
Pacific Breeze Fishing Charters
Islander Properties
Tropical Nursery
Island Petals Florist
Blue Hawaii Glassworks
Coral Reef Dive Center
Aloha Surf Lessons
Hawaiian Dream Vacation Rentals
Traditional Hawaiian Business Names Ideas
Use traditional-sounding words:
Mauna Surf Shop
Ailana Salon & Day Spa
Lehua Florals
Haleakala Industries
Keanu Construction
Liko Taxi Services
Maluhia Med Spa
Kupono Accounting
Lanakila Sporting Goods
Kaia Dancewear
Punny Hawaiian Names
Puns and wordplay also work:
The Tiki Barber Shop
Aloha From My Bowl Café
Maui Thai Cuisine
Oahu Yeah Surf Club
The Big Island Ice Creamery
Spa Mahal-O
Tan Lines Sunscreen Shop
Pearl Jam Jewelers
Pacific Standard Timepieces
Surfing-Inspired Hawaiian Names
For surf-related businesses:
Hang Ten Surf School
North Shore Surf Co.
Surf Sisters Lessons
Wave Warriors Surf Comp
Beach Break Cafe
Aloha Board Riders Club
Shaka Surf Supplies
Oahu Surf Report Blog
Endless Summer Surf Camp
Gidget's Surf Apparel
Hawaiian Souvenir Store Names
Gift shops, souvenirs and apparel:
Hawaii Gift Shoppe
Island Treasures Store
Oahu Apparel
Paradise Gifts & Gear
Hula Girl Souvenirs
Authentic Hawaiian Styles
Kona Coast Wear
Island Vibes Boutique
Hawaiian Style Hub
Aloha Crate Souvenirs
Hawaiian Hospitality Business Names
Hospitality, lodging and transport services:
Aloha Airport Shuttle
Pacific Island Limo Service
Oahu Luau Feast
Kauai Beach Resort
Iolani Hotel & Suites
Haleakala Inn & Suites
Aloha Tours Hawaii
Maui Vacation Rentals
Paradise VIP Tours
The Royal Hawaiian Hotel
What Should You Consider Before Choosing A Name?
Here are some factors to consider in simple language when picking fun Hawaiian business names:
Use Hawaiian words. Words from the Hawaiian language can make your name sound local. Words for beach, ocean, and waves are popular choices.
Include nature themes. Hawaii is known for its beautiful scenery. Nature words like sun, palm trees, flower, and volcano work well.
Keep it short. Short names are easy to remember. Long, complicated words aren't as good.
Use fun meanings. Look up the meaning of Hawaiian words to find ones with fun or positive meanings. Meanings like fun, relaxing, and tropical are good.
Add surf or beach themes. Surfing and beaches are a big part of Hawaii's identity. Names with surfboard, sand, and ocean are appealing.
Pick upbeat feelings. Like Hawaii's island lifestyle, names should sound happy, chill, and laidback. Avoid names that sound serious.
Check, it's simple to say. Make sure potential names can easily roll off customers' tongues without confusion.
See if the name is available. Search online to see if your top name choice is already being used.
Are there Any Benefits?
Here are some benefits of using Hawaiian business names:
It gives your business a local Hawaiian feel. This can attract customers who want to support Hawaiian businesses.
Names in Hawaiian make your brand unique. They help your business stand out from others with more generic names.
Hawaiian names connect your business to the islands' culture and lifestyle. This helps portray the laidback, tropical vibes of Hawaii.
It shows appreciation for the Hawaiian language and culture. Locals and visitors both enjoy seeing Hawaiian used for businesses.
The meanings behind Hawaiian words can be positive for marketing. Words related to ocean, beach, and nature connect your brand to Hawaii's beauty.
Well-chosen Hawaiian names often sound fun or exotic to visitors. This can spark their interest in checking out your business.
Many Hawaiian words are short and easy to remember. This makes it simple for people to recall and discuss your business name.
Using the Hawaiian language builds a sense of place. It strengthens the relationship between your brand and the islands of Hawaii.
Read Also: Best Ideas to Get Customers for Your Pest Control Business
Conclusion
Give your Hawaiian business a name that taps into rich cultural history and conjures tropical vibes.
Your company can build authenticity and attract more local customers with the right branding.
Choose a name that showcases your island style!