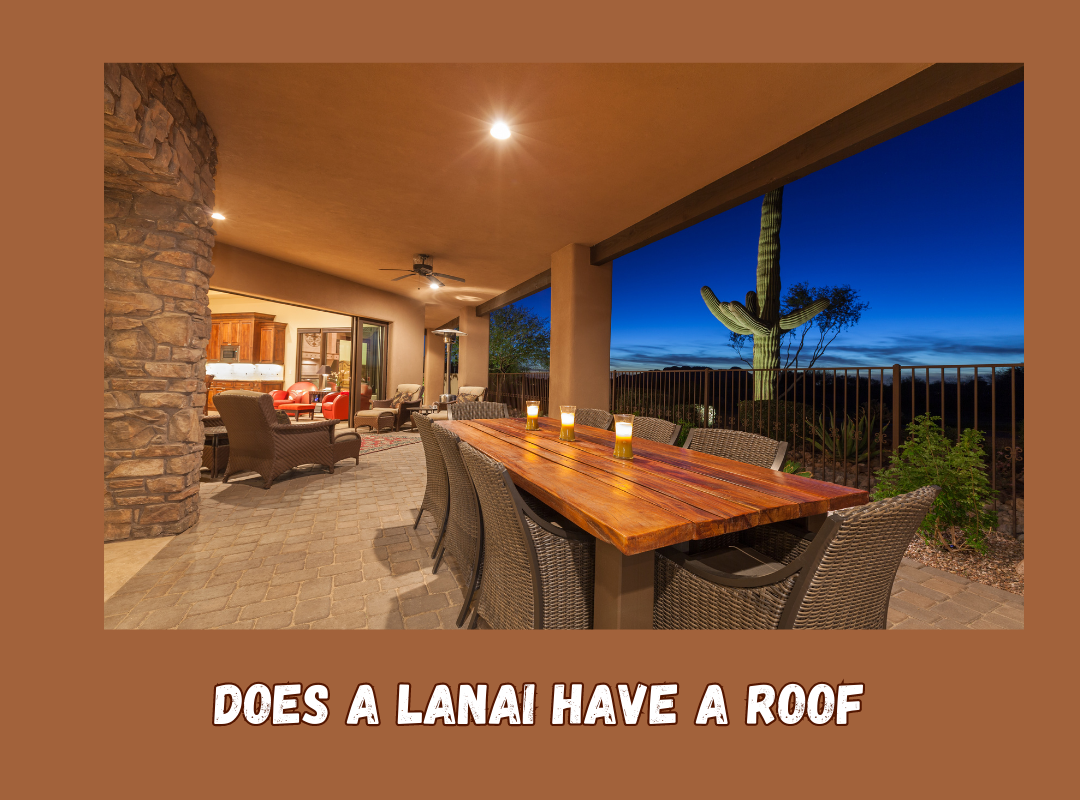 If you want to enjoy the outdoors from the comfort of your home, a lanai could be just the thing for you.
But maybe you're wondering about the details — does a lanai have a roof? Let's dive in and look at what exactly makes up a lanai.
The answer to this question can be slightly confusing because the term "lanai" is used differently in different parts of the world.
In some places, like Hawaii and Florida, "lanai" refers to an enclosed porch or patio area, while in other places, it refers to an open-air balcony or terrace.
In this article, we'll discuss whether or not Lanais have roofs and how that might affect your decision on whether or not to add one to your home.
This will give you all the information you need to decide whether a lanai is right for you.
What is a Lanai?
A lanai is a covered outdoor structure famous in Hawaii and Florida. Typically, it consists of an open-air living space surrounded by a roof.
Depending on the design of the roof, the lanai can offer protection from the sun or rain and other elements.
In some cases, screens on the sides may provide additional protection from bugs or debris.
Lanai sizes and designs vary depending on their purpose. Some are large enough to provide shelter for an outdoor party or gathering.
Others may be smaller, providing a cozy spot for two people to relax in privacy. Larger lanais may also have multiple levels, walkways, and seating areas built into them.
No matter what size or design it has, a lanai is a great way to extend your living space outdoors and enjoy nature while still having some protection from the elements.
Does a Lanai Have a Roof
Does a lanai have a roof? The answer is yes and no. While most lanai designs are open to the elements, there are a few options for coverage. 
The two common lanai roof types are a solid lattice and a thatched roof. For those looking for simple weather protection, a solid lattice structure constructed of wood or plastic is your best bet.
This roof protects from rain and wind while letting in some natural light and air. Alternatively, a traditional thatched roof is made from drying grasses and offers complete weather protection while creating an open-air feel outdoors.
Thatched roofs often last longer than other types and are renewable, making them an environmentally friendly option.
No matter which types you choose, having a lanai with a roof can add aesthetic and functional value to your outdoor space and make spending time in your backyard oasis even more enjoyable.
Benefits of Adding a Roof to a Lanai
You may be asking yourself, does a lanai have a roof? The answer is not always—unlike a porch, which usually does have a roof, a lanai doesn't necessarily have one.
However, there are some excellent benefits associated with adding a roof to your lanai. By doing so, you can:
Maximize your outdoor space
A properly designed and installed roof provides the perfect environment for outdoor activities, no matter the weather. You'll be able to enjoy the outdoors in any weather, from rain to intense sunlight!
Protection from animals and pests
Adding a roof to your lanai will protect you against animals like birds, mice, bugs, and other pests—making it safer and more comfortable to enjoy the outdoors.
Beautify your home's exterior
When you install a durable roof onto your lanai, you're also updating its look with an architectural element that adds esthetic appeal to your home's exterior. This not only enhances its beauty but adds value to it as well!
The biggest benefit of enclosing a lanai is that it offers protection from bugs and other pests.
Depending on your location, this can be a massive advantage as some areas are home to mosquitos and other insects that can make being outdoors unpleasant.
Temperature control
A lanai roof also offers more temperature control than an open-air lanai—you can keep it cooler in the summer with ceiling fans and warmer in winter by utilizing heating sources such as gas fireplaces.
Privacy
Enclosing your lanai can add privacy, too—it will help you create a tranquil atmosphere in which you can relax away from curious eyes or noisy neighbors.
Extend your living space
Many people also opt for a lanai roof to extend their living space when entertaining guests; this addition typically adds more usable area than it takes away from yard space compared to building an extension onto your house proper.
Popular Roofing Materials for a Lanai
A lanai can be the perfect addition to any home. But if you're considering adding this outdoor living space, you may wonder if it has a roof.
The answer is that it depends. Lanai's don't come pre-made with roofs, so you can choose whatever roofing material you want, depending on your style and budget.
A typically enclosed lanai will have walls on three sides and a slanted or flat roof. The typical materials used for roofing are shingles, metal, rubber, or even composite materials.
The material should match what's on the rest of the house to create an esthetically pleasing look.
Ensuring the structure can withstand local weather conditions such as heavy snow, rain, and strong winds is also essential.
Here are some popular materials used to roof a lanai:
Asphalt Shingles
Asphalt shingle roofs are lightweight and come in many colors, making them an excellent choice for any home style. Asphalt shingles also require minimal maintenance, and they're affordable too!
Tile Roofs
If you love a more classic look for your lanai, then tile may be your choice. Tile roofs are incredibly durable and come in various finishes and colors to match your décor.
Slate Roofs
Slate roofs are incredibly sleek and stylish – not to mention very durable! They have a great natural look that will last many years, requiring minimal care.
They're also fireproof, which is a bonus if you live in a high-risk area for natural disasters like wildfires or hurricanes.
Whichever material you decide on, get an experienced professional to install your roof correctly – that way, your new lanai will look beautiful and last as long as possible!
Tips for Installing a Roof on Your Lanai
You might be wondering if you need a lanai roof. The answer is yes, you do. Even if your lanai has a mild climate and rarely sees rain or strong winds, the roof can protect it from the occasional downpour and provide shade from the sun's harsh rays.
Here are some tips to keep in mind when installing a roof on your lanai:
Measure the space—ensure enough room for the materials you'll be using and that they will fit properly.
Consider the style of your home and choose a roofing material that complements it.
Make sure you have all of the necessary tools and supplies before starting.
Read up on building codes in your area—they may specify which type of materials are allowed for roofs and how they should be installed.
Hire a professional installer if needed—roof installation can be dangerous, so it's best to leave this step to someone experienced.
By following these tips, you can ensure that you install a safe, weatherproof roof over your lanai that will last for years to come.
Conclusion
The answer to the question of whether or not a lanai has a roof depends on the specific lanai in question.
Some lanais are roofless, others are covered, and some even have retractable covers. The type of roof is also subject to the owner's preference.
However, the purpose of a lanai is generally the same: to provide a comfortable space to relax and enjoy the outdoors.
If you're considering adding a lanai to your home, make sure you give some thought to the type of roof you want, if any.
With the right roof and other design elements, you can turn your lanai into a beautiful outdoor living space that you and your family can enjoy for years.