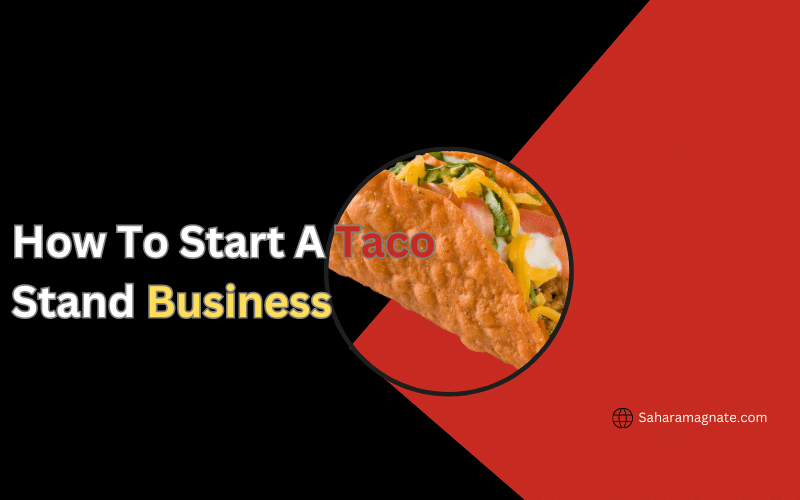 Who doesn't love tacos? For many, the thought of a tasty taco is the perfect meal, so starting a taco stand business can be an excellent opportunity for entrepreneurs.
Taco stands are easy to build and operate, require minimal startup costs, and offer many delicious opportunities.
Whether you're looking to boost your income or find a more creative way to make money, a taco stand business could be the perfect opportunity.
This article covers everything you need to know about starting a taco stand business. From setting up shop and finding customers to understanding the legal requirements and running marketing campaigns, we'll show you how to get your business off the ground easily.
Ready to dive in? Let's go!
How To Start A Taco Stand Business
Before you start making those delicious tacos, here is what you need to get your kickstart your business:
Step 1: Establish a Business Plan
Starting a taco business is no small feat. To make it work, you'll need a written business plan that covers land and building costs, menu ideas, equipment needed, delivery services, and more.
Your plan should include estimated revenue for the next three to five years so that you can accurately estimate your startup and operational costs and make any necessary adjustments as the business grows.
Your plan should also include an overall mission statement that defines your values and market focus. This will keep you on track for marketing campaigns, future product development, and customer service.
In addition, it's crucial to consider the competition in your area; other taco stands and other Mexican restaurants.
Consider what sets your taco stand apart from them (e.g., organic ingredients, vegan options), and emphasize this in your business plan.
Read Also: How To Start A Trash Bin Cleaning Business
Step 2: Secure the Necessary Permits and Licenses
Securing the necessary permits and licenses is the next step in starting a successful taco stand business.
Depending on your location, you may need to obtain various permits and licenses, including those for public health, zoning, licensing, and food preparation.
You may need additional paperwork for your business structure, such as a partnership agreement or articles of incorporation.
Additionally, make sure that you get liability insurance to protect yourself against any legal issues that might arise.
Keeping up with local food safety laws and regulations is also essential. Familiarize yourself with the laws governing your business and ensure your staff is properly trained on food safety and sanitation protocols.
Obtaining the right permits and licenses will ensure that you operate within the law and protect yourself from legal issues.
Step 3: Find a Suitable Location for Your Taco Stand
Finding a suitable location for your taco stand is essential for a successful business. Look for areas that have the right mix of foot traffic, nearby commerce, and enough space to operate your taco stand.
When considering a location, make sure to consider the following factors:
Accessibility
Consider whether people can easily access your stand from nearby streets or sidewalks. Ensure that local regulations also allow for a taco stand in the area.
Proximity To Other Businesses
Look for areas close to businesses that generate a lot of foot traffic, such as shopping malls, grocery stores, and parks. This will help you attract customers from those areas.
Visibility
You want your taco stand visible from the street and easily noticeable by passersby. This will help bring more business for you over time.
Permits & Licenses
Contact your local government office to learn what permits and licenses you need to operate your taco stand in the chosen location.
Getting an appropriate location is one of the most important steps when starting a taco stand business, so do your research and choose wisely!
Step 4: Get Taco Stand Equipment
Starting a taco stand business in 2024 means you'll need some essential equipment to get up and running. 
Depending on the size and complexity of your business, these items may include a food processor, ice machine, tortilla press, fryer, and baking ovens.
You'll need all the necessary supplies for making tacos, like knives for cutting vegetables, tongs for handling tacos on the grill or stovetop, plus steamer trays for cooking off meats.
You'll also need supplies such as utensils, chemicals for sanitizing surfaces, and containers for storing food and other items.
These items won't break the bank, but having quality ones in good condition will ensure you're always serving up tacos at their peak freshness.
And don't forget about tools like cutting boards, spatulas, and spoons—especially if you're adding things like salsa or guacamole directly into your tacos!
Finally, depending on what type of setup you want (i.e., a physical storefront or a mobile stand), you'll need to purchase equipment like griddles, microwaves, and refrigerators — which will likely take up a larger chunk of your budget.
To simplify things, you can create an equipment list with all the necessary items to start your taco stand business.
This will help you track what needs to be bought and when to replace or maintain it. As a bonus tip: always buy quality products that will last longer and ensure consistent results!
Step 5: Source and Purchase Ingredients
If you want to start your taco stand business, the first step is to source and purchase the ingredients you'll need. But what exactly do you need to buy?
Your tacos will have delicious ingredients—tortillas, cheese, veggies, condiments, and the most critical ingredient: meat!
When sourcing your ingredients, consider the price and where foods are sourced. Buying in bulk is usually cheaper, and you can get discounts from wholesalers or sellers.
Also, consider whether the companies are sustainable and have humane practices regarding their animals.
Read Also: How To Start A Fried Chicken Business – Shop Idea
Step 6: Set Up Your Taco Stand With the Necessary Furniture and Décor
Now that you've learned the basics of running a taco stand business, it's time to set up the essentials. After all, no matter how creative and delicious your tacos may be, you want your guests to feel comfortable and welcome.
This is where you show off your creativity and personality, decorate the space, and provide some attractive furniture. Here are some tips for setting up your taco stand:
Furniture
You'll need bar stools and tables for seating. Depending on your taco stand size, you may also need chairs or benches. You can get creative here by using vintage chairs or stools to give your stand a unique look.
Decoration
Remember—you want your guests to feel so comfortable that they don't want to leave! And with some thought-out decorations, it will be easy to create an inviting atmosphere.
Think about hanging Mexican-inspired prints on the walls, draping colorful blankets over chairs, or placing vases of wildflowers on the countertops—little touches like these can make all the difference.
Step 7: Market Your Taco Stand Business Through Social Media Platforms
Leveraging social media platforms is essential to market your taco stand business in 2024. With so many people using social media websites such as Facebook, Twitter, and Instagram, your business must use this powerful tool.
Setting Up Social Media Pages
The first step is to create profiles on the major social media platforms (Facebook, Twitter, Instagram). Make sure your accounts are set up correctly and completely.
This includes designing a profile picture, writing a business description, and adding contact information and links to your website (if you have one).
Engaging Your Audience
Engaging with your followers is vital by posting exciting content related to tacos or Mexican food.
Posting photos of your food is an easy way to attract customers. You could also post recipes or videos to share with your followers.
Advertising On Social Media Platforms
Once you have a following established, it's time to consider running ads on the platform. Ads can spread the word about your taco stand business and increase reach beyond your followers.
Ads can be tailored specifically for specific audiences, and you can even target ads based on location or other interests related to tacos and Mexican food in general.
Social media is perfect for promoting your taco stand business since it's a great way to reach potential customers and share updates on new menu items or specials you might be running.
With a little effort, you can quickly gain more followers who will help spread the word about your business!
Conclusion
Put on your apron and get started on your taco stand empire today! Starting a taco stand business doesn't take much money or a business degree. It just takes dedication and a good plan.
Research your city's laws, regulations, and kitchen requirements, get the supplies you need, and find great recipes that stand out. Most of all, be passionate about the tacos you make and put your heart into the business.
Taco stands to offer tremendous opportunities for success and a good income. You can build your taco stand empire if you put in the hard work and dedication.
So don't delay; get out there and get started on your taco stand adventure today!