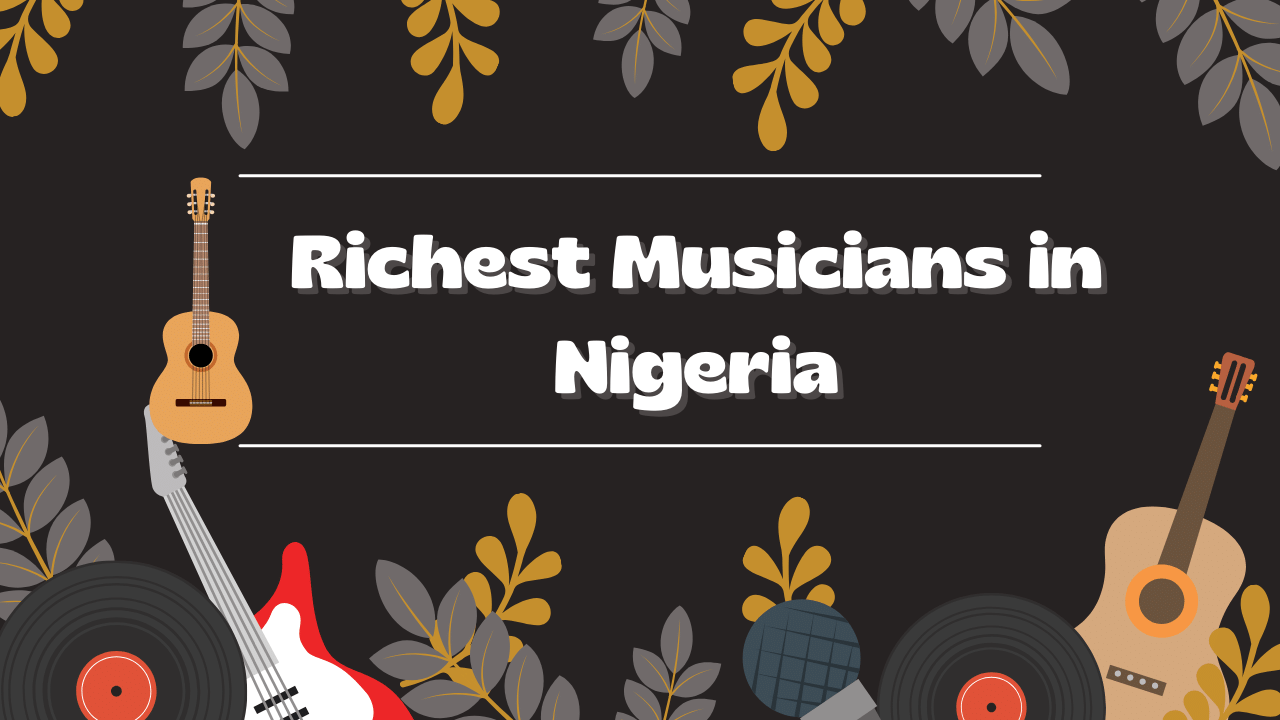 Nigeria's music scene is thriving more than ever. Afrobeats, the country's unique blend of West African rhythms and global pop, has exploded worldwide.
Nigerian music stars are reaching new heights of success – and new levels of wealth.
The richest musicians in Nigeria today are banking millions from record sales, sold-out concerts, endorsement deals, and more.
This blog post will list the 20 richest musicians in Nigeria in 2023.
Read Also: How to Start a Tiger Nut Drink Business in Nigeria
Top 20 Richest Musicians in Nigeria
Let's count down the 20 richest musicians in Nigeria of 2023 so far based on their estimated net worth:
1. Wizkid – Net Worth $30 Million
On top of the list of the richest musicians in Nigeria is Wizkid, with an estimated net worth of $30 million.
He started his career young, releasing his debut album at just 19. Hits like "Holla at Your Boy" and "Tease Me/Bad Guys" quickly made him a rising star.
But his smash collaboration "One Dance" with Drake cemented Wizkid's status as an Afrobeats icon. The song hit #1 on the Billboard Hot 100 chart.
Global collaborations like "Come Closer" and "Essence" followed, along with sold-out world tours. His latest album, Made in Lagos, was a Pan-African triumph.
At just 32, Wizkid shows no signs of slowing down his chart-topping success. Brand sponsorships with Nike, Puma, and others only increase his fortune.
2. Davido – Net Worth $25 Million
Nipping at Wizkid's heels is his frequent rival, Davido, with a net worth estimated at $25 million.
As the son of a wealthy Nigerian business tycoon, Davido had connections early on. But he quickly earned fame in his own right with instant hit singles like "Dami Duro" and "Gobe."
His album Omo Baba Olowo in 2012 introduced his signature fusion sound to the world. Global collaborations like "If" and "Fall" catapulted him to stardom.
Davido also owns his record label, clothing line, and other investments. At only 30 years old, his wealth and success continue rising exponentially.
3. Don Jazzy – Net Worth $24 Million
Famous music producer Don Jazzy places third, currently valued at approximately $24 million.
As founder of Mavin Records and the producer behind some of the biggest Afrobeats anthems, his influence is unmatched.
Don Jazzy's elite production discography includes hits like D'Banj's "Oliver Twist" and Wande Coal's "Iskaba." There are also his albums and singles.
He has expanded Mavin Records into a media empire housing top artists like Tiwa Savage, Korede Bello, and Dr. SID.
Through sheer talent and hustle, Don Jazzy transformed the sound of modern Nigerian music. His producer royalties and business ventures keep him hugely wealthy.
4. Burna Boy – Net Worth $17 Million
The "African Giant" Burna Boy is currently valued at around $17 million. Since breaking out internationally with 2018's Outside album, he has fiercely led a new wave of Afrofusion stars.
Massive hits like "Ye," "Anybody," and "On the Low" blend dancehall, hip-hop, and Nigerian influences flawlessly. This original sound has made Burna Boy a worldwide force.
At just 31, he continues releasing acclaimed albums, sold-out shows and hit collabs with Ed Sheeran, J Balvin, and more.
He may become Nigeria's next billionaire musician if his trajectory keeps soaring.
5. 2Baba (2Face Idibia) – Net Worth $16 Million
Veteran 2Baba, formerly known as 2Face Idibia, comes in at #5 with $16 million of the richest musicians in Nigeria.
As a member of the band Plantashun Boyz, 2Baba's influence stretches back over two decades. Going solo in 2004, he immediately dominated with his debut album Face 2 Face.
Singles like "African Queen" and "True Love" showcased his smooth voice and layered harmonies. 2Baba became the first Nigerian artist to win BET and MTV awards.
Later albums solidified his status as an African music legend. He also has lucrative real estate assets and a large business portfolio. Even after 21 years, 2Baba remains as relevant as ever.
6. Olamide – Net Worth $12 Million
Rapper Olamide places #6 of the richest musicians in Nigeria with an estimated $12 million net worth.
Nicknamed "Baddo," his streetwise lyricism and catchy beats quickly garnered a passionate fanbase. He built his buzz through grassroots hustle, aligning with rising producers.
Olamide founded his label YBNL Nation to uplift new talent like Fireboy DML, Lil Kesh, and Adekunle Gold.
He has released 10 hugely successful albums, along with mainstream collaborations. His work ethic and business savvy keep him massively wealthy.
7. Phyno – Net Worth $11 Million
According to estimates, the "High Way" rapper Phyno has earned around $11 million.
As one of Nigeria's most respected hip-hop acts, Phyno initially rose through producing beats and features. His 2013 debut album No Guts No Glory took him mainstream.
Known for his fast-rapping style in Igbo alongside English, hit singles like "Fada Fada" and "Link Up" display his skills. Collaborations with Olamide, Flavour, and more built his brand.
In addition to music, Phyno has profitable endorsement deals with brands like Nairabet, Glo, and Monster Energy.
8. Flavour – Net Worth $9.5 Million
Highlife singer Flavour places #8 of the richest musicians in Nigeria with $9.5 million.
Originally a drummer for a local church, he rose to fame after his 2005 hit "Nwa Baby (Ashawo Remix)." The sensual song and video settled his image as an artist and a sex symbol.
He has successfully reinvented his style, blending R&B, reggae, and traditional Igbo music. Top singles like "Ada Ada" and "Ijele" keep listeners hooked.
Flavour is also a children's rights ambassador for Nigeria's Cross River State. His philanthropic efforts and business ventures keep him very wealthy.
9. Mr P (Peter Okoye) – Net Worth $9 Million
As one-half of the superstar duo P-Square, Mr. P built his fortune before branching out solo. Currently, his estimated net worth is $9 million.
P-Square was among the best-selling Afropop acts ever, with over 100 million records sold. Hits like "Do Me", "No One Like You," and "Personally" brought them global fame.
After splitting from his twin brother Rudeboy, Mr. P has continued his success with songs like "Look Into My Eyes" and "One More Night."
Remaining in the spotlight as a solo act has allowed Mr. P to maintain his elite wealth status in Nigeria.
Read Also: How to Start a Hair Extension Business in Nigeria
10. Rudeboy (Paul Okoye) – Net Worth $8.5 Million
Paul Okoye, aka Rudeboy, places #10 with $8.5 million in total assets.
As the other half of the famous duo P-Square, he equally built a large musical fortune over a decade of stardom.
Since going solo in 2017 after the duo split, Rudeboy has released massive songs like "Reason With Me" and "Audio Money." His latest album, RUDYKILLUS, continues his reign.
Between ongoing music earnings and profitable real estate assets, Rudeboy remains incredibly rich without his brother.
11. Timaya – Net Worth $8 Million
Veteran dancehall artist Timaya is #11 with a $8 million net worth.
Rising from humble beginnings, he broke out with his debut album, True Story, in 2007. Singles like "Bum Bum" and "Ukwu" showcased his fast-paced, spirited style.
Staying true to his dancehall roots, Timaya has never compromised his unique sound. His latest output proves he can still turn any beat into an infectious jam.
Remaining among Nigeria's richest and most respected artists after 15 years takes immense staying power. Timaya's fortune stems from his chart-topping success and investments.
12. Banky W – Net Worth $7.5 Million
Banky W places #12 of the richest musicians in Nigeria with approximately $7.5 million in total earnings.
As the CEO of EME Music, Banky W established himself as a top Afropop artist throughout the 2000s. His breakthrough single "Ebute Metta" remains an R&B classic.
He has since evolved into an actor, politician, and philanthropist – but remains involved in music through EME.
Banky W mentored superstars like Wizkid and Skales early in their careers, helping build the next generation. His roster of protegees and other businesses keep him highly wealthy.
13. Asake – Net Worth $5 Million
Breakout star Asake exploded onto the scene in 2022 with his hit debut EP Ololade Asake.
Singles like "Sungba" and "Terminator" showcased his distinct vocal style and Yoruba lyrics.
Still, just 28, Asake's future looks incredibly bright. With sold-out shows and co-signs from Olamide and others, he's already built a net worth of around $1.5 million. Asake is poised to keep rising rapidly.
14. D'banj – Net Worth $4.5 Million
Veteran entertainer D'banj is next, valued at around $4.5 million.
D'banj's colorful personality and catchy Afropop tracks like "Oliver Twist" and "Gbono Feli Feli" made him an international success in the mid-2000s.
Powerhouse producer Don Jazzy backed him for much of his career. Though their business relationship ended, D'banj has continued as a solo act.
He pursues multiple ventures, including a fashion line, TV, film, and more. His high-profile collaborations and sponsorship deals keep D'banj wealthy.
15. Yemi Alade – Net Worth $4 Million
Songstress Yemi Alade takes the #15 spot with an estimated $4 million net worth.
Since winning a talent competition in 2009, the R&B/Afropop diva has built an award-winning discography.
Smash hits like "Johnny" and "Oh My Gosh" cemented her A-list status across Africa. Collaborations with Rick Ross and others expanded her global reach.
Yemi is not just a singer but also a fashion icon, model, actress, and entrepreneur. Her vibrant personality translates across all her endeavors, keeping fans hooked.
16. Duncan Mighty – Net Worth $3.5 Million
Veteran musician Duncan Mighty currently comes in at #16, valued at around $3.5 million.
Starting his career in the early 2000s, Duncan Mighty's original style blended hip-hop, R&B, and Niger Delta rhythms. His second album, Koliwater, ushered him into mainstream success.
Major hits include "Obianuju" and "Port Harcourt Son." He has produced dozens of albums and collaborative projects over the decades.
Duncan Mighty also has plenty of real estate assets and business investments. His elder statesman status remains rock solid.
17. Naira Marley – Net Worth $3 Million
Controversial artist Naira Marley claims the #17 spot with approximately $3 million in total earnings.
While polarizing to some, Naira Marley's energetic voice and signature street-centric sound have earned a passionate youth following.
His breakout single "Issa Goal" became the unofficial anthem of Nigeria's 2018 World Cup team. Other hits include "Opotoyi (Marlians)" and "Tesumole."
Despite some legal troubles, Naira Marley has successfully leveraged social media and his #Marlian brand to become one of Nigeria's hottest and wealthiest newcomers.
18. Tiwa Savage – Net Worth $2.9 Million
The "queen of Afrobeats," Tiwa Savage, comes in at #22, valued at approximately $1.3 million.
Since her time as a backup singer for Mary J. Blige, Tiwa has pushed to bring African music international appeal.
Singles like "All Over" and "49-99" displayed her sultry R&B sound. She's also a model, actress, and prolific collaborator.
Her work ethic and business savvy ensure Tiwa remains one of Nigeria's hardest-working women.
19. Kiss Daniel – Net Worth $2 Million
Singer Kiss Daniel has an estimated net worth of $1 million. The versatile vocalist broke out with his 2013 debut single "Woju," thanks to his smooth voice.
He briefly changed his name to Kizz Daniel but returned to his original moniker.
Recent albums like King of Love and Barnabas showcased his ability to blend pop, R&B, and Afrobeats seamlessly.
Kiss Daniel's youth and talent suggest even greater success and wealth in the future.
20. Rema – Net Worth $1.9 Million
Rounding out the list of the richest musicians in Nigeria at #20 is singer Rema, worth approximately $1.9 million.
Signed to Mavin Records, his 2019 single "Dumebi" introduced Rema's lively music style.
He soon established himself as one of Nigeria's most promising young talents with big hits like "Clam Down" and "Charm."
Remq's debut album achieved critical and commercial success, winning multiple awards. He continues taking Nigerian music worldwide.
With his wealth and popularity steadily growing, Rema is poised to keep rising up these rankings for years.
Conclusion
Nigeria's music industry shows no signs of slowing down. If anything, the international popularity of Afrobeats and Nigerian artists is only accelerating.
The country's top stars can now demand seven-figure paydays for shows across Europe, North America, and beyond. Meanwhile, endorsement deals keep flooding in.
For these musicians, the sky's the limit. We can expect the net worths of Wizkid, Davido, Burna Boy, Don Jazzy, and others to keep expanding exponentially.
The next generation of Nigerian talent is also waiting in the wings, ready to emerge as the country's newest wealthy breakout superstars.
One thing is certain: Nigeria's reputation as a hotbed of musical talent and innovation will continue paying huge dividends.