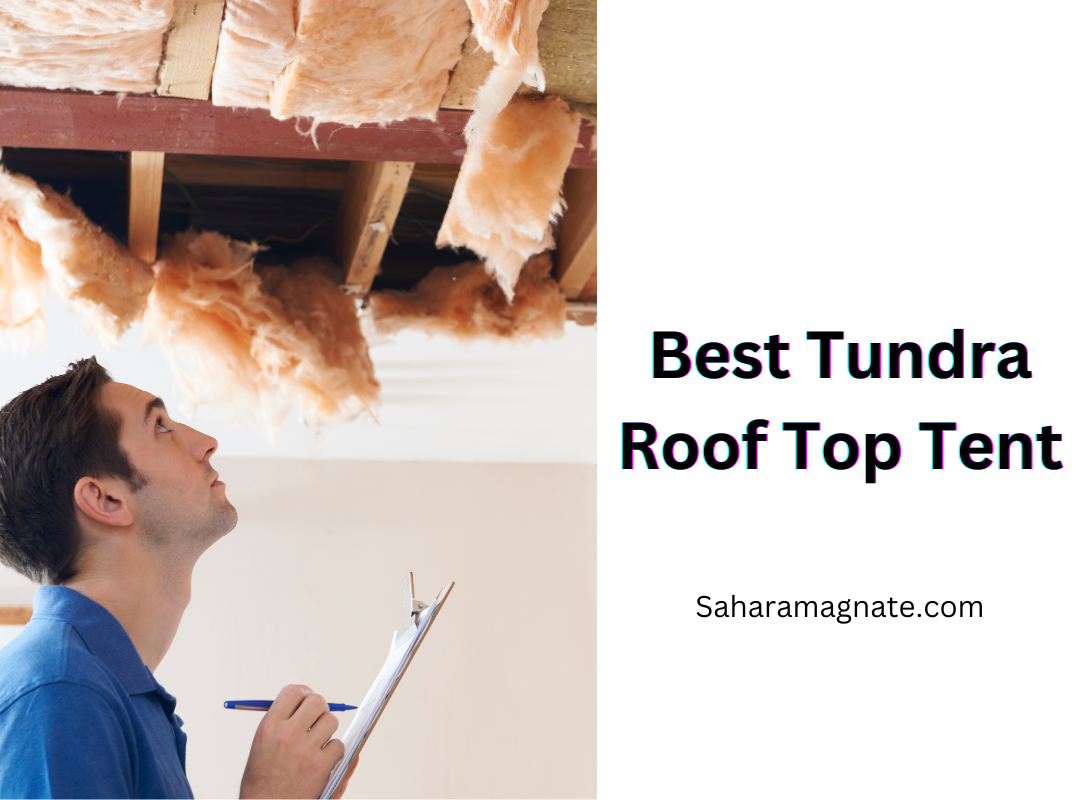 Are you looking for a rooftop tent for your next camping trip? roof top tents offer a great solution to the age-old camping question: where to sleep? 
Not only do they provide shelter from the elements and unparalleled sky views at night, but they also add convenience with their quick setup time.
But with so many options on the market, figuring out which rooftop tent is best for your Tundra can be challenging. 
That's why we've put together this guide to help you decide. We'll discuss the different types of tents available and some essential tips for selecting the right one. Let's get started!
Best Tundra Roof Top Tent
Here is our pick for the best Tundra rooftop tent: 
The iKamper Skycamp 3.0 
The iKamper Skycamp 3.0 is widely considered to be the best rooftop tent for Tundra vehicles, and for a good reason. 
Although it is one of the more expensive options on the market, it surpasses all other rooftop tents in almost every aspect.
The Skycamp is built with highly durable materials designed to last many years. Its double-layered FRP shell, super thick fabric, and 750D rainfly make it completely waterproof, allowing it to be used in any weather condition, be it heavy rain, snow, or high winds.
The sleeping area inside the Skycamp is incredibly spacious and can comfortably accommodate up to four people without feeling cramped.
The tent also offers plenty of headspaces, allowing occupants to sit upright without hitting the roof.
The 9-zone, 2.5-inch thick polyfoam mattress is one of the best in a rooftop tent, providing excellent support and a comfortable sleeping experience.
The Skycamp is insulated, keeping you warm and cozy even on freezing winter nights. Opening and closing the tent takes only around 60 seconds, making it a breeze to set up and take down.
It's fast and easy to use compared to traditional ground tents, making it a popular choice for campers who want a convenient camping experience.
Overall, the iKamper Skycamp 3.0 is an absolute beast of a rooftop tent. It's the first choice we recommend to anyone in the market for a Tundra rooftop tent. If you have the budget for it, Skycamp is worth the investment.
With its spacious sleeping area, extreme weather protection, and fast setup time, you won't regret choosing the Skycamp for your next camping adventure.
Apex 3
The Apex 3 is an excellent choice for those who need a big tent because it can fit up to 3 people. Its compact design allows this tent to be easily towed by a standard truck, SUV, or smaller vehicle.
It's easy to assemble and break down, making it an excellent option for any camping adventure. The high-quality rip-top fabric canvas is waterproof, mold and mildew resistant, and offers UV protection.
The tent has a sliding adjustable aluminum ladder and a heavy-duty travel cover for added convenience and protection.
One of the best features of the Apex 3 is its built-in high-density 2.5" foam mattress with a removable cover for ultimate comfort.
The rain fly is made from 420-denier polyurethane-coated polyester, providing ultimate rain protection.
The Apex 3 is a great tent you can take on any camping trip. It is light in weight design and easy to move, plus the mattress is comfortable.
Roam Vagabond
If you're looking for a high-quality and affordable rooftop tent for your Tundra, the Roam Vagabond is a great choice.  While it has a few minor flaws, they are not dealbreakers.
The Roam Vagabond is practical but also stylish and rugged, making it the best-looking tent for your Tundra. It is also waterproof, perfect for stormy days.
In addition to its excellent features, the Roam Vagabond has two skylight windows that provide a great view of the stars and improve airflow during bad weather.
All windows are equipped with mesh screens, which provide privacy and keep dust, rain, and insects out.
Setting up and taking down this Tundra rooftop tent takes only 3-5 minutes. Although it's not as quick as some hard shell tents, it's still relatively fast. 
The tent is also compatible with an annex for extra space, which is an excellent feature if you have pets or need additional changing space.
Overall, the Roam Vagabond is a great deal for its price range. While it may not be comparable to more expensive tents like the iKamper, it outperforms others in its category.
However, some downside of the tent is that it's slightly bulkier when closed and takes a bit longer to set up than some hard shell tents.
But these are minor issues that should not deter you from considering this excellent Tundra rooftop tent.
TMBK
TMBK is a good starter tent and one of the most affordable options. While it may not have all the luxurious features of tents like Vagabond or iKamper, it does the job well.
The tent can hold most weather conditions, but it's best to avoid harsh weather. It can keep water out during rainfall but is not very effective at preventing condensation in cold weather.
Investing in an anti-condensation mat is necessary if you plan to do a lot of cold camping, which can cost around $150 on average.
One downside of TMBK is that the fabric can flap and make noise during high winds, which can be annoying when trying to sleep.
Still, it has a spacious sleeping area that can accommodate two people. The mattress is decent for its price range, but adding extra padding on top is best to make it more comfortable.
The base of TMBK is insulated, which can keep you warm in cold weather, but having a suitable sleeping bag when camping in freezing conditions is recommended.
All windows, including two skylight windows, are relatively large, which allows for excellent airflow, even on hot summer days.
It takes more time to set up and take down, about 7-10 minutes which is quite a downer, but it's relatively easy.
TMBK is a good beginner tent, ten times better than any ground tent. It has some issues, but with some upgrades like a better mattress, insulation, and an anti-condensation mat, it can turn into a beast.
Nomadic 4
Nomadic 4 is an excellent budget option for families who need a spacious tent without breaking the bank.
Compared to basic options like TMBK, Nomadic 4 is a big step up and offers a lot of space, which no other tent at this price point can offer.
The sleeping area is so big it can comfortably fit three adults and one child. It is also 100% waterproof and can withstand bad weather conditions.
The foam mattress is 3″ thick and good quality, but some people may find it too firm. You can always add extra padding to make it more comfortable.
Setting up and taking down Nomadic 4 is easy, but it may take about 10 minutes or less and longer if the weather is terrible. Overall, Nomadic 4 does many things well, making it a killer option in this price range.
The pros of Nomadic 4 include a spacious sleeping area, a 100% waterproof tent body, a skylight window on the rainfly, free accessories like LED lights and shoe bags, and a 4-year warranty.
However, the cons include the inability to store bedding inside the tent, the condensation issue during cold weather, noise during windy conditions, and the tent taking around 10 minutes to set up.
What to Look for in a Tundra Roof Top Tent
So, what should you be looking for when shopping for a Tundra Roof Top Tent? Here are a few things to consider:
Materials & Construction Quality
Your Tundra Roof Top Tent should be made of high-quality materials to withstand the elements.
Look for tents with heavy-duty fabrics and superior poles and connectors. Be sure to check the construction quality — inspect the seams and make sure everything looks secure.
Size & Features
Consider how many people will sleep in your rooftop tent and interior features like storage space, mesh pockets, and other organizational areas. 
Some tents have awnings and rainflys that provide extra protection from the elements.
Weight & Portability
The weight of your rooftop tent is essential, especially if you plan on doing a lot of off-roading or traveling with multiple people. 
Ensure you get the right weight for your vehicle's carrying capacity — don't forget about other items like camping gear, water, and food you'll need to bring along.
Setup & Durability
How easy is it to set up your Tundra Roof Top Tent? You want something easy enough for one or two people to manage, even in high winds or bad weather.
Additionally, look for tents with durable fabrics that can withstand extreme temperatures, rainstorms, and heavy snowfall.
Conclusion
Overall, it's up to you and your preferences to decide which Tundra rooftop tent is the best for your needs.
Each offers its own set of benefits and features, so consider all of them and ensure that the one you choose is the right one for you.
No matter which model you choose, you can rest easy knowing that you'll invest in a top-of-the-line product that provides you with the best outdoor camping experience possible.
Whether it's the spacious and lightweight Nisus, the sturdy and durable Black Wolf, or the luxurious and stylish Kodiak, the best Tundra rooftop tent for you will be the one that meets your needs and fits your budget.